Can you tell that Pam and i feel like we have entered a new phase of our life? We certainly talk more about skin care and beauty products and how they are worth splurging on. You do wear your face everyday! But lest you think we have no sense of keeping things reasonable we wanted to share our current favourite drugstore finds.  Not all of your beauty finds have to be splurge items! These ones are some of our favorites and best of all, you can pick them up at the drugstore!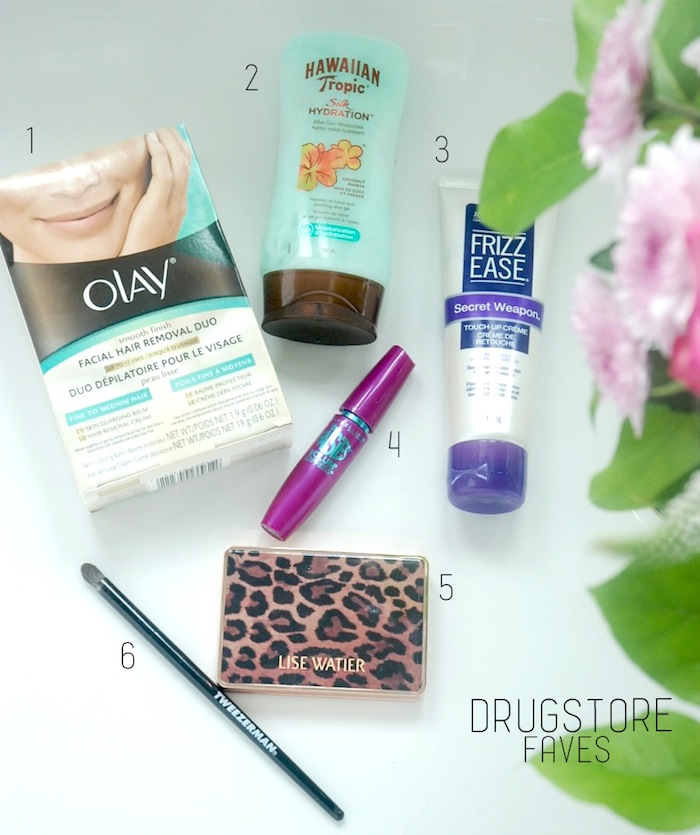 1. Oil of Olay Facial Hair Remover Duo – listen, no one wants to talk about this kinda stuff, but listen, hair on your head is good…elsewhere? Not so much! And let's celebrate the fact that we can safely and successfully remove it! And without irritation due to the balm that you first apply. It's gentle and it works. Also comes in different strengths for different types of hair.
2. Hawaiian Tropic After Sun Lotion "Coconut Papaya" – i grabbed this at Target after almost tripping over a display set up on the end of aisle (marketing at its best!). Soon enough, i was addicted! Combines both ribbons of shea butter lotion and aloe vera. i LOVE it! It also smells so good! Grease-free and completely hydrating. My new favorite body lotion…
3. John Frieda Frizz Ease "Secret Weapon"- I rarely blow dry my hair in summer…and especially in humid weather. The frizz is pretty unsightly. This touch up cream is pretty awesome…just apply to the bottom third of your strands and it instantly provides smoothness and a shine. I won't blowdry my hair without it.
4.Maybelline "Falsies" Mascara – i keep coming back to this one. I couldn't even begin to count how many different mascara brands i've tried..from cheap to expensive and have found that the inexpensive Maybelline works the best in giving me longer lashes, without clumping and getting crunchy. I know everyone has an opinion on what mascara works the bests for them…but i just can't justify spending a lot of money when this one does the job!
5. Lise Watier Feline Eyeshadow Quartet- the palette spans light to dark with 4 colors. The lightest color has an iridescence that makes it perfect to highlight as well. This palette was all i packed on our 3 week vacation. Everything i needed in a compact and pretty package. **
6. Tweezerman Contour Brush – branching out from tweezers, Tweezerman has created a line of makeup brushes. Given the option to try any of their brushes, i chose this one and have used it everyday since! The tip keeps its shape and works for more fine strokes while still working to apply your shadow to your full lid. Again, another perfect dual purpose tool for travel. **
**look for the Lisa Watier Feline Collection and Tweezerman makeup brushes to hit the shelves of London Drugs starting in August…they're gonna be popular:)