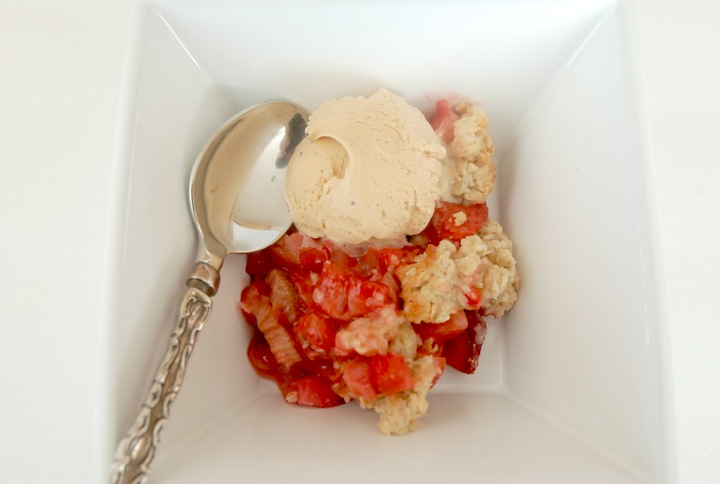 The warm nights we've been having lately bring many great childhood memories to mind. Playing outside with no regard to time because it was so light out, hiding when we heard the "it's bedtime" whistle and finally coming in to snack on whatever my mom had created in the kitchen. There was NEVER a shortage of treats to eat. In fact, my friends used to literally salivate when i'd unpack my lunch at school. Her home baking was legendary. This time of year she would often make a fresh fruit crisp which we all indulged in happily. So it was those great memories in mind that i thought i'd treat my kids to a fresh strawberry rhubarb crisp last evening. The ironic part of the story is that while my dessert was cooling atop the oven, my mom popped by with some of her own rhubarb crisp to share! Great minds huh? Kinda like a crisp-off!
The recipe i tried is one that has a more healthy bent to it..but still with many of the ingredients you would expect in a crisp. Sort of a hybrid dessert shall we say?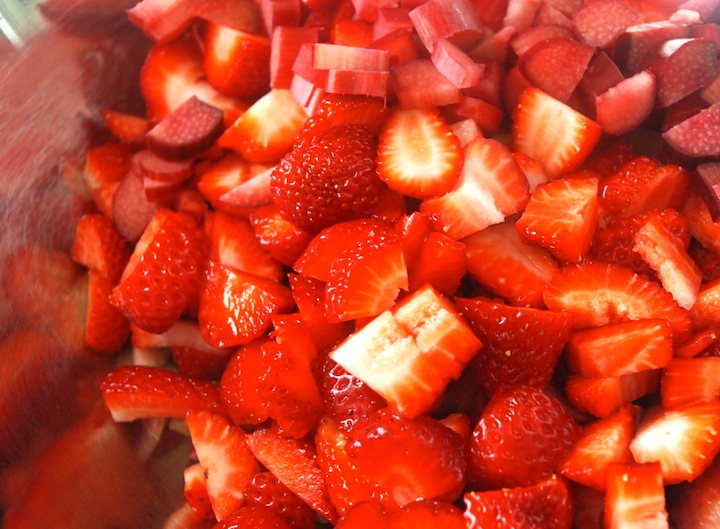 The combo of strawberries and rhubarb is a good one…the sweetness of the strawberries is complimented by the rhubarb's tartness. They make a good a couple.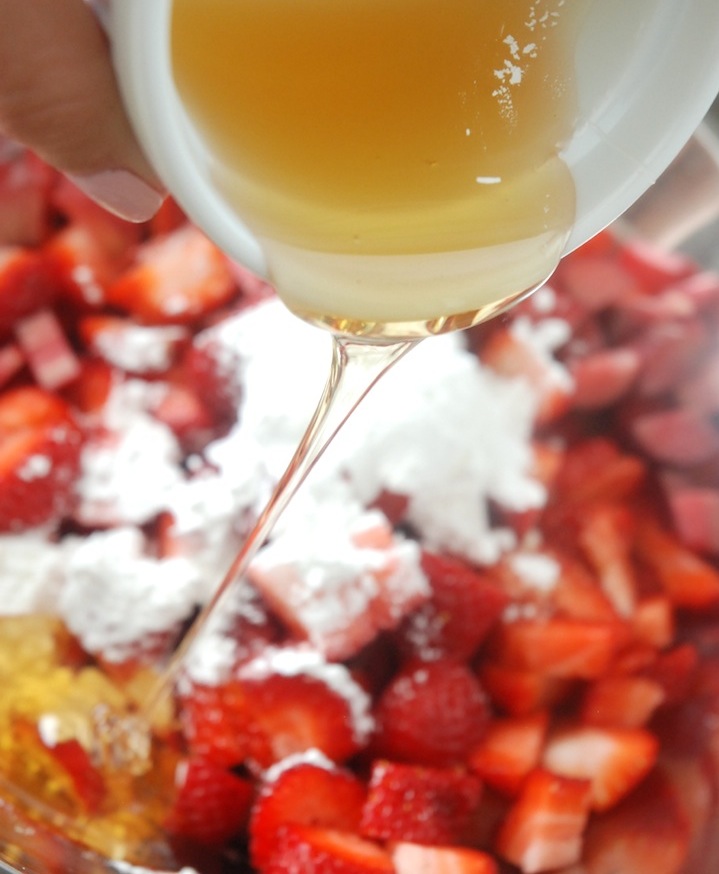 I also thought the addition of honey to the fruit was interesting…i liked the result.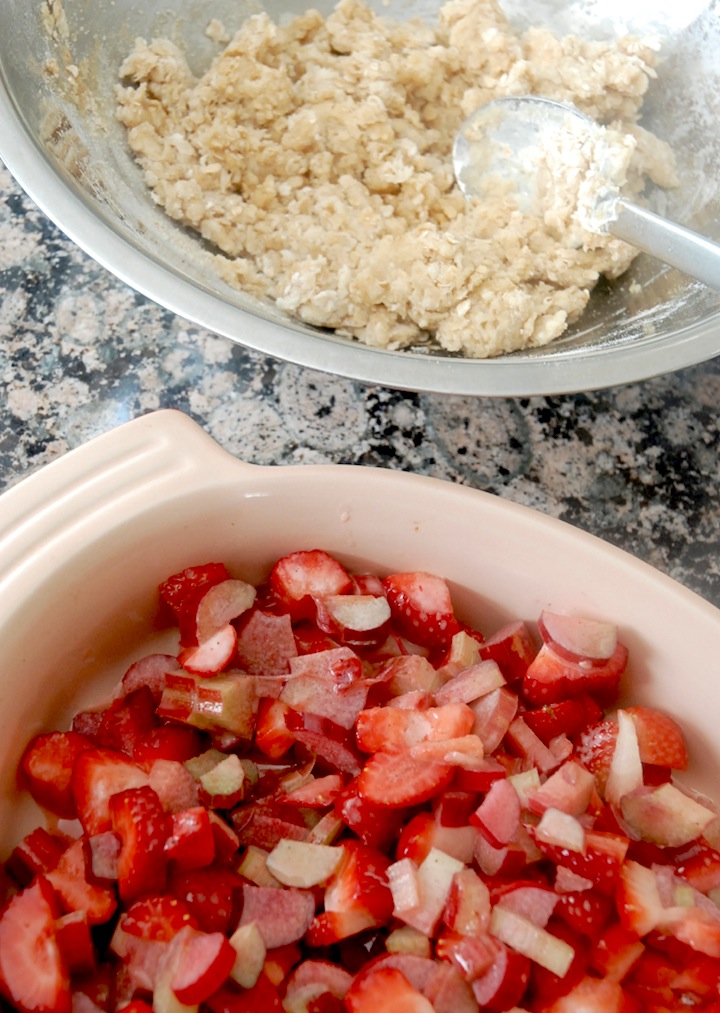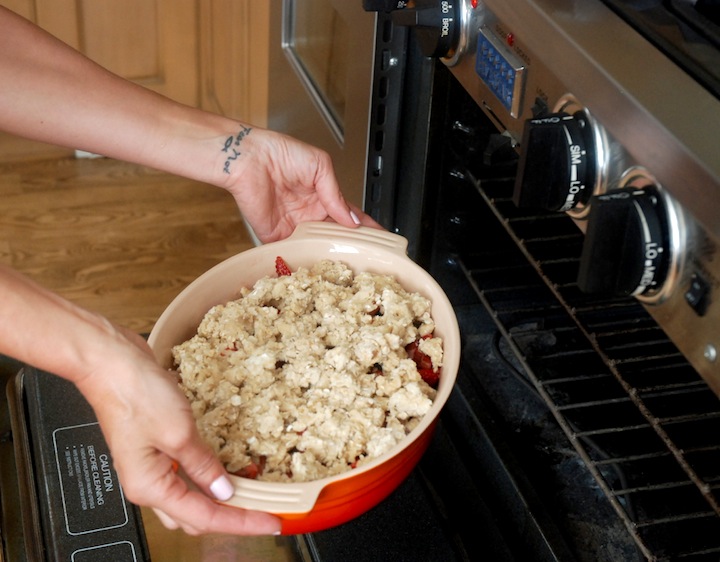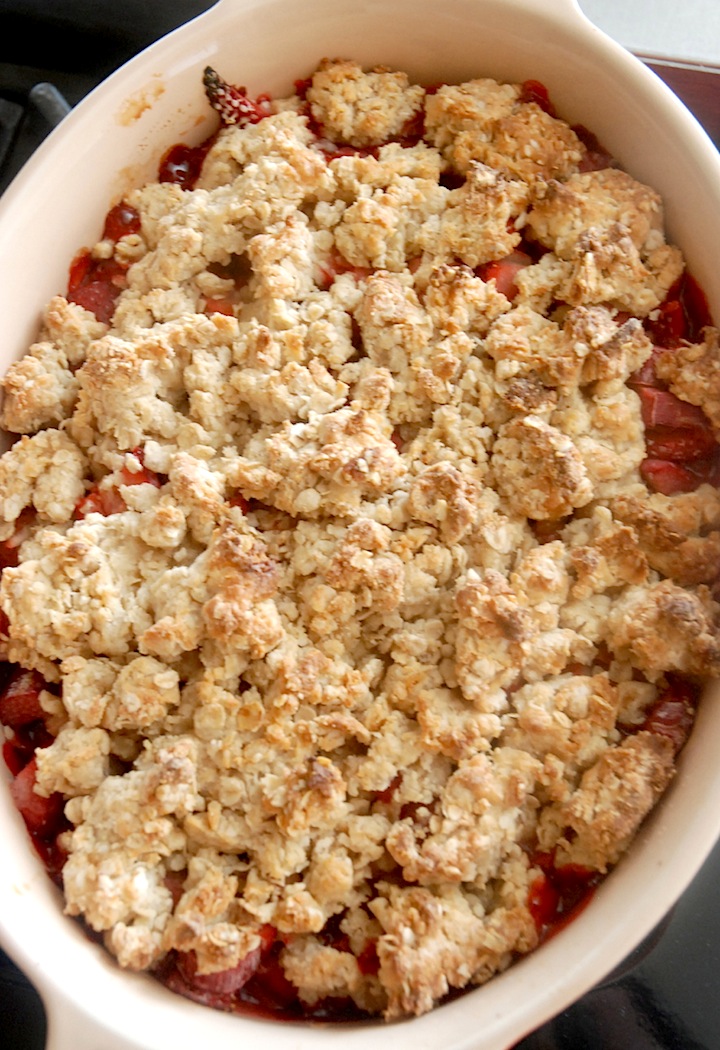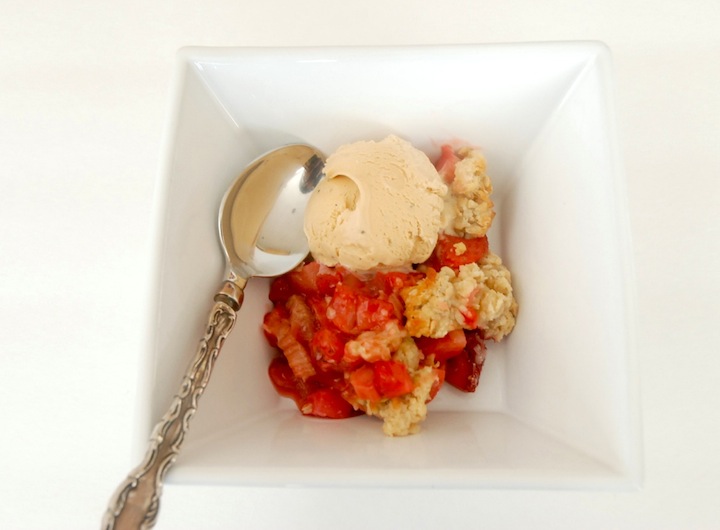 Lexi was the first to dig in. It disappeared quickly…in seconds actually. She felt she took it to even the next level with a scoop of Earnest Ice Cream's London Fog. The verdict? Grammy and mom's crisp tied for first. Chicken…
Strawberry Rhubarb Crisp
Author:
Adapted from Cookie and Kate
Ingredients
Strawberry Rhubarb Filling
1½ pounds strawberries, hulled and sliced into small bite-sized pieces
1 pound rhubarb (about 4 stalks), cut into ¼ by ½-inch pieces (slice larger stalks in half lengthwise before slicing them into ¼-inch wide pieces)
⅓ cup honey
2 tablespoons cornstarch
½ tsp cardamom
1 teaspoon vanilla extract
Topping:
1 cup old-fashioned oats
¾ cup white whole wheat flour (or regular whole wheat flour/flour of choice)
⅓ cup lightly packed brown sugar
¼ teaspoon fine grain sea salt
4 tablespoons butter, melted
3 tablespoons plain yogurt (Greek or regular)
Instructions
Preheat the oven to 350 degrees Fahrenheit.
In a 9 by 9-inch baking dish, mix together the strawberries, rhubarb, honey, cornstarch, cardamom and vanilla extract.
In a medium mixing bowl, stir together the oats, flour, brown sugar and salt
Mix in the Greek yogurt and melted butter.
Stir until all of the flour is incorporated and the mixture is moistened throughout.
Dollop spoonfuls of the oat mixture over the strawberry-rhubarb filling and use your fingers to break up the mixture until it is evenly distributed.
Bake for 35 to 40 minutes, or until the filling is bubbling around the edges and the top is turning lightly golden.
Let the crisp rest for 5 to 10 minutes before serving.
Serve with vanilla ice cream