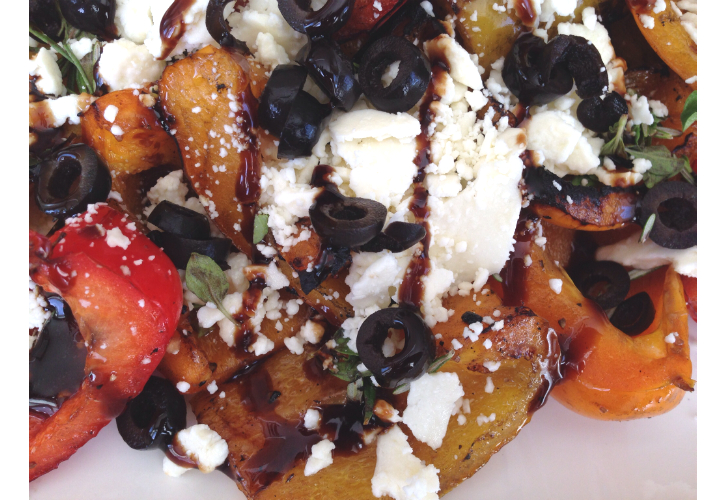 It's that time…BBQ season!  I love it…I prep the protein and veg and Jason cooks them up on the barbie.   We live on a farm and have 35 acres of greenhouses growing sweet bell peppers….that's a lot of peppers and we eat a LOT of peppers! So, Laurel and I are always looking for new recipes and new ways to prepare peppers.
Several years ago, my mom found this recipe in the Vancouver Sun for grilled peppers.  I used to make this recipe all the time and just haven't for a while.  I recently made it again and, yes, it has stood the test of time.  I enjoyed it again just as much as I used to and when I made it for Mac's hockey windup, there wasn't a single slice of pepper left.  And it's pretty healthy too!  I've tweaked the recipe slightly….here's my version…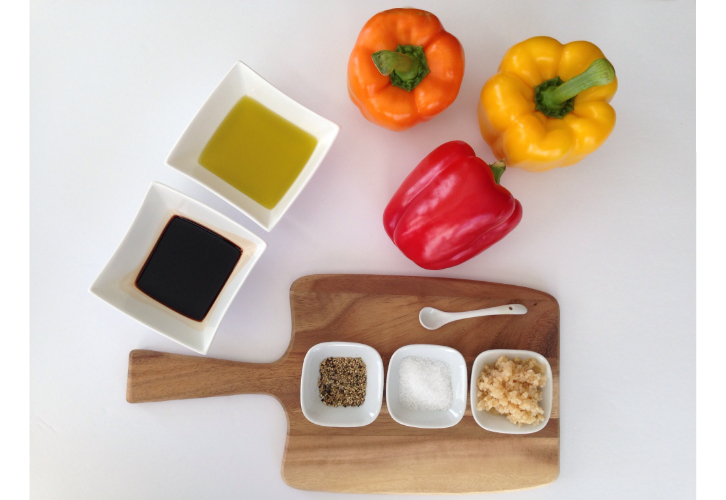 Grilled Pepper Sunburst
Author:
Adapted by Pam Ratzlaff
Ingredients
3 garlic cloves
1 teaspoon (5 mL) salt
3 tablespoons (45 mL) balsamic vinegar
¼ cup (50 mL) pure olive oil
½ teaspoon (2 mL) freshly ground black pepper
2 pounds (1 kg) bell peppers (red, orange and yellow)
Salt and freshly ground black pepper
2 teaspoons (10 mL) finely chopped fresh oregano
1 teaspoon (5 mL) finely chopped fresh rosemary
1 teaspoon (5 mL) finely chopped fresh thyme
¼ pound (125 g) feta cheese, crumbled
16 pitted kalamata olives or sliced black olives
2 tablespoons (130 mL) balsamic glaze or reduction
Instructions
For the sauce, mash garlic and 1 teaspoon (5 mL) salt to a paste in a mortar with a pestle or mash them together with the back of a spoon; transfer to small bowl.
Whisk in 3 tablespoons (45 mL) balsamic vinegar, oil and black pepper.
Core, seed and cut peppers into quarters.
Put peppers into Ziploc bag and pour sauce over.
Marinate for several hours in fridge.
Remove peppers from sauce; reserving sauce.
Place peppers, skin side down, on greased barbecue grill over medium-high heat.
Grill for 6 to 8 minutes or until lightly charred but not mushy, basting with sauce and turning every 3 minutes.
Arrange on serving platter.
Season with salt and pepper to taste.
Sprinkle with oregano, rosemary and thyme.
Sprinkle with feta and olives.
Drizzle balsamic glaze or reduction over peppers.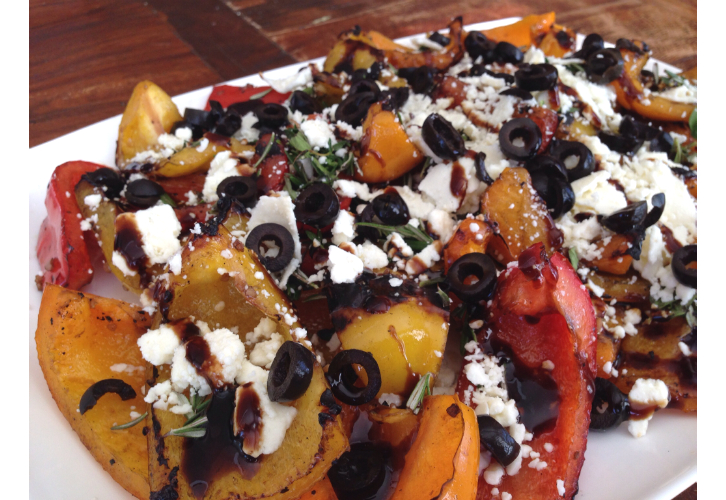 This is the perfect side to any barbecued protein.  If you slice up the peppers into thinner strips after grilling, you can serve this on top of lightly toasted focaccia or sourdough as an appie.  You can make the marinate sauce the day before and refrigerate it for even quicker prep!  So, get your grill on!