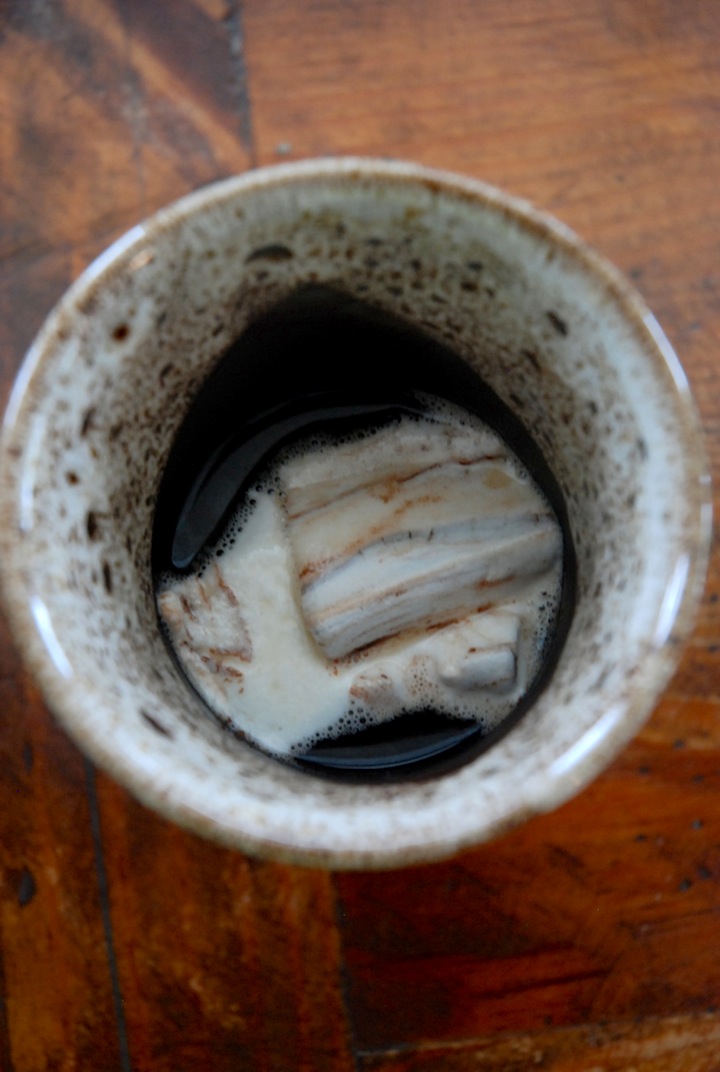 Last week Pam and i had the pleasure of taking part in a marshmallow and tea tasting. Since then i've been wondering where this combo has been all my life! What a delightful mix…melting gourmet marshmallows in a sea of fragrant tea…a definite treat!
I was also surprised at how different these pairings tasted..and started to envision in just what type of scenario these pairings could be served!
Today's post not only gives you the lowdown on our favourites to serve but it has something in it for you….a chance for you to enter to win one of these delicious tea and marshmallow combinations…YES! Three lucky winners actually!
Meet the lovely ladies who made this tasting such a fun experience:
Karla of Karla's Specialteas..She is a level 6 tea sommelier for all you teetotallers out there. Who knew the complexities of tea? Different brewing temperatures for different leaf varieties.. Like wine, there is a science to tea!
Tina of the Pink Spatula is well known for her handcrafted marshmallows.  We have featured her delicious morsels in the past, like these gourmet s'mores. Really, once you try her 'mallows, you'll never want to do s'mores any other way!
Put these two women's passions together and you've got yourself a cup of AWESOME!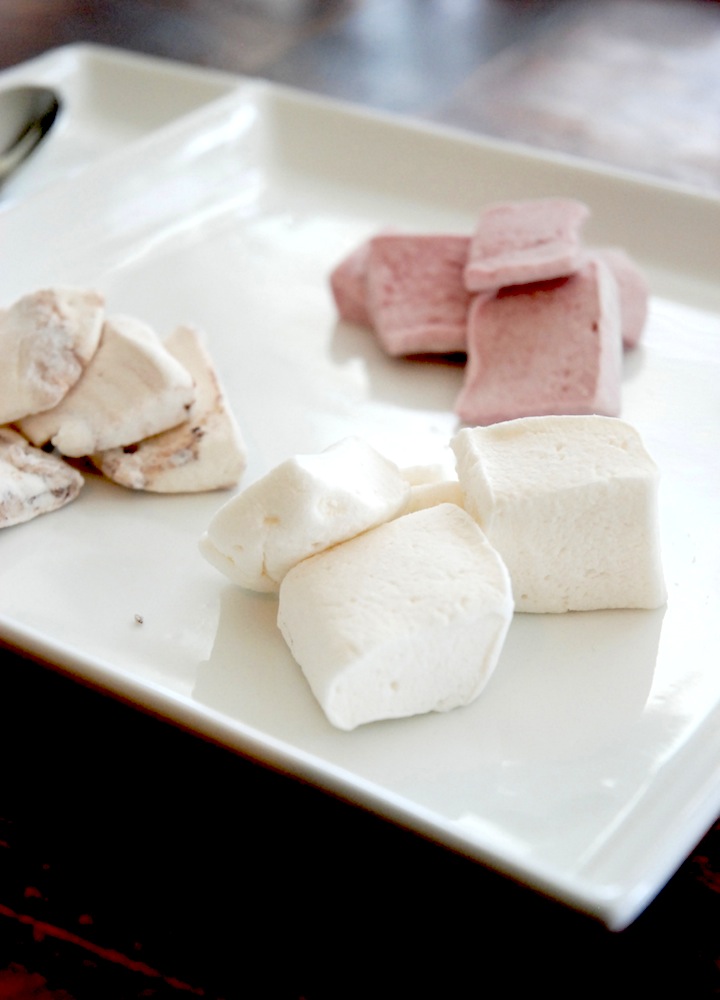 The three pairings we sampled were each distinctly different in flavour but equally as delicious:
Banana Chocolate Chunk Marshmallows with Chai Rooibos Tea. Beautifully spiced with almost a banana bread taste, this pairing was rich and sweet but tempered by the moody spices inherent in chai.
Lemon & Honey Marshmallows with Tropical Flowers Green Tea. Fresh honey crystals sparkle atop these marshmallows. This was a comfort combination for me. Fresh and subtly sweet..the honey taste comes out after like a little gift for the tea drinker…
Blackberry Lavender Marshmallows with Very Berry Rooibos Tea. Made with local culinary grade lavender..nothing artificial, these marshmallows melted in the Very Berry giving an incredibly fresh and fruity taste, without the usual sourness that makes me opt for anything other than fruit teas normally.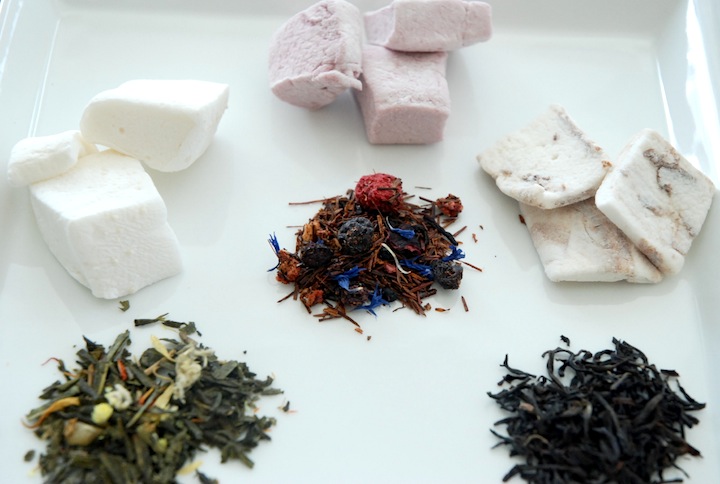 These teas are super beautiful…i couldn't get over the brilliance of the Tropical Flowers leaves…that sapphire blue!!
Look for the Pink Spatula's new summer flavour releases in early June. Peach Raspberry, Peanut Butter Ripple, Vanilla Bean and Toasted Coconut…all of which are killer…i've had the pleasure of sampling them all!  I can eat the Peanut Butter ones like candy…
Tea pairings will be done for Vanilla Bean and Peach Raspberry which we will be sure to share with you all. Join the marshmallow craze by ordering these amazing creations across Canada on Foodie Pages or find them at these local retailers.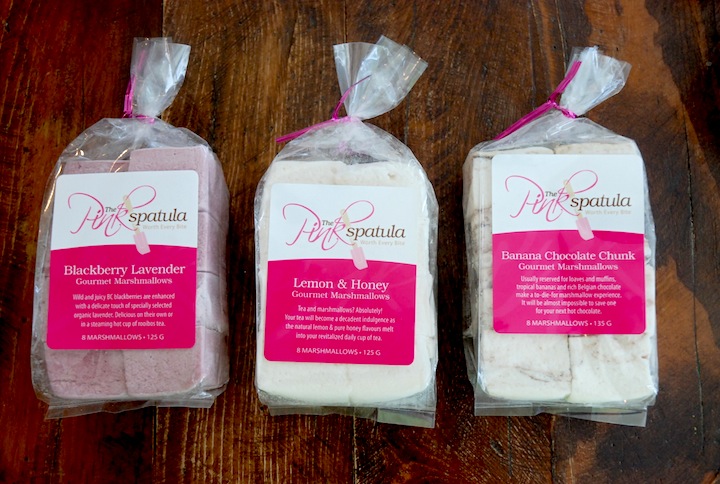 Karla's Tea can be found locally at these retailers (to name a few: Nature's Pickins, Lepp Farm Market and Tracycakes) or visit her online shop… Take it a step further and treat yourself to High Tea at Lepp Farm Market where Karla will be serving her fragrant blends.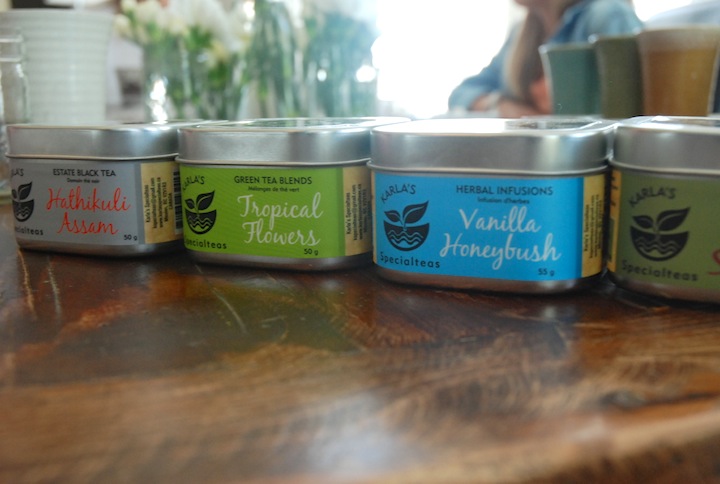 GIVEAWAY DETAILS:
We are giving away Marshmallow and Tea pairings to THREE lucky sisters. To enter, please post a comment here on which of the three pairings you would opt for: 1. Banana Chocolate Chunk with Chai Rooibos   2. Lemon & Honey with Tropical Flowers or 3. Blackberry Lavender with Very Berry Rooibos. We would also love to hear if you could sit down and enjoy a cup of tea with anyone, who would you choose? (Comments on our Facebook page will not be entered..sorry!) Winner will be announced on Tuesday, May 13, 2014. Entries will be accepted until Monday, May 12th at 11:59pm. Open to Canadian residents only at this time. 
**Giveaway is now closed. Winners were announced on our Facebook page and have been notified by email….looking forward to the next giveaway with you sisters!