We've been working hard at getting the house and yard ready for summer….well….Jason has!   De-cobwebbing the house, getting the roof pressure-washed, putting out the patio furniture, weeding the beds…we are almost ready for summa!   We did have a few casualties over the winter…items lost to the elements including our front door mat.  Jason put it on my to do list.  No problem!!  Well, so I thought until I actually started looking.  Local stores literally having NOTHING appealing! Maybe I'm a bit picky….or a lot….but this is the first thing that guests see when they arrive and I want something nice! So, I'm on the hunt….online now.
Here's what I'm looking for….
It needs to be made out of coir…brown natural fiber from coconuts.  The course fibers of natural coir provide an excellent scraping surface to remove dirt and debris from shoes and provide a slip resistant surface.  Coir is a natural, sustainable material that requires minimal processing and is biodegradable making it an excellent enviromental choice
It has to be pretty and welcoming
It has to be large enough.  So many of the door mats out there are puny!  Our front door is just shy of 4 feet wide, so a standard 18″ by 30″  would look like a postage stamp!
I had some luck looking online…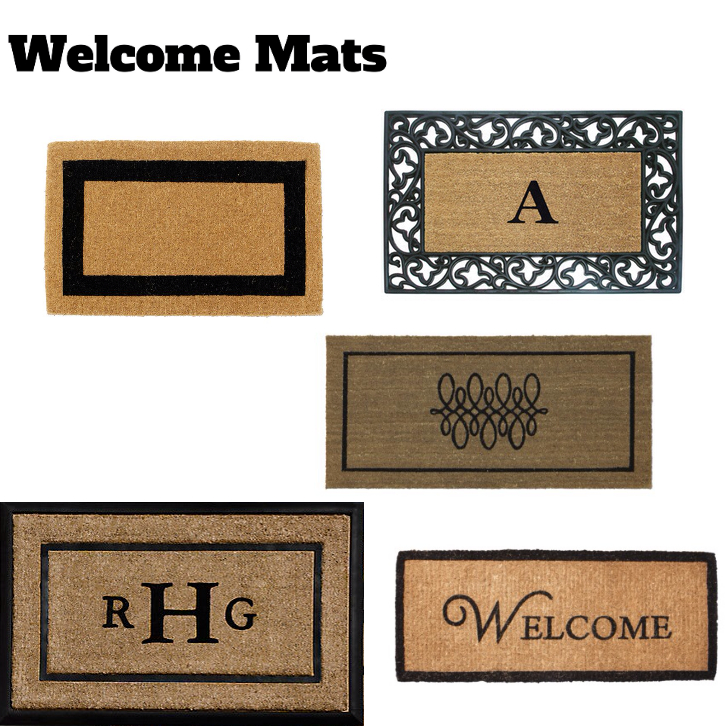 Pottery Barn Picture Frame Doormat – available in 4 different sizes.  The heavy black border is simple and classic.
Overstock Monogrammed Rubber and Coir Mat – moulded rubber looks like wrought iron .  Also comes in 4 sizes.
Target Hepburn Mat with Border – a great deal!  47″ x 22″ at under $25.
Smith & Hawken Welcome Doormat – love that this is 46″ wide.
Restoration Hardware Personalized Coir with Rubber Frame Door Mat – make it your own with a single or three-letter monogram or last name.  Available in 4 different sizes.
Yay!!!  I have options.  Which one would you like to welcome you at my front door?