Mother's Day is just around the corner!  For me, Mother's Day is more about the sentiment and honoring our moms versus extravagant gifts.  But I do like to give a little something to my mom and mom-in-law…something that they might not buy themselves and will make them feel pampered!   Here are a few ideas…things I personally love and I think most moms would love to receive too!  Some of these items are available online only, so if something tickles your fancy, don't wait to order if you want to receive them in time!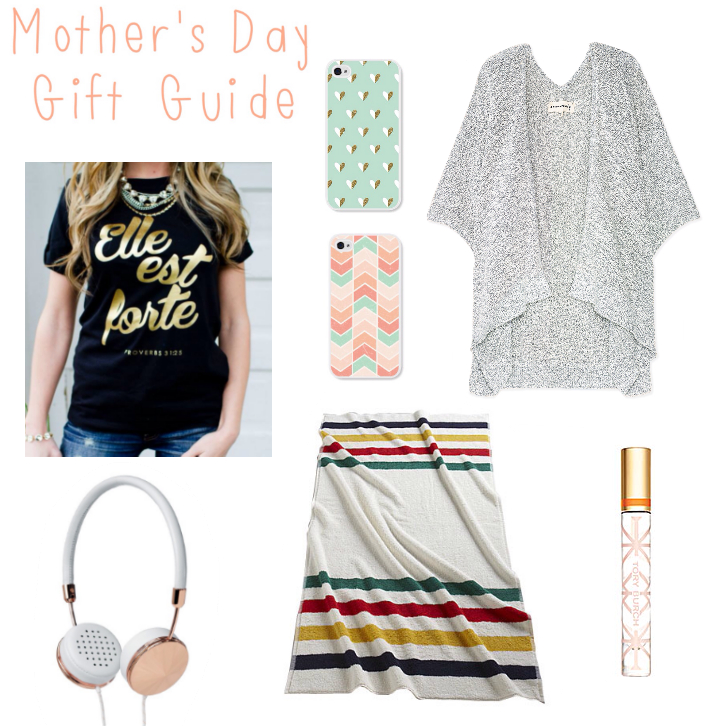 Elle est forte tee by SHE IS Clothing
Gold Heart iPhone Case by Field Trip
Ombre Herringbone iPhone Case by Field Trip
Iconic Cape by Community
Eau de Parfum Rollerball by Tory Burch
Beach Towel by Hudson's Bay Company
Layla Headphones in White Leather and Rose Gold (find here in US, find here in Canada) by Frends
Your mom will feel like a super hero in this black and gold tee…She is Strong….oh yes she is!!  Why not give her most carried accessory a spring update with a pastel iPhone case??  The cape is soooo cosy!!  Think wearing a blanket and looking good while doing it!!  My fave scent just came out in a rollerball…perfect for travel!  I'm a bit territorial about my beach towel….I don't love sitting on a damp one that one of the kids may have used.  This beach towel is fashioned after the iconic Hudson's Bay blanket…and no one will "mistake" it as theirs! Jewellery for your ears…that's what these headphones are all about…lux leather and rose gold…LOVE!
A gift is just one way to show your mom that she's appreciated…a handwritten card, breaky in bed (my personal fave), a special coffee…there are so many ways to show mom she's loved.