One of my very favorite weekends of the year is Easter. The personal significance of this holiday is the basis for my faith and the reason that I can live with hope, love, assurance and peace. It is a symbol of fresh and new starts. Its also a time to spend with family, and what better way to take the spirit of this holiday and mark it with some special treats to make it all the more memorable. Here are some of my favorite links that might just make your Easter celebration all the more cheery and endearing: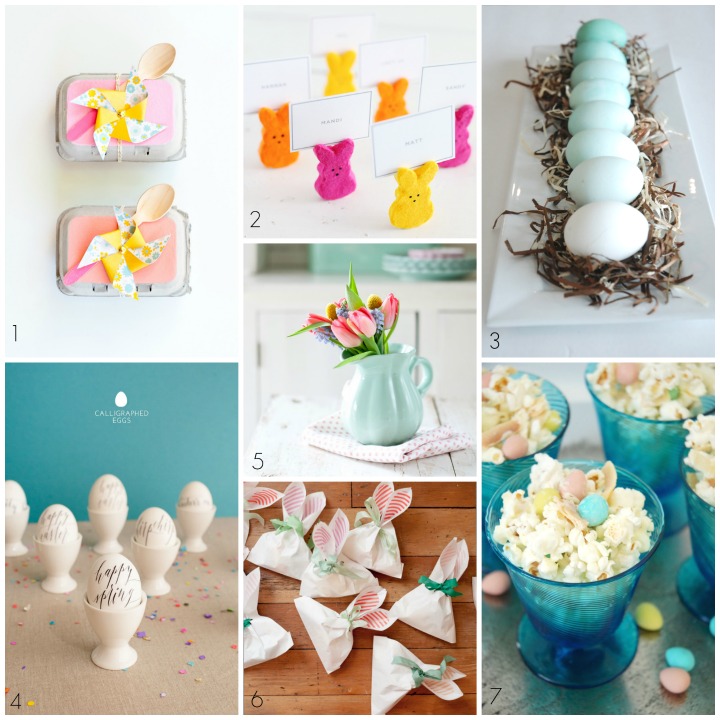 1 These Easter Sundae Kits are so-o cute and easy to assemble. I think these would be perfect to gift to all the littles you are celebrating with…don't forget to have ice cream on hand, too!
2 How adorable are these Peeps place card holders? I think they'd be a hit with kids and adults alike!
3 & 4 I made ombre eggs last Easter and loved them, but having less time to prepare this year, i love these easy but beautifully calligraphied eggs.
5 Easter flowers lend themselves to soft, organic and pastel arrangements. I love the simplicity of this one…using a vintage pitcher as the vessel to hold a variety of pastel  blooms.
6 &7 And what about making some charming Easter treat bags and filling them with the yummy popcorn i told you about last week?
This year we're changing this up a bit and are heading into Vancouver on Easter Sunday…not before we've spent time with Scott's family. You never know what's going to unfold when we're together! We've had some pretty crazy Easter memories….can you say Mantracker family style, complete with camoflauge, quads and team names?? One of my favorite Easter memories… what's one that sticks out in your mind?