Today is extra sweet…might have something to do with heading to warmer temps, a slower schedule, some good books, time with the fam jam…yep, tis a sweet day.
I think its safe to say that i am looking forward to spending time together as a family.  All five of us. Together at once. YES!!!
We have our schedule and as chaotic as the last two months have been, we signed up for it so there was no one to blame but ourselves! In truth, though, it has been incredibly fun. And while we like to gest that it's all about the kids, we have been able to sneak in some fun moments for us as couple and with our pals too (listen, i consented to the late movie of Robocop… because of the popcorn it meant time for me and Scott. That's sacrifice, friends…)
It is quite lovely, though, to be able to turn the speed down for a number of days. I am so looking forward to:
-delving into some good books. On the agenda is "A House in the Sky" and "Son of Hamas"
-being without the 8 ball…..because whatever the heck that is, i'm always behind it….
-some outdoor exercise…we have some great hikes planned…and i have to say that a hike in the warm morning sun is one of the most enjoyable starts to my day!
-enjoying some good eats. This kinda goes without saying…great food is more than just eating…its the moments of laughter, time spent together and savouring the entire experience.
-relaxing evenings…me and my other Sugar Plum Sister are night owls together…catching up on House Hunters International, painting our nails…no bra snapping though…that's where i draw the line.
And even though the point of going away is to have a rest from work, i am already anticipating a fantastic evening event that we gearing up for upon our return. Highstreet is putting together a fashion show and social fete on April 4th. I am especially excited that they have chosen to donate the proceeds of this show to a charity super close to my heart: Matthew's House. Have a looky here of what's to come: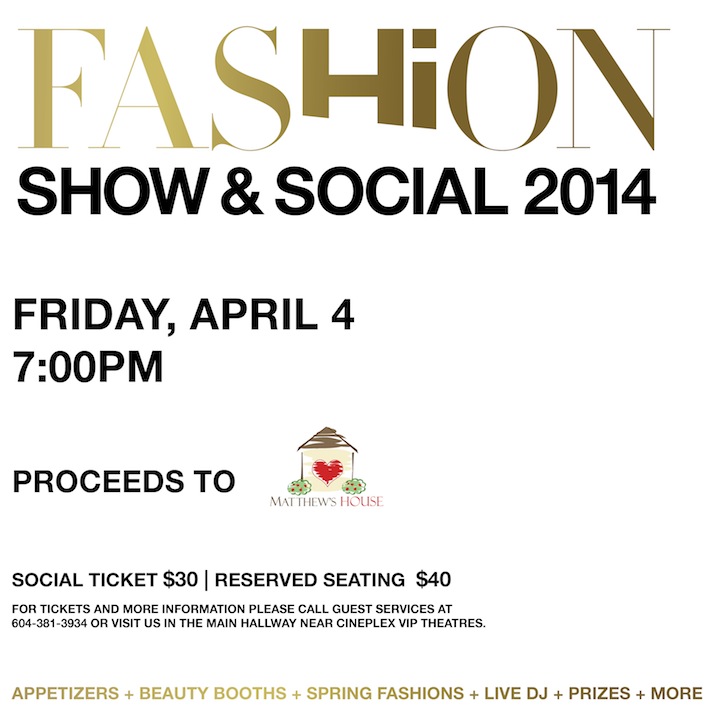 This promises to be a fabulous night for the ladies…Highstreet just gets it…and always does it right. This evening will be no exception. Pam and I are thrilled that they have asked us to host the evening. SPS happy dance! We'd love to see you there…
I hope that you are able to have some "downtime" this week…whether you are headed out of town or staying put at home. My wish is that you can carve out some time for YOU….whether that's sinking into a novel, enjoying coffee out with a loved one or even something as simple as staying in your pi's just a bit longer than usuall. Oh and don't forget chocolate…treat yourself to something sweet xo
PS Happy St. Patrick's Day….are you wearing something green today? Or living on the wild side?