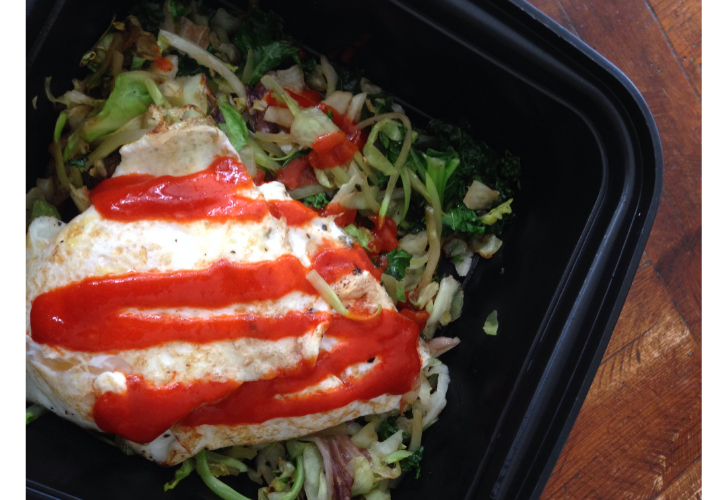 Every week I throw a bag or two of Eat Smart Sweet Kale Vegetable Salad Kit into my grocery cart.
I find it at Costco, Superstore and Kin's Farm Market.  It's a blend of seven super foods perfectly shaved and julienned and ready to eat…
Broccoli
Brussels Sprouts
Green Cabbage
Kale
Chicory
Cranberries
Pumpkin Seeds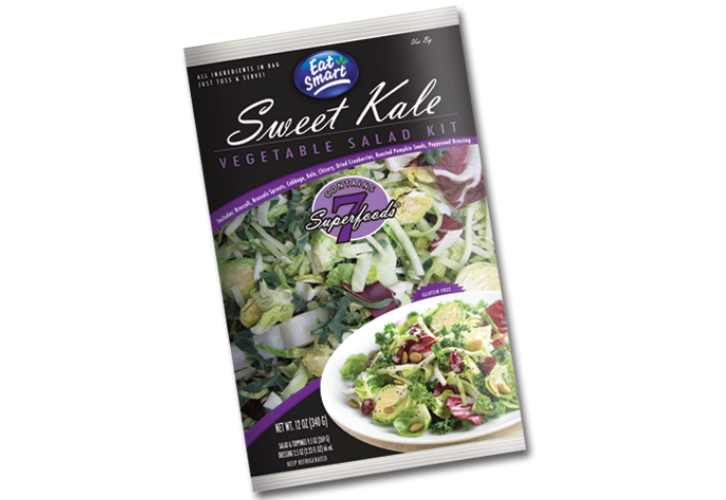 The cranberries and pumpkin seeds are packed separately with a poppyseed dressing.  If you look at the nutritional value (see here), the cranberries, pumpkin seeds and dressing dramatically increase the fat, carbohydrate and sodium content of the salad.  Hey, it's still a darn good choice and way better than eating a BLT, but I like to use the veggie portion of this kit for a quick and healthy and super yummy meal.
So, here it goes…there are no exact measurements….just kinda wing it!
Heat about a teaspoon of olive oil in a nonstick fry pan over medium heat.  Add about two cups of the veggies from the Sweet Kale Salad mix.  Saute until the veg get tender.  Add about 1 tablespoon soy sauce.  I use Bragg Liquid Aminos, which is a much healthier alternative to soy sauce.  Season with sea salt and freshly ground pepper.  Remove to a plate.  In the same fry pan, add a bit more olive oil and fry one or two eggs to your liking. I like the yolks to be a bit running so they mix nicely with the sauteed veg.  Place eggs on top of veggies.  I like to add some sriracha sauce for some heat.  Enjoy!
If you have all of the ingredients on hand, you can whip up this meal in 5 minutes.  Now that's fast food…the healthy way!