A recent post on what to pack in a carry-on sparked some conversation… one of our friends & readers is preparing to go on a European vacation and asked our advice on travelling in comfort, while combining functionality with fashion. After we got over our insane jealousy, we were able to get down to bidness! When we compiled all our ideas it made for one looooong post…we're talking novel style! So we decided to make it a two part post. Let's start with travel musts for women…
Pam and i both have some pieces that we would consider essential on both long haul flights and for overseas travel.  We also did some digging to find new and improved items. Heres our lowdown…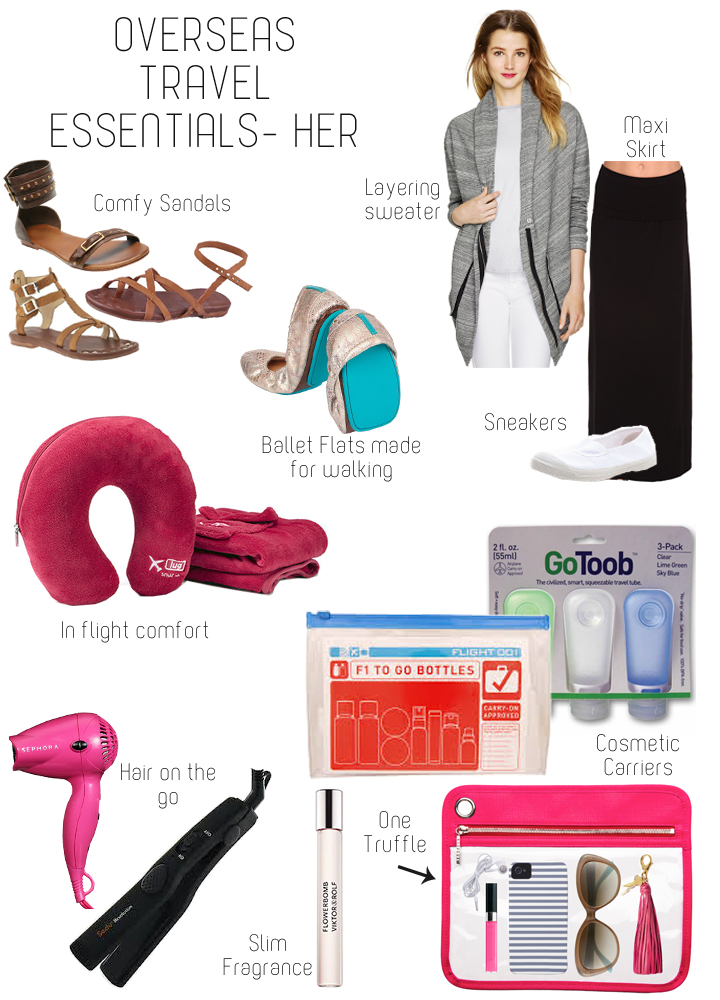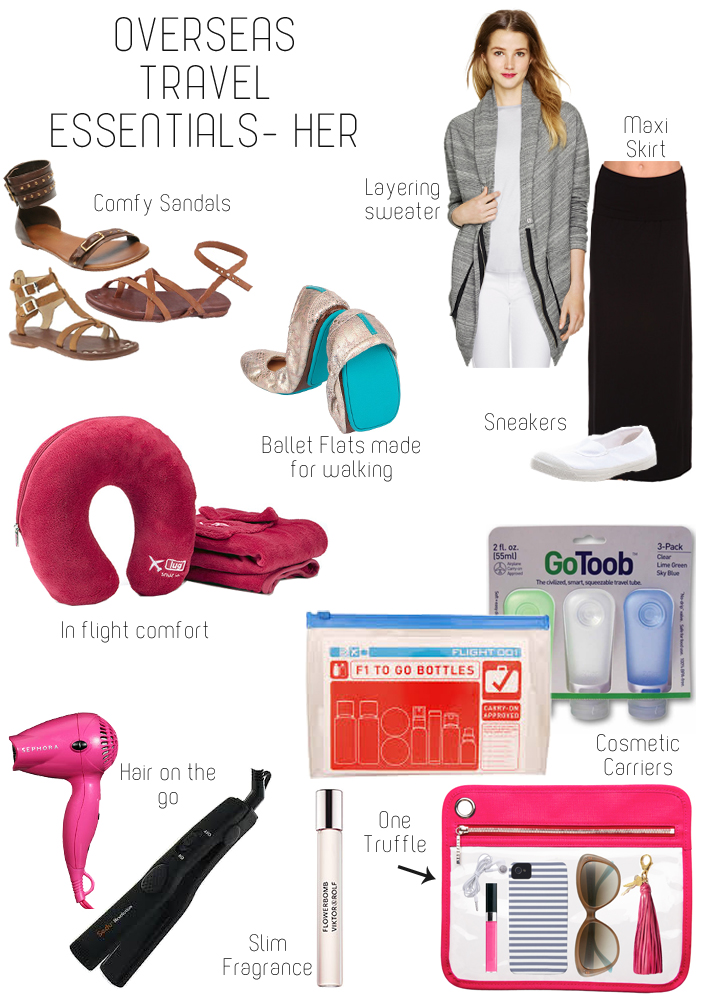 One Truffle Travel Pouches. Keep your small items organized and easily accessible. These see-through pouches are perfect for storing both misc travel items, like lipgloss, phones, pens and snacks, as well as cosmetics
Travel Bottles by Flight 001 and Gotoob are the best way to transport your liquids, such as skin care and shampoo. It takes a bit of time to fill them up the first time, but once done i always have my travel bottles ready to go at a moments notice. They're also spill-proof..trust me, i've rolled the dice on keeping my liquids in their original bottles, and cleaning up a wet mess is not the way to start off a trip!
Fragrance Rollerball – Sephora has a multitude of rollerballs which are slim and spill free. I've also asked for sample sizes of my favourite fragrances..don't be too shy to ask!
When it comes to footwear, it's all important. Days spent touring and exploring can be hard on your feet…truth is, you often get what you pay for in this department. My advice is to pick a sandal, a sneaker and a ballet flat to walk the distance. I've packed heels in past and i've never worn them!
Tieks are hands down the most versatile and comfy ballet flat out there. They come at a cost… $165 and up, but i'm told they are like slippers on your feet…they also fold up to the size of a man's wallet to save on luggage space!
Matt Bernson sandals are the best in my humble opinion. I trekked around Italy in mine and came home without a blister! The cushioned sole makes walking all day a breeze. I did my research beforehand, and i'd buy another pair any day of the week. They are the most comfortable sandal you'll find. Alas, they haven't released their spring collection yet! The sandals pictured are from last years collection…keep checking for their release..Shopbop is a great place to source them…they ship and arrive at your door in usually 48 hours or less!
A good pair of sneaks are essential..these Bensimon tennis shoes are constantly getting rave reviews…they consistently sell out here in North America (they're from Paris, oh la la!) so watch for sizes to be replenished seasonally.
A maxi skirt is a staple for travel. This Splendid Jersey skirt doubles as a maxi skirt and a tube dress…i've worn mine a million times as it works well in both hot and more mild temps.
A Sweater/Jacket hybrid from Aritzia would be perfect for layering and navigating the varying temps during travel.
This travel hairdryer is touted as being the best travel hairdryer out there. Small and compact, but with dual voltage (for worldwide use) as well as major power mean that this baby is hard to come by…it's even sold out at Sephora …i found some available on Amazon..gonna get me one!!
After doing research on travel straighteners, this Sedu model is the one i honed in on…from all reviews, it puts out the best results. Though it has dual voltage, it notes that you still may need an adaptor. The only caveat i'm going to include is that i've heard of so many "burnt" out straightener stories depending on what plugs your overseas accomodations offer. Many people have said they were most successful with going to a local drugstore and purchasing an inexpensive model that didn't risk burning out their more expensive ones from home. I'd love to hear your thoughts on this?
IN FLIGHT:
I have this pillow/blanket combo from Lug that i love…there are two options: a neck roll pillow or a mini rectangular pillow. Its a great space saver, as the cozy blanket comes stuffed in the pillow. Just remove the blanket, inflate the pillow and you're set!
Don't forget a pair of comfy socks to keep your tootsies cozy during the flight as well!
Here's some inspiration for a long haul travel outfit: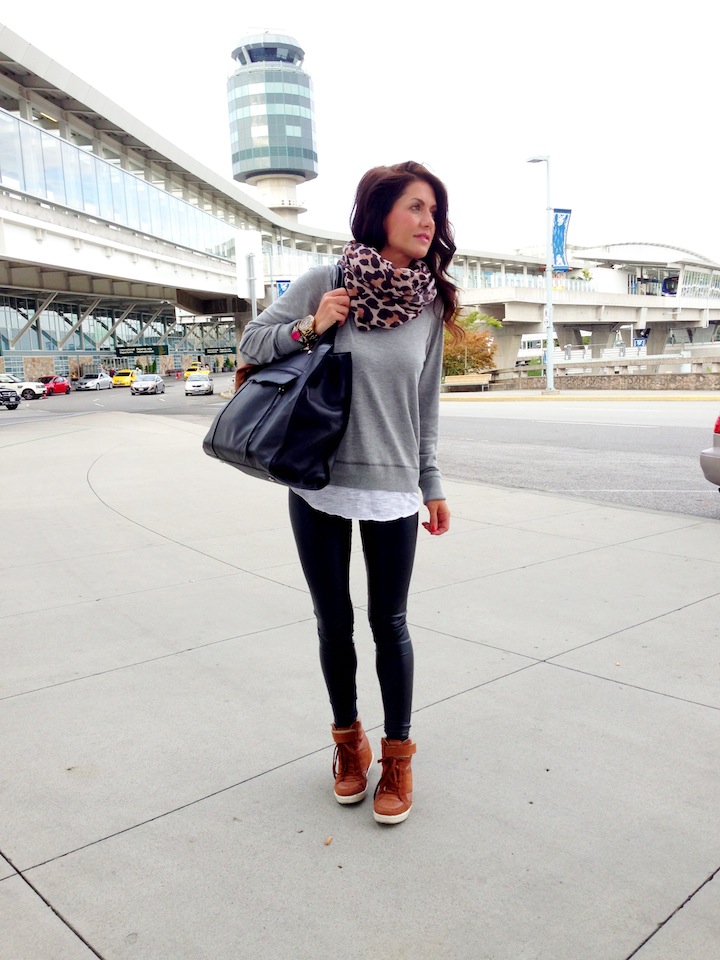 Aritzia is a gold mine for travel pieces that combine comfort with fashion. I love what Jillian Harris has done in putting together her outfit for travelling…see how she still manages to look tres chic? I'll admit i don't think i could pull off the wedge sneakers (she, on the other hand, is rockin them!). I would opt for some tennis shoes or slouchy booties that i could wear with other packed outfits, like a maxi skirt or a dress.
These picks should make for an extremely BON Voyage!!!