First of all, i want to say THANK YOU for the overwhelming and heartfelt response that you offered in response to my post on anxiety this past Tuesday. You all made one of the scariest leaps of faith in sharing that story a moment of true humbleness and feeling of acceptance. And i hope that it offered some encouragement to those reading who are facing struggles at the moment. It's gotten the wheels turning..anxiety has and is touching many families and i'd like to keep the conversation going…maybe a once a month series ..thinking on some ideas…thanks again friends:)
Back on the Sugar Plum front, Pam and i are preparing to head to Alt Summit in Salt Lake City next week. This blogging conference is the the motherlode i'm telling you! We are so excited to take in all that it has to offer: gleaning tidbits from those who have loads of blogging experience, connecting with new friends with whom we share a lot in common, meeting up with others that we met at previous Alts…its going to be a jam packed week, but oh so much fun!
And the packing begins. I thought i'd share my carry on essentials with you….my carry on is kind of like my security blanket. i like to feel that i have all my bases covered!
It all begins with the ultimate Carry On Bag. And this is just that! The Lloyd and Wolf "Abi" tote is the rockstar of bags because it works as a day to day bag all the way to your carry on.There's even a pocket that fits your IPad. Plus, you can look edgy and chic while travelling…i'm loving it!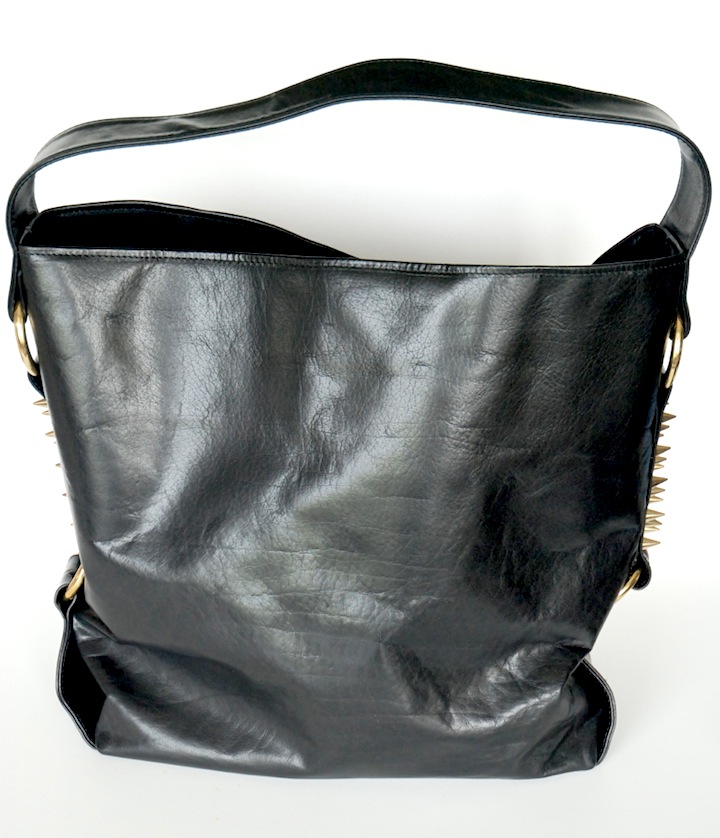 Well placed cone spikes give this bag an edge while still keeping a silhouette that is timeless. And the glory of leather is that it just keeps getting better and better with age…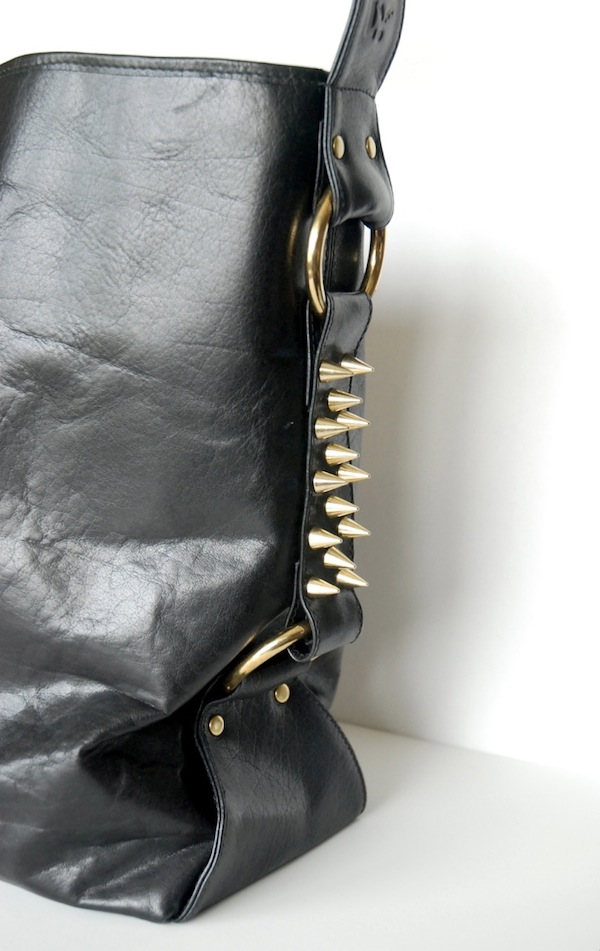 What are my carry on essentials? I'm a creature of habit, so i grab for the same items every time:
1. Pashmina– can't travel without one…airplanes always tend to be on the cool side, so a pashmina scarf is my mini blanket that keeps my warm and cozy…i opt for cashmere (grab a reasonably priced one at an airport kiosk) because they provide more warmth without bulk.
2. Headphones – i love my Beats..that is when i stay awake long enough to use them.  While reading or working though, i do like to tune out the outside world…much to my kids delight…hehe
3. Wallet– cleaned out BEFORE i leave…that means, no receipts or Canadian coins..which in turn means that i can actually close my wallet. Sweet.
4. A Clear Sided Pouch for my lipsticks, chapstick, a travel mascara and tylenol. It makes going through security a breeze..no grabbing around for what needs to come out of your bag while going through the xray. Everything in one pouch. These are some of my favourites.
5. A good book..this flight its "A House in the Sky" by Amanda Lindout and Sara Corbett

6. Ipad– working on blog posts or losing myself in a movie makes flight times literally "fly" by. My iPad case also has a pocket to keep my passport close at hand.
7. Hand Cream– L'occitane Hand Cream is a new favorite..the small size is TSA approved and helps keep the dry cabin air at bay..i also love the smell!
8. Almonds– i never travel without them..i try to eat healthily on travel days…it keeps me from getting an upset and bloated tummy!
9. Protein Bar– this is always in my bag too…be prepared with snacks so you don't get panicky and eat something that you'll regret later.
**And of course, water water WATER! As soon as i'm through security, i'm off to buy water…we all know its good to keep hydrated but i tend to get a little freaky if it gets warm on the plane (like clausterphobic freaky)…cold water is my friend!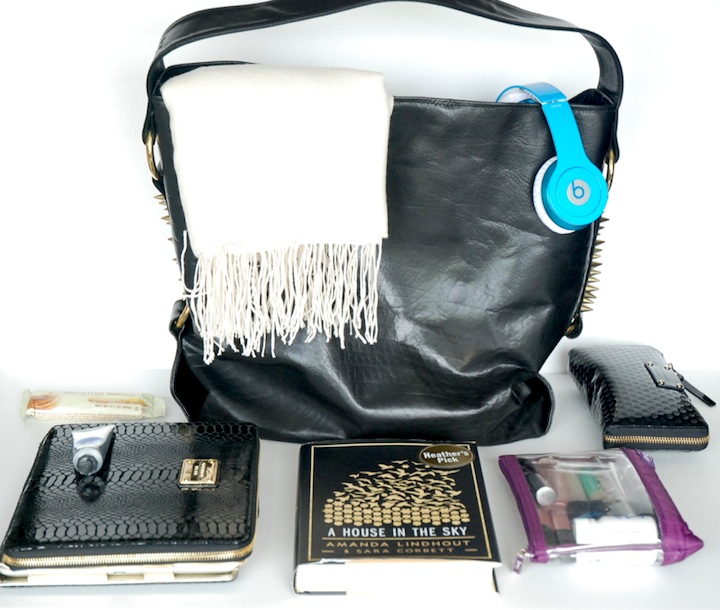 All fit in this chic black number…what are your carry on essentials?