Last week, we talked to you lady friends about packing for an overseas vacay…it IS different than your regular couple hour flight and final destination lounging. Function is huge when you're spending days exploring new sights…BUT, it's ok to still want to look good. We think you can do both. This week it's all about the guys….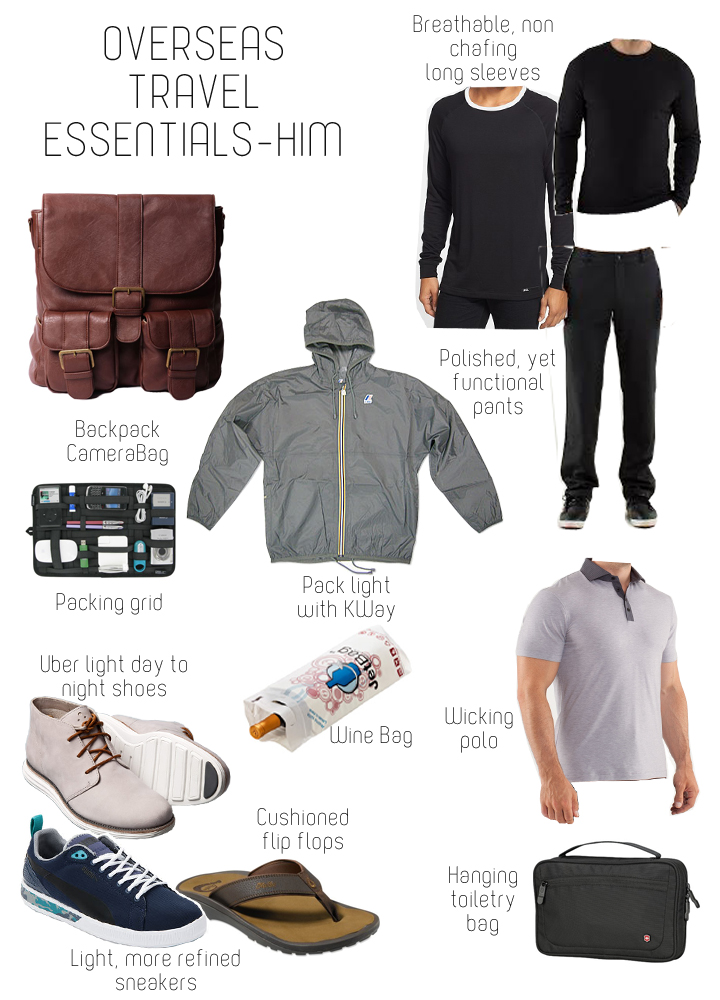 A backpack style camera bag can accommodate so much more than just a camera…laptop, wallet, lenses and extra compartments for maps, etc. I love that it's a backpack for unhampered style.  If you're looking for smaller, more dedicated camera bags such as a sling style or more rugged style are options.
They're baaaack! Throw in a Kway Jacket for lightweight and efficient packing. Locally, find them at Launchmens in an array of colours.
When it comes to comfy shoes, Scott considers himself an expert… judging from his closet, i'd say he might just know what he's talking about. For travel, he likes to pack 3 pairs as a base:  sneaks, shoes that can err on the side of dressy and flipflops.
We happened upon these  Pumas in Italy last time we were there and 2 pairs left the store with u!. While being a sneaker, they are a bit more refined looking (look fantastic with a pair of shorts and a golf top) and are incredibly light… like under a pound light! Looking for a similar style, i found these Puma Lite Tech Sneakers that look perfect for all the same reasons.
Cole Haan Chucka Boots can translate from day to evening and are unbelievably featherweight…like seriously light! Two words: Nike Air. Scott swears by these.
OluKai 'Ohana are said to be the flip-flops of choice when it comes to comfort. I also like that they're not sloppy looking (i hate "shrubby" flip flops)..these could be worn out to a casual dinner
Packing some long sleeve shirts made of functional fabrics is key for men travelling the globe. Scott is "chafe-phobic"…is that a word?? it's all about air flow, breathability, and the ability to layer if needed. If a shirt checks all those boxes, we're looking at winners!
This Crewneck shirt/sweater from Lululemon is made from Rulu which provides warmth without the bulk, as well as ventilation to help when things heat up.
Lululemon's freestyle polo has some lycra in it to keep its shape…it also is anti-chafing. As i mentioned, huge buzz word around here…eliminate the chafe!!
Bamboo is extremely popular due to its breathability, comfort and antibacterial properties… A long sleeve sweatshirt made out of it is perfect for layering.
Comfortable pants that still look polished are perfect for doing Europe.
I love this "grid" to keep all miscellaneous items in one easy to access place. It's a little more manly man than other options and can fit nicely into his carry-on.
Men need to pack their toiletries too…this bag has all sorts of pockets and leakproof pouches…and it can be hung where counter space is minimal.
And lastly, if you find some amazing olive oil or wine that you just can't resist (let's be honest, the chance of this happening in Europe is pretty good!), be prepared with these jet bags. I've done the packing glass bottle thing in my luggage before and have stressed the whole trip. These take up no space when empty and are lifesavers on the way home!
Happy travels!