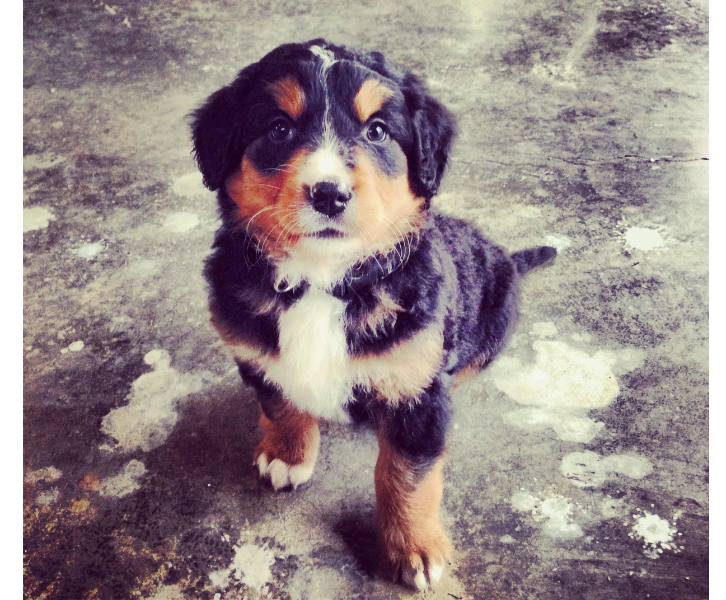 I can already hear the "aws" in the blogosphere (ok, my family mocks me to death when I use that word!).  Meet the newest member of our fam….Bama…as in Alabama, Jason's favorite college football team ("Roll Tide!).  He joined our family on Friday!  Bama is 3/4 Bernese and 1/4 Retriever.  Our friend who is a vet says it's a nice mix. But I am a bit scared…or a lot scared! I don't think Jason and I slept at all the first night he was home.  And the 3am potty run outside for Jason was reminiscent of late night baby feeds (although, I did those so this is pay back maybe?!?).   Well, I've told Jason and the kids that I am too often on the way to crazy town and I'm afraid that one more thing may send me there permanently!   Jason is fantastic with dogs….I call him a "dog whisperer". Dogs just seem to listen to him…he is the alpha male!  And the kids have promised to do their part. Berkeley typed up a chart for dog chores (wonder where her organizational skill come from?) and their names are slotted in.
I can already see the blessings despite the work.  My mom has always said that dogs give unconditional love.  They don't care if you are grumpy or hormonal.  And already over the weekend, I found myself slowing down and sitting down to cuddle with him.  The kids have looked at my really funny when I talk to Bama…there's some crazy puppy talk coming out of my mouth….I can't help it!  "Hey Buddy….you ok?  What up??  You firsty?"  You get the idea!
So, it's a new adventure for the Ratzlaffs!  I'm sure to keep you updated. Welcome Bama!