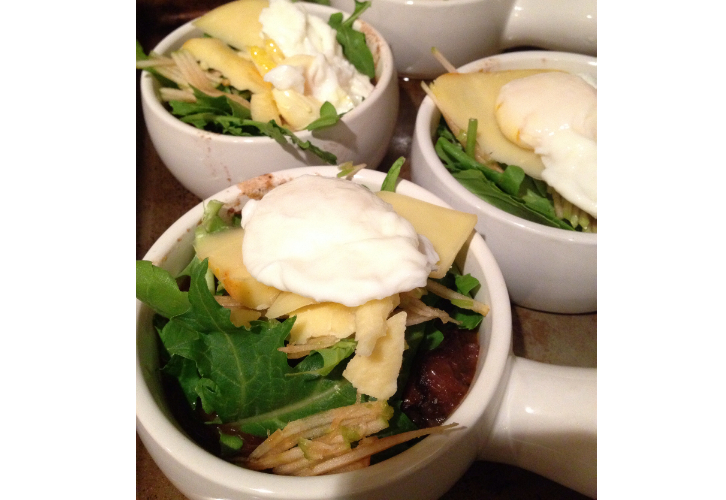 I seriously LOVE brunch!  There's something almost romantic to me about bundling up, walking and heading out to eat a yummy breakfast.  Twice this fall I've been in Vancouver for the weekend with my girls for dance conventions and some of the other moms and I have walked to Crosstown in Vancouver to Cafe Medina for my fave dish….their fricasse is incredible…braised beef short ribs topped with eggs in a cast iron skillet…killer!!  That hearty dish, oh and the lavender lattes, are TOTALLY worth the wait!  I knew for our Booster Brunch that I had to figure out how to re-create this dish.  I have no French culinary training, but this is my version!
Beet Short Rib Brunch Skillet
Ingredients
6 large beef short ribs
kosher salt
freshly ground pepper
5 Tablespoons olive oil
3 medium onions, thinly sliced
3 cups of celery, diced
4 carrots, peeled and diced
3 garlic cloves, grated
2 Tablespoons tomato paste
1, 750 ml bottle red wine (I used a Cabernet Syrah)
3 fresh rosemary sprigs
4 fresh thyme sprigs
1 Tablespoon brown sugar
6 cups beef stock
6 eggs
1 Granny Smith apple
6 large slices of applewood smoked cheddar
4 cups baby arugula
Optional garnish – focaccia bread or flatbread
Method
Preheat oven to 300 degrees F.  Heat olive oil in a large Dutch oven (I use my Le Creuset) over medium high heat.  Season all sides of the short ribs with kosher salt and freshly ground pepper.  Brown all sides of the short ribs in the olive oil until they are somewhat caramelized (they will not be fully cooked).  Remove the short ribs, set on a dish and let rest.  Add half the onions to the pan drippings and cook on medium heat until they are a dark brown color.  Remove caramelized onions and set aside.  Add another 2 Tablespoons of olive oil to the Dutch oven and add the remaining uncooked onions, celery and carrots and cook over medium heat for about 20 minutes, stirring occasionally to scrape up the brown bits on the bottom.  Grate the garlic into the pan and cook another 2 minutes.  Add the tomato paste and the wine.  Increase to high heat and bring to a boil.  Cook for about 10 minutes until liquid is reduced by half.  Add 1 Tablespoon salt and 1 teaspoon freshly ground pepper, to taste.  Tie the rosemary and thyme sprigs together with kitchen twine and add to the pot along with the brown sugar. Place the seared short ribs on top of the veggies and add the beef stock.  Bring to a simmer and cover and bake at 300 degrees F for 2 hours.
Remove  the short ribs to a cutting board.  Take out herb bundle and cook the vegetables in the Dutch oven over medium heat for about 20 minutes to reduce sauce.  Remove bones from the short ribs (they should pretty much fall off!), trim off excess fat and cut into bite sized pieces.  Turn heat off and carefully blend the veggies and sauce with a handheld immersion blender (BE CAREFUL,  I have burned myself!).  Blend to create a thick sauce. Add the short ribs and caramelized onions back into the sauce and heat through.
Spoon beef short rib mixture into 6 French onion soup bowls or small cast iron skillets.  Put on cookie sheet and keep warm in oven at 300 degrees F.  Slice up the apple (skin on) on a mandolin into matchsticks.  You can toss with a bit of lemon juice to keep from browning.
Start frying eggs over easy (or however you and your guests like them).  Season them with kosher salt and freshly ground pepper.
To assemble, take short ribs out of oven.  Top with arugula, a bit of apple, a slice of cheddar and top with a fried egg. Garnish with a slice of grilled focaccia or a slice of flatbread.  Enjoy!!!!  Serves 6.
Ok, I know that this seems pretty involved…not the simplest SPS recipe.  However, there are a few things you can do to make it easier.  You can prep the carrots and celery in advance.  Get the chopping out of the way.  Also, the entire short rib part can be made the day ahead.  That's what I did for the Booster Brunch.  In the morning, I heated it up on the stove, slow and low.
I bought my beef short ribs at Lepp Farm Market.  Their ribs are quite amazing.  I recommend calling ahead if you are ordering a large amount.  I also bought the crispy onion and sage flat bread from Lepp's and cut it on the diagonal and stuck it into the skillet before serving.  If you don't have a mandolin, you can grate the apples coarsely or even dice them up.  The first time I made this, I tried to poached the eggs, but it was a major fail!!  I even watched several  tutorials on poaching eggs and super fresh eggs were recommended and friends of mine who are chicken farmers gave me some uber fresh eggs to practice with. I seriously tried practicing poaching eggs (good thing Mac likes the ) but bottom line, I suck at poaching eggs (even though those fresh eggs were delish).  If you prefer poached eggs go for it, but I'm sticking to frying!
I purchased my French onion soup bowls from Dollarama….you can't beat $1.25 each!  We served them on top of cloth napkins so that the plates they were placed on didn't get damaged from the heat.
This dish is a bit time consuming but not difficult.  Trust me…the flavors are worth the effort!