Dare i say 'tis the season? Well, there's an undercurrent of holiday ramping up that's goin on right now…and i admit, i'm enjoying it. Spending time pouring over the november and december issues of my favourite mags for recipes, decor, gifts that will make this holiday just a bit sweeter..love!
I do believe we've found a winner here with this mocktail..or cocktail whichever you prefer. We mixed up this drink yesterday evening for my sis-in-law's baby shower and it was a hit. And served sans alcohol it proved to be  fresh and light but definitely seasonal, with its ginger, crisp apple and cinnamon undertones.
This recipe is from Martha…Stewart of course! The only "tweak" we made was cutting back on the original amount of ginger..and i think it was the right move.  Putting this drink together is also simple…bonus! In fact, i've decided this just might be my fall entertaining drink of choice!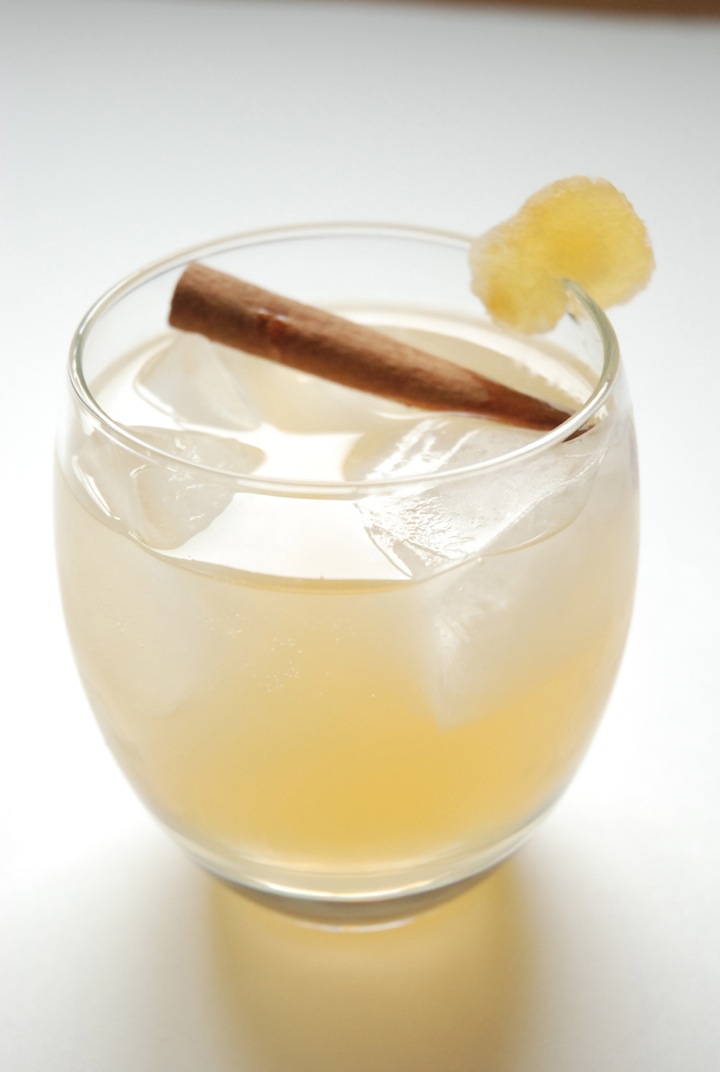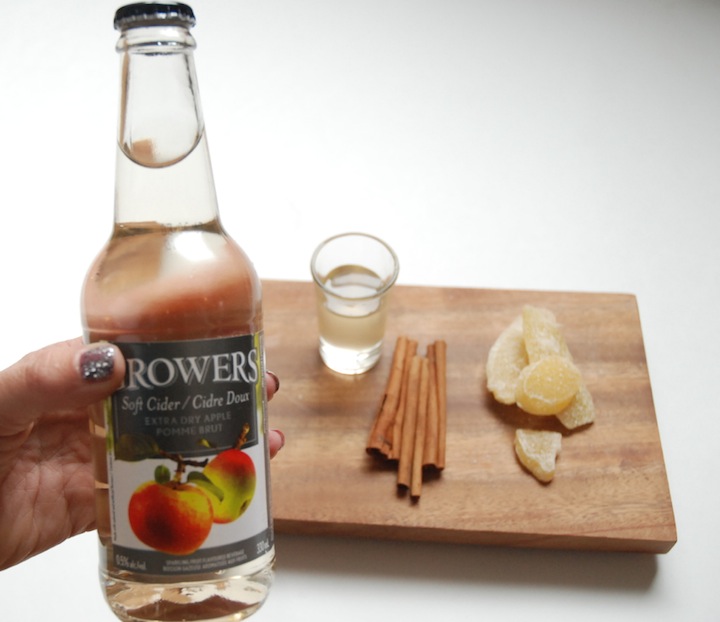 We used  bottled soft cider, which is considered the non-alchohol version.  The "sparkle" is already present! Another option would be to use non carbonated fresh pressed apple cider, and then add sparkling water…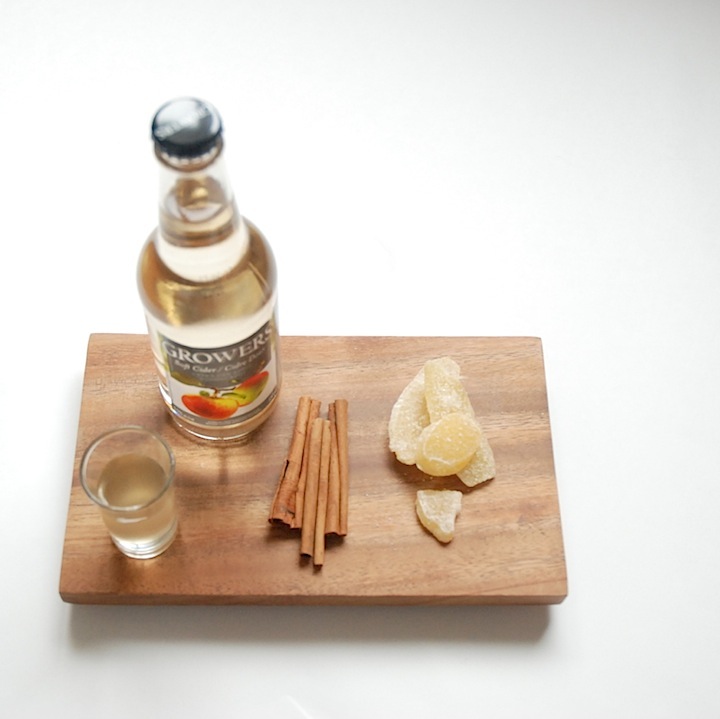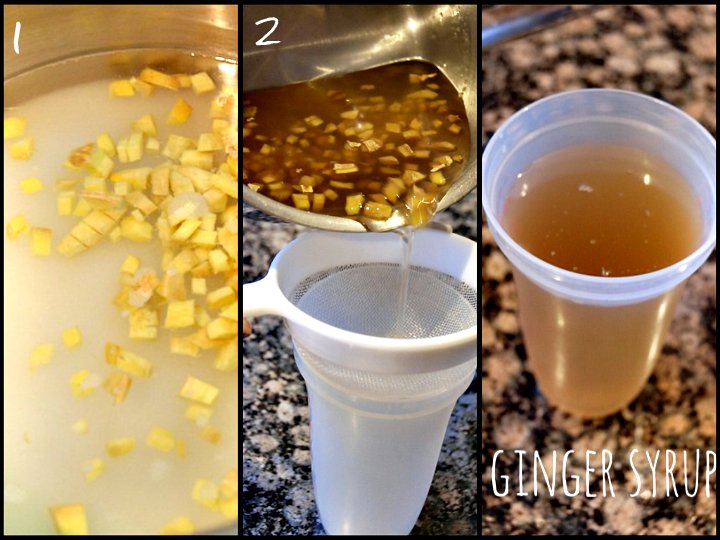 The recipe for the ginger syrup can be doubled or even tripled as the syrup will keep in the refrigerator for a couple of weeks. Simply heat the fresh ginger, water and sugar to boiling. Let simmer for an hour. Cool and then strain the ginger out. Voila! Ginger syrup that will knock your socks off!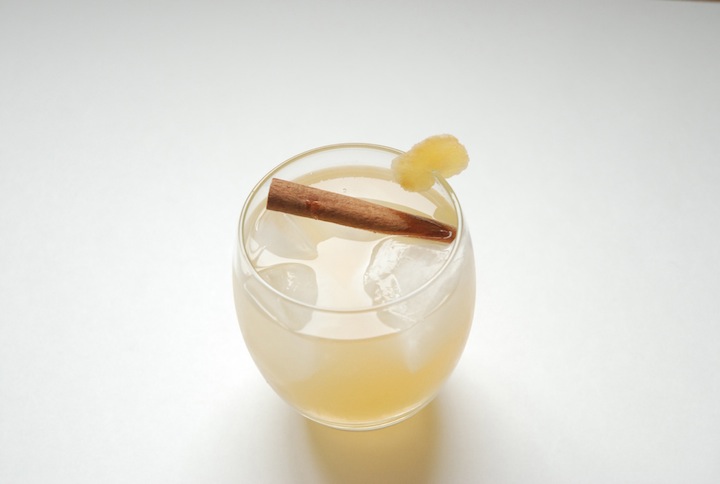 Apple Ginger Sparklers:
1/4 cup ginger syrup, recipe below
4 1/2 cups sparkling apple cider
6 cinnamon sticks
Crystallized Ginger – cut a small slit in the bottom of the piece for it to sit on the cup's rim. Crystallized ginger can be found in the bulk section of the grocery store.
GINGER SYRUP
Combine 2 cups of sugar, a 4 inch piece of freshly peeled ginger (diced into small pieces) and 2 cups water in a medium saucepan; bring to a boil. Reduce to a simmer, and cook about 1 hour, until ginger flavor is quite strong. Let cool; strain before using.
To assemble:
Fill cups with ice cubes. Pour approx 2 tbsp of the ginger syrup in. Add sparkling apple cider. Place one cinnamon stick in the glass as well as a piece of the crystallized ginger on the rim for a garnish.
**Note- to make a "spiked" version, substitute the soft cider with hard cider or add gin to the original recipe.