When it comes to soup, i have to pull out the big guns. Scott doesn't consider soup a meal…what's with that anyways?? So, i take the challenge to prove his theory wrong very seriously. I think we have a winner here. Judging by his reaction we do. This soup is a party in your mouth…tons of flavour and a hearty texture. And bonus? It's paleo..so eat up!
Go on make it. It's a goody.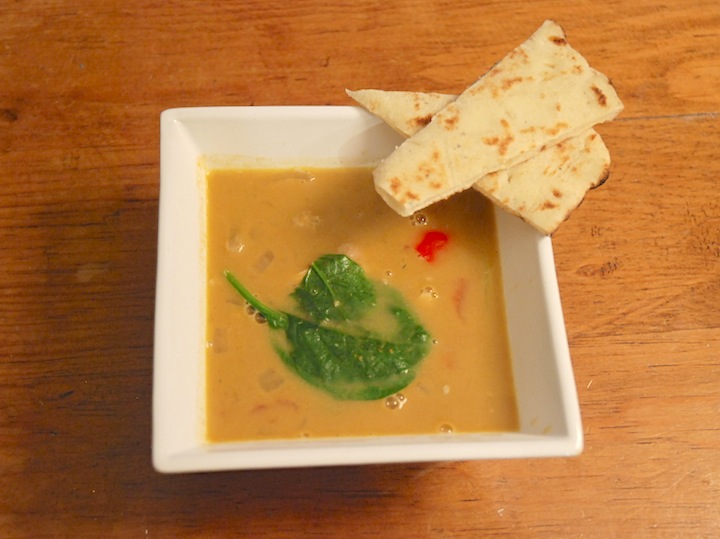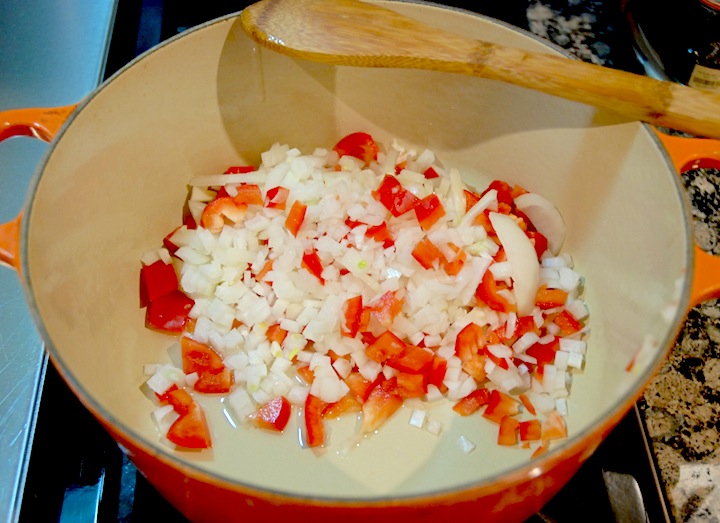 Melt coconut oil and sauté the bell peppers and diced onions til soft.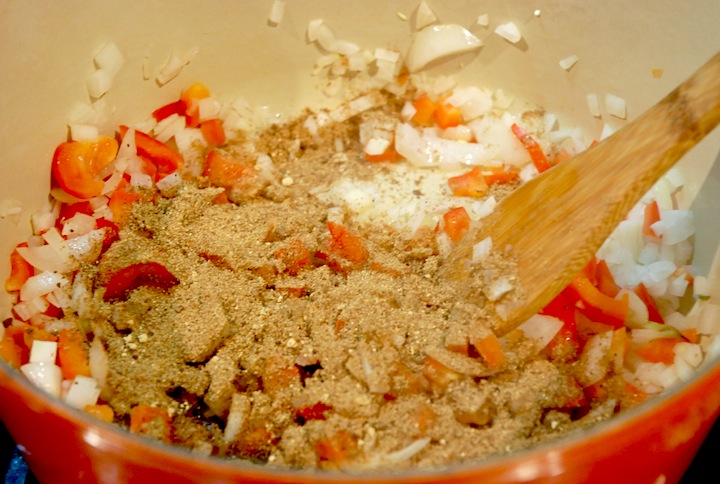 Add the moroccan spice and sauté til the aroma has your mouth watering…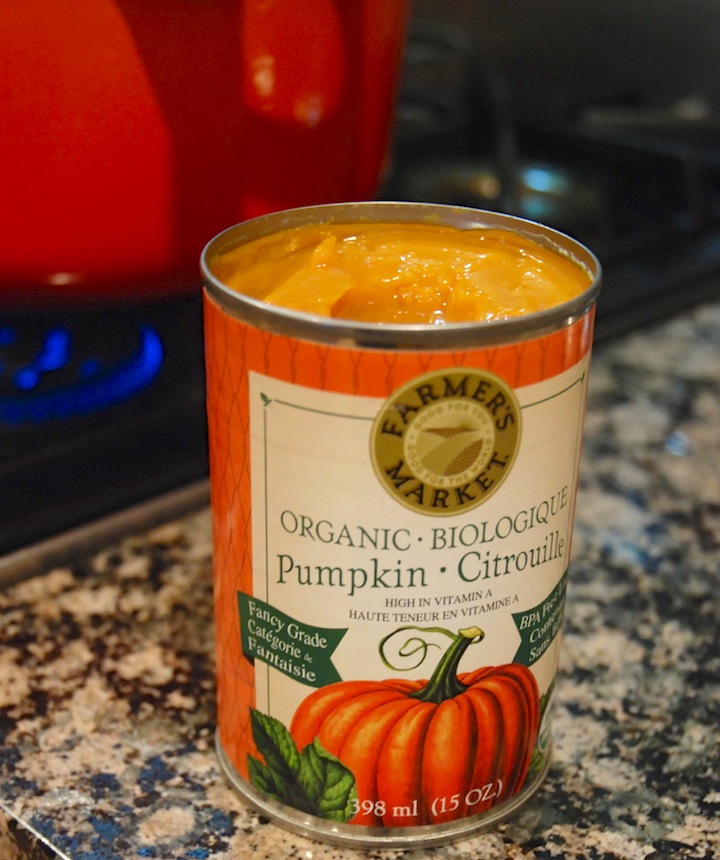 Just a note of opinion…i prefer to use the organic pumpkin puree…not only does it taste better, but it's the real colour of pumpkin!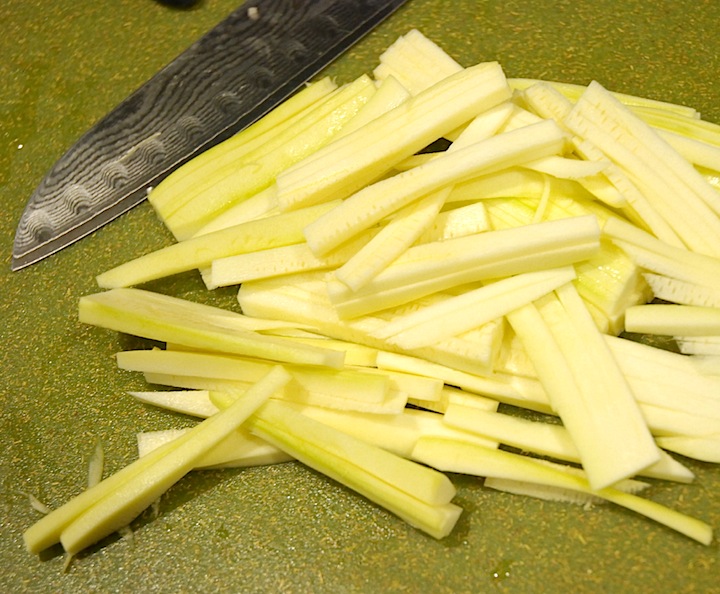 Chop the zucchini into skinny matchsticks…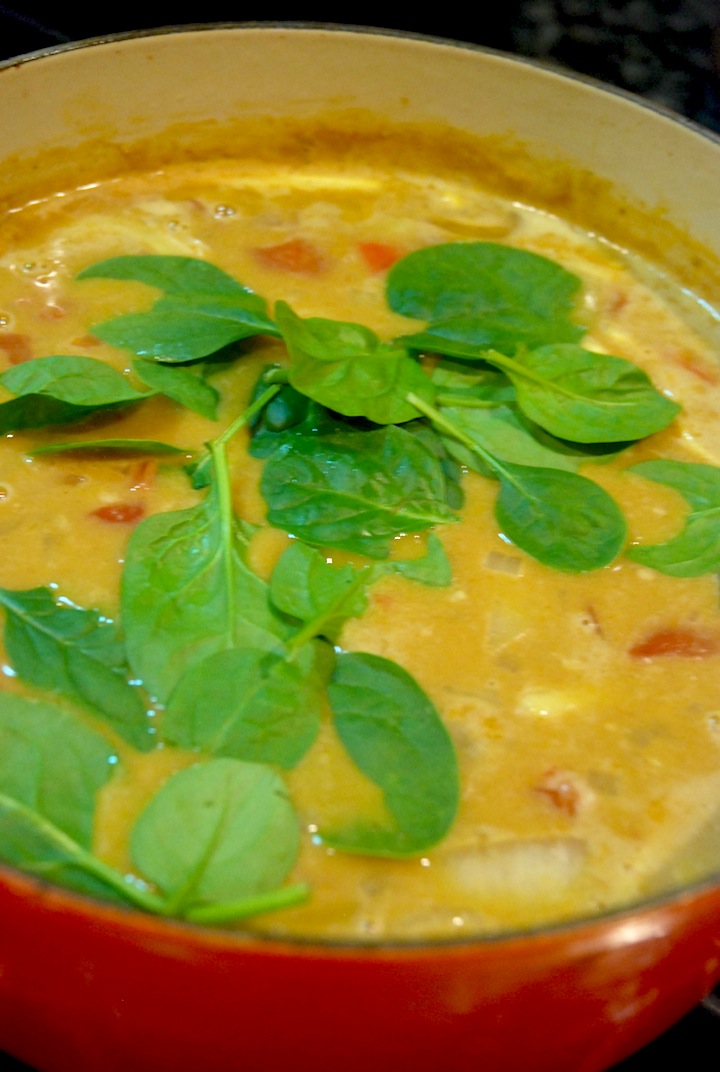 Note to self: Don't get rid of the leftovers….that extra night in the fridge just gives the flavours more time to do their thing! So good!
I served this soup with grilled naan bread for dipping. Meal complete.
Moroccan Chicken Soup – adapted from the Meatified original recipe
1 tbsp coconut oil
1 onion,diced
2 cups chopped red peppers
2 1/2 cups diced tomatoes
3 cups chicken stock
2 cups pumpkin puree (if you're ambitious you could roast a pumpkin and puree the fleshly insides)
3 cups leftover roast chicken
1 yellow squash or zucchini, made into noodles with a vegetable spiralizer (if you're like me and you don't have one, chop zucchini into skinny  matchsticks)

To taste: salt and red pepper flakes
3 cups fresh spinach
Preparation
Add the coconut oil to a large dutch oven or pot  over low-medium heat. Add the diced onion and sliced peppers and soften them for 5 minutes.
Stir in the Moroccan Spice blend and cook for a few minutes, until fragrant.
Add the diced tomatoes, coconut milk and chicken stock. Turn up the heat and bring the pan to a simmer: don't boil as this will separate out the coconut milk.
Season to taste with salt and, if using, red pepper flakes. Stir in the pumpkin puree to thicken. Bring back to a simmer.
Add the chicken and zucchini noodles. Cook until the chicken is heated all the way through and the noodles have softened, about 5 minutes.
Before serving, stir in the fresh spinach and let it wilt slightly.
Moroccan Spice
3 teaspoons ground nutmeg
3 teaspoons ground cumin
3 teaspoons ground coriander
1 1/2 teaspoons allspice
1 1/2 teaspoons ground ginger
1/2  teaspoons cayenne pepper
1  teaspoons cinnamon