This is not an exhaustive gift guide…it's really just my 5 favorite things…ok, I might be copying Oprah, but my list is much shorter.  These are really the 5 things that I'm really loving right now….and if there are any brothas out there not sure what to buy their special lady, I'm throwing you a life saver right now!  These are GREAT ideas….hint, hint!  I love perfume that's citrusy and musky…perfect for fall and winter.  What lady out there couldn't use a butter soft clutch with a bit of an edge…and it's big enough for your phone.  It comes in 7 different colors so you are sure to find one that's perfect!  Flattering jeans…that's what every women wants!  And these jeans are SUPER comfy, have a worn-in feel and are the best cut boyfriend jeans I've found!  You can't go wrong with a chunky, rose gold watch….the best functional accessory ever…I wear mine EVERY day.   And I never feel better than when I wear a pair of booties…..they are a serious confidence booster!!!  These gems look fab and feel a bit sassy!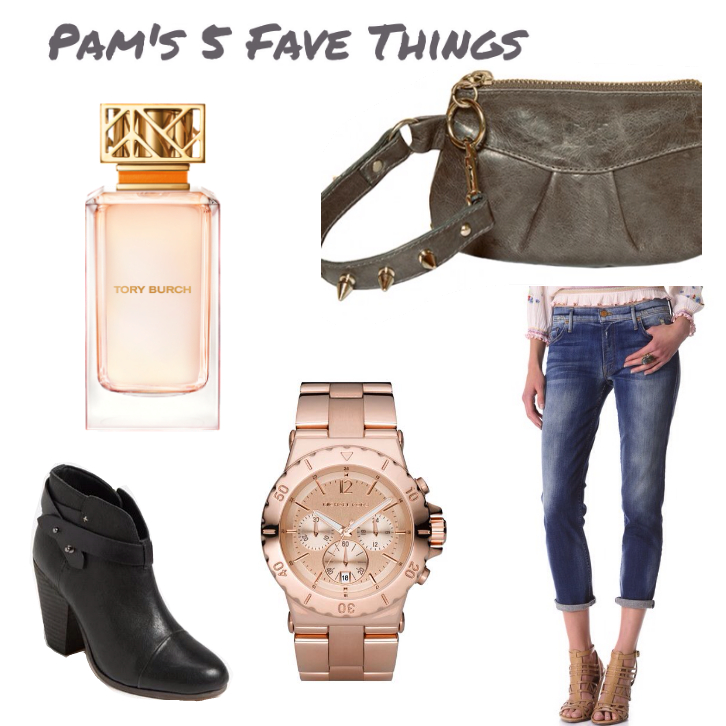 Tory Burch Eau de Perfum Spray
Lloyd & Wolf Couture Rain Wrislet
MOTHER Denim The Dropout Jeans
Michael Kors Rose Gold Chronograph Watch
Rag & Bone Harrow Boot (other colors available here)
Brothas…you really can't go wrong with any of these beauties!!  Let your fingers do the walking and happy online shopping!