Canadian Thanksgiving is just around the corner!  Thanksgiving is about family, food and of course, a pretty table!  I love the idea of simple, thoughtful decorations, and if you put some time and effort into a pretty place setting including something creative for the place card holders and chargers, you are set!
I loved this idea at the Vitala Foods Longtable Dinner that Laurel and I were invited to (see it here) to celebrate the launch of their blog.  They used seriously large apples and made vintage-y looking name tags and tied them on with twine!!  A piece of burlap stamped with their blog logo ROOTS, and a menu in the same vintage type font was placed underneath.   Rustic and simple….I love this look!
So, I'm am NOT a DIY'er, but I was thinking of how I could incorporate some of these ideas into my Thanksgiving table. I'll be honest, I really hate (I know that's a strong word!) crafting.  In fact, all day yesterday, I was dreading going home to get my craft on….but I did have a bit of a brain wave and this is a super simple idea…cork rounds or squares with words stenciled on them like "Thankful",  "Blessed",  "Gather", "Together", or "Feast".
Here's what I used…
for rounds – cork hot pot stands from  Dollarama ( 2 for $1.25)
for square chargers – cork tiles from Dollarama (2 for $2)
letter stencils
thick Sharpie
hemp twine
shipping labels from Staples
painting tape
quirky gourds
metallic gold paint – I used Martha Stewart Multi-Surface Metallic Acrylic Craft Paint in "Gold" from Michaels
So, it's VERY easy!!  Put the line of tape where you are going to stencil the word.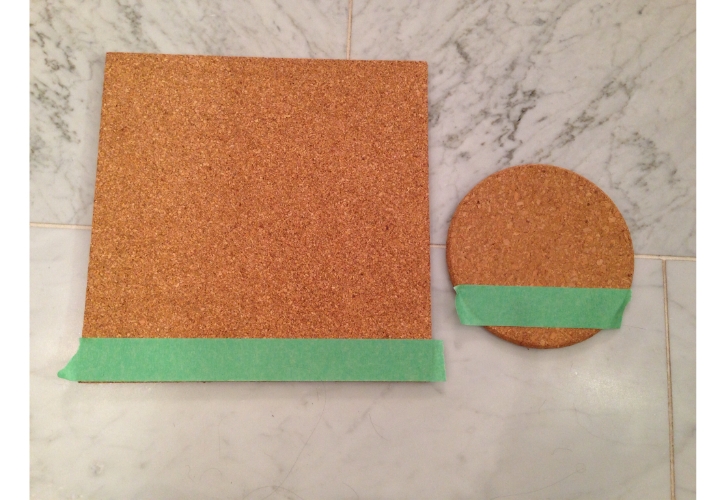 Use a sharpie.  Don't color it in perfectly…I like the rustic look.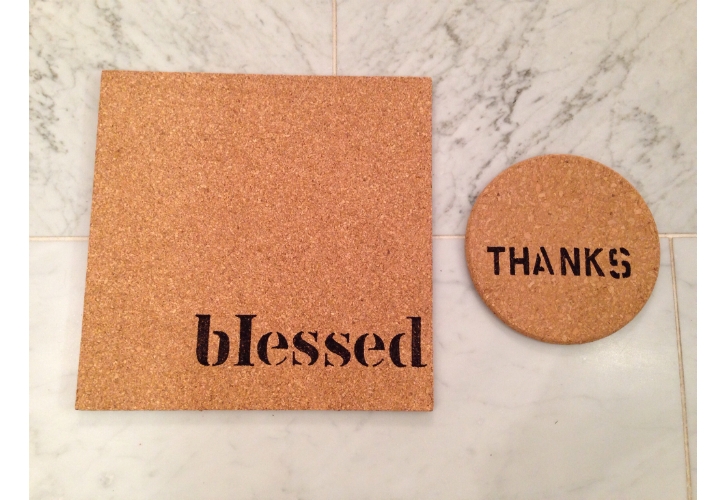 Wash and dry gourds.  I quickly added a bit of metallic gold paint with a sponge brush to the top part of the gourd, highlighting the "bumps". Use shipping labels for place cards and tie them to the gourds with the hemp twine.  That's it!!