So excited to introduce you to a new series we will be featuring on SPS. We are collaborating with a serious food lover and creator in the kitchen. She also happens to be one of our dearest friends which makes this extra special! Andrea Froese loves to spend time in the kitchen and i'm here to tell ya that what she creates is always amazing!!! So really there's no one better to give a candid review on some of the many cookbooks she has collected. The idea of taking one of these books and cooking from it almost exclusively for a number of months is a big commitment so sit back, grab yourself a hot drink and enjoy the first in Honest Eats by Andrea, a review of "It's All Good"…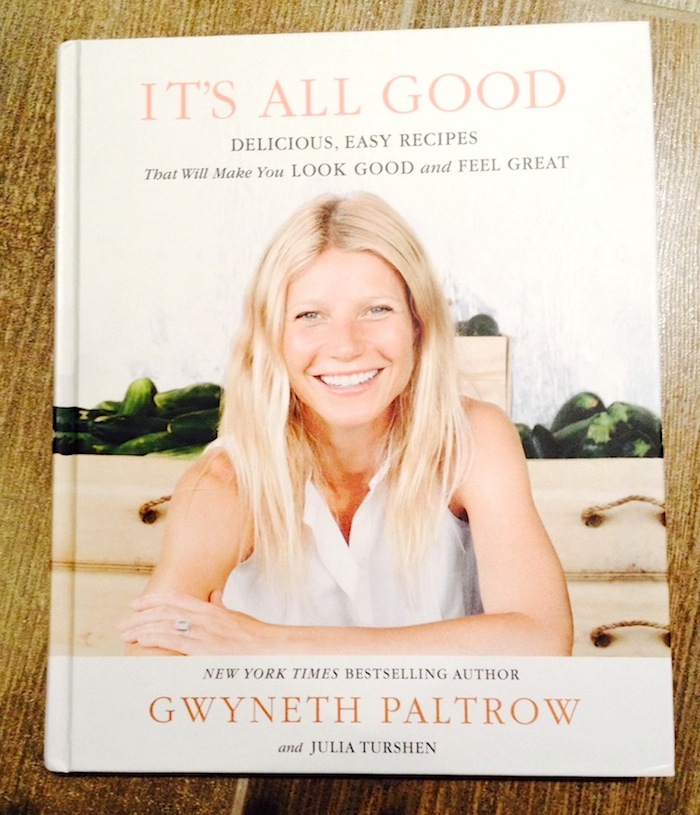 "It's All Good" by Gwyneth Paltrow and Julia Turshen.
published April 2013 by Grand Central Life & Style
I love cookbooks, and I have WAY too many of them. I can get so distracted reading them that I miss the whole point and rarely cook from them! I needed a challenge to actually USE the cookbooks that I have and this seemed like the perfect opportunity. Most cookbook reviews you read are written by someone who has maybe made a handful of the recipes, browsed through the pictures and formed an opinion. But for the last two months (a little longer actually) I have been cooking up a storm from this book, making meals for my picky kids and guests alike. I initially bought this book for Pam as a birthday gift. She had been on a health kick for awhile and when I saw the title I had to get the book for her. I am pretty sure that she invented the saying "It's all good"! Okay, maybe not, but she says it a lot! Before I wrapped it up and gave it to her I browsed through it (sorry Pam, I dared not break in the binding!!) and of course I had to have it!!  So when I saw it at Costco for $10 cheaper than the local bookstore ($35) I couldn't resist!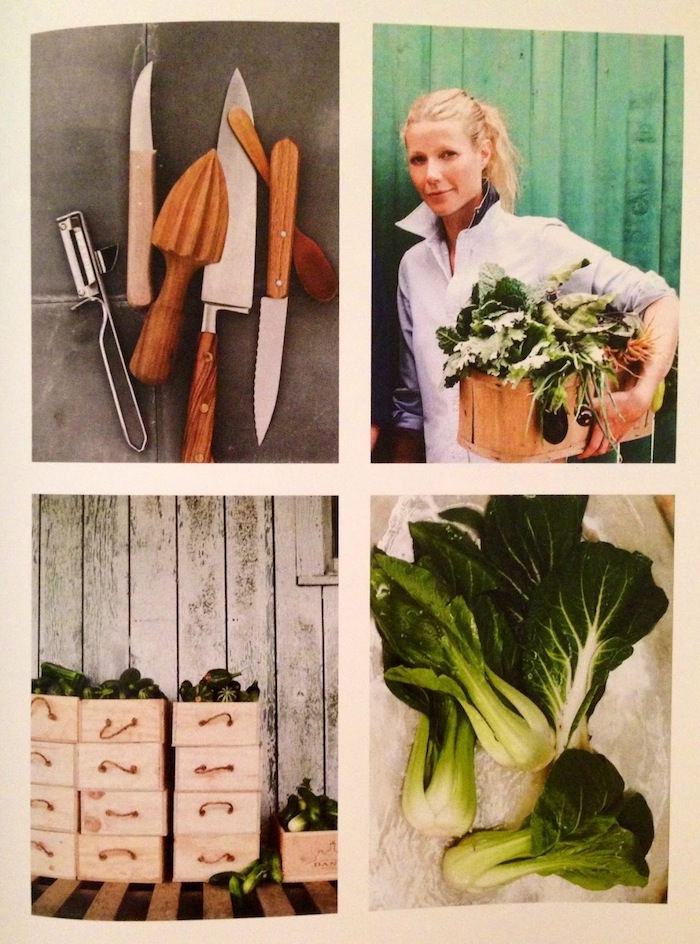 image via
After a significant health scare in 2011, Gwyneth Paltrow got some advice from a trusted doctor to 'clean-out' her system and go on an elimination diet. When he suggested she stay on the diet indefinitely she knew she had to make her new gluten and dairy free life more flavourful! Along with a personal chef and friend she wrote "It's all Good." It is the second cookbook she has published. (The first one, "My Father's Daughter" isn't as good in my opinion!)
While many might argue that her book is a bit full of hollywood neuroticism, I admire her for taking her health into her own hands. It is true it is full of strange and often expensive ingredients that were hard to find, but most ingredients are used multiple times throughout the book so you will use things up. Find a store that  sells a host of organic and gluten free products and you should be fine, for the most part! I have become very familiar with a local bakery and health food store called Silver Hills. I've loved their sprouted grain bread for years and now have grown to appreciate many more of their products!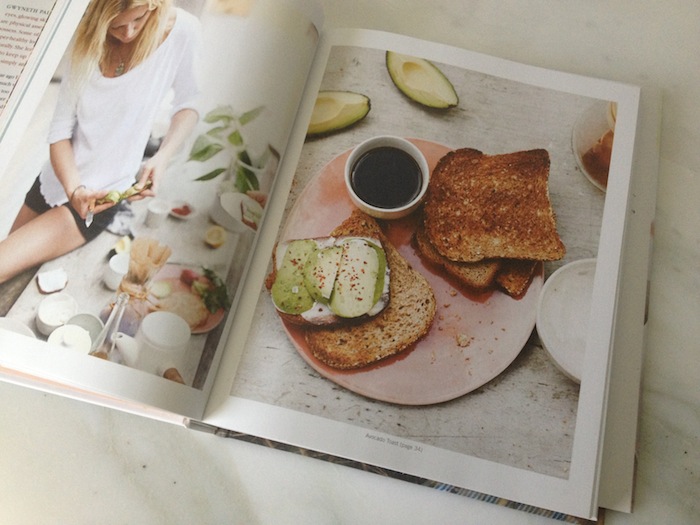 Avocado Toast image via
A lot of this book is filled with simple suggestions that aren't exactly recipes, like "An egg, three ways" (poached, fried or hard-boiled) Or avocado toast (mayo & avocado on toast). But truth is, her tips are good. I had never stirred the water to create a whirlpool before dropping in my egg for poaching. It works! And I had never had avocado on toast (LOVE it now!). And aquas fresca's? Yes please!! One can always learn new things about the basics! Actually this would be a perfect gift for a college student or a newlywed learning to cook for the first time. I wish I had had it when I first started cooking, I would have learned to be a much healthier cook from the beginning!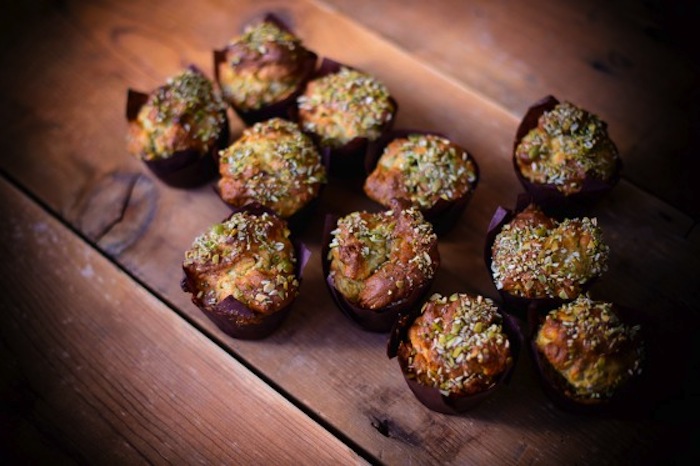 Banana Date Muffins image via  Photo credit to  Adam Goldberg, founder of A Life Worth Eating
I love to bake more than cook and have been doing so since I can remember. I believe in real butter and the very best of ingredients so I was hesitant to try the muffins and treats. I was delightfully surprised! The banana-date muffins are really good (try adding an extra banana than what's called for) and so are the sweet potato and five spice muffins, texture is surprisingly just like regular muffins (I suggest adding a little extra spice to these to kick up the flavour!) My favourite recipe is the candy bars. They are vegan and delicious and this is a recipe I will come back to time and time again. Double the recipe when using a large cookie sheet though! Flourless fruit crumble is also delicious and a dessert worthy of guests. I was too scared to try the brownies, some things shouldn't be messed with! My only complaint with the baked goods is that many of them include nuts, so if you are allergic this could be a disappointment!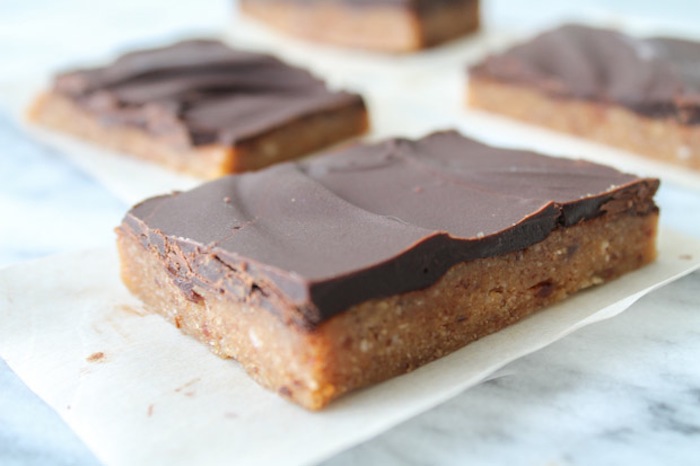 It's All Good Candy Bars image via 
"It's All Good" is worth its value in the salad dressing recipes alone. The carrot-ginger was my favourite one although they are all good! A few call for something called Vegenaise. Paltrow claims she can't live without this stuff and that she prefers it to regular mayonnaise. I can't agree here. I'm all for Hellman's real mayonnaise. I've even made my own and Hellmans can't be beat. But if you are vegan or dairy free than Vegenaise isn't all bad. I found that the salad dressing recipes that call for this are better made the day before serving. Or substitute Hellmans!
Some of the main courses were a bit bland but can be tweaked with added spices. The lamb stew was almost good. The marinade for it was amazing but when put together with squash and chickpeas its flavours got a bit lost. Same with the chicken chilli, it was bland but the turkey chilli was delicious! Paltrow's turkey burgers and many of her fish recipes are exceptional.  I'm not sure how such a simple chicken soup recipe can taste so amazing but it does, and it is my now go-to comfort soup recipe.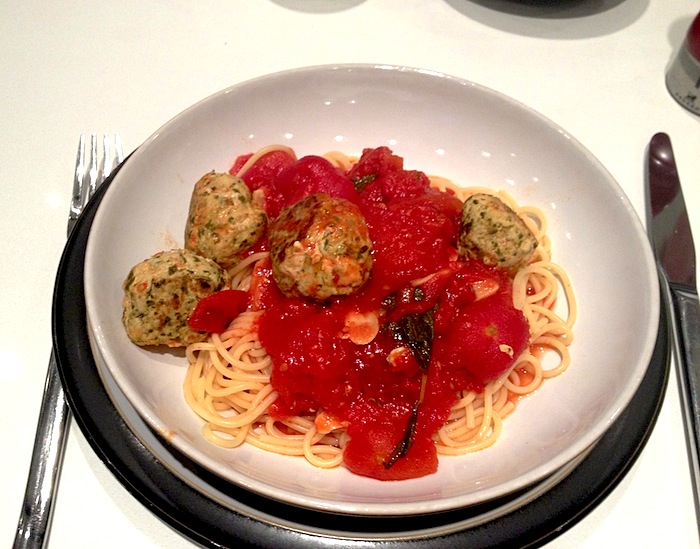 Turkey Meatballs
Overall this book is great for everyday family meals. Especially if you have just learned that someone in your home has a sensitivity or allergy to gluten or dairy. My kids are picky eaters and they enjoyed most of the things I have made from this book. Even though our family doesn't have dietary restrictions (except nuts, which made some of the baking hard on my daughter) I will make many of these recipes again!
My kids preferred the turkey meatballs over my usualpork, beef and white bread filled ones! Although the buckwheat pancakes were a huge disappointment one Saturday morning! My kids are finally enjoying things like millet, kale and sweet potatoes, I am pretty happy about that! And even though I wouldn't reach for this book for a special occasion, I am so pleased to know that I can make good food for my friends with diet restrictions (whether by choice or necessity). The recipes are easy to follow and the cookbook is pretty to look at too, a great photograph is often what creates the inspiration to make something! I say this book is a definite buy.
I give it a 3 out of 4 plum rating!