I just got back from a weekend in Vancouver with my girlies and Laurel and Nina. The girls were at a dance competition called Jump, which, as an aside, I highly recommend. While the girls were sweating it out Lo and I and some of the other dance moms tried out some yummy eats and did some shopping. One of the moms and I were talking about shopping for specific items and how to find them at the best prices..which got me thinking of some of my fave discount e-tailers.  I have been known to stalk items online…..  I will see something when I'm shopping, try it on, obsess over it a bit or a lot, and then watch it like a hawk online on several sites until it finally relents and goes on sale!  Here are my two newest favorite online discount sites …
1. Saks OFF Fifth – Lo and I are huge fans of their outlet stores by the same name and I was so excited when they launched their online store a few weeks ago.  They carry many of my favorite designers like Tory Burch, Equipment, Hudson, Rebecca Minkoff and Rag & Bone!!!  They are currently offering free shipping to the U.S. on orders over $75 (see site for deets).  If you are looking for a specific item, it's worth checking this site daily.  And, they even have sales on their already discounted prices!  Now that's what I'm talkin' about!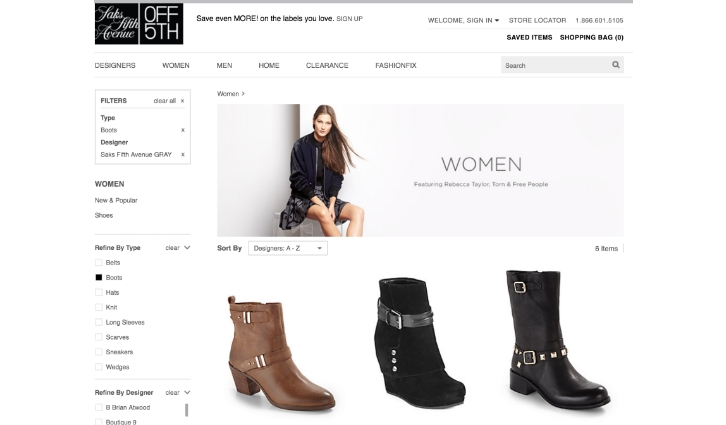 2. Loehmann's – I discovered this discount retailer a few years go and they also have an online store carrying many high-end designer brands in their Backroom such as Equipment and Dolce and Gabbana.  They carry a wide range of shoes and their boot selection is awesome right now…even Frye's!
I do check these sites daily if I am stalking certain items….ahemmm…Rag & Bone Harrow Booties!!!
Another thing I do when I'm stalking an item is search for it on ShopStyle by Popsugar and create a "Sale Alert" for that item.  Then when it goes on sale at any retailer they are connected with, you will get an alert.   To our Canadian sisters, you may want to get U.S. alerts if the item is not carried by Canadian retailers.  In fact, this weekend I did receive an alert that the above stalked item was on sale at Nordstrom!
The bottom line is that with a bit of patience (yes, stalking an item can has taken me upwards of 6 months!) time and research, you can often get that coveted item at a great price…and it's pretty sweet when that happens!