Another weekend has passed us by…does anyone else feel like fall is on high speed??  Scott and i ended the weekend by sneaking away for a couple of R&R days. Looking at the schedule, i didn't know how it would be possible, but things have a way of working out and thankfully, we have some pretty awesome family and friends who are taking over the parental duties for these next couple of days (props to you, Lacey!!!). In fact, the kids were so excited, Melina asked if we could go away for longer…ummm..thanks???
This weekend got off to a fabulous start! Friday evening, we headed to HighStreet for the sneak peak to Spruce Collective's Urban Market. An unfinished retail space came to life with this pop-up market featuring handmade + vintage treasures. Add wine, appies, music and local artists (can you say talented???) showing their craft and you've got a recipe for success. Oh and don't forget the globe lights…seriously, why does any good party include strung globe lights???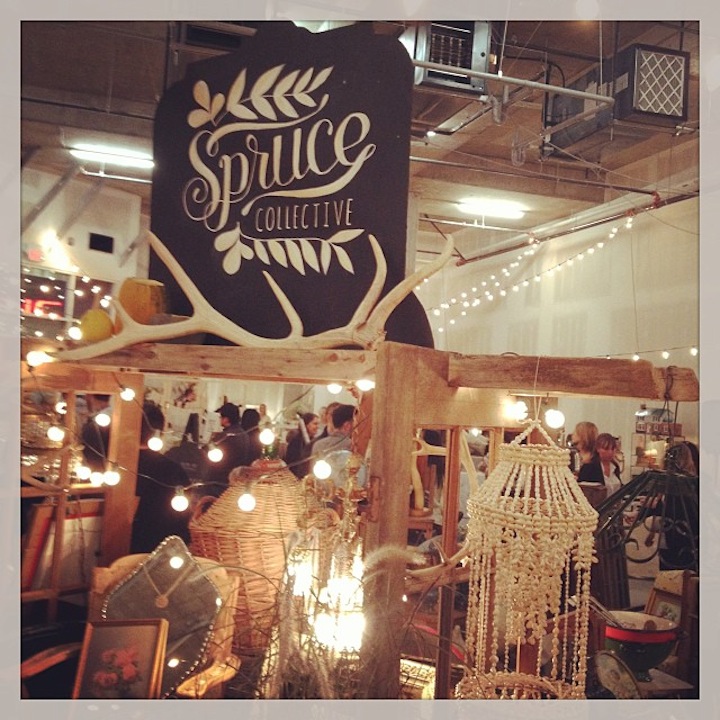 image via Spruce Collective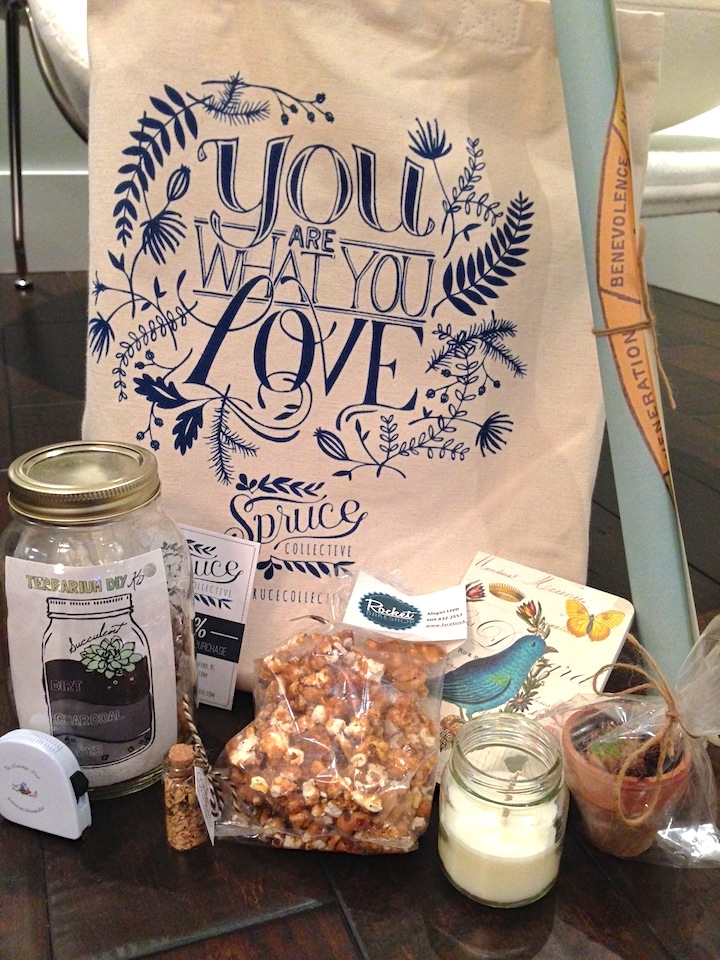 Who doesn't like a tote full of treats? Guests went home with a load of goodies…like a cute-as-all-get-out DIY Terrarium and  Rocket Bake Shop's caramel and chocolate popcorn that i'm eating while writing this post!!!! Too good to resist!
Rumor has it that Spruce Collective has more holiday events in the hopper and we can't wait for the next one! Like their Facebook page to stay in the loop.
What's happening this week around here…
To me, there's few things that equal relaxation to me more than a book. And a good one at that! Looking forward to sinking into this read. i've heard rave reviews so let's see if this book backs them up!
It's Halloween week, and tradition has it that we enjoy a hearty soup before hitting the sugar mines…ahem, trick-or-treating. I think this recipe sounds pretty perfect for a fall dinner…plus the post is a hoot..i want a Mother Lovett!!!
I stumbled upon this manicure and think this one might just be next on my list to try…the perfect fall mani..
More planning is underway for our SPS Ladies Night Out event coming up November 16th. The SPS are teaming up with Stila Cosmetics and Shoppers Drug Mart for a night of makeup tutorials and a ton of pampering! Click here for more info….we'd love for you to come hang out with us!
Happy Monday, sisters xo