Last week, Jason and I flew the coop and headed down to my parents place in Palm Desert for a quick whirlwind trip to open up their winter home.  We've looked after it for them through the years and they had thought of selling it so we had cleaned it out, but now have decided that they would like to spend more time in the desert.  I have to admit that I am thrilled!  My parents started taking me to the desert for vacations when I was 5 and there haven't been many years that I haven't been there.  There's something, as my mom would say, about the warm, soft air of the Coachella Valley. In the last 20 or so years, we've spent a lot more time in the Rancho Mirage and Palm Desert areas. However, Lo and I have been noticing a lot of bloggers spending time in Palm Springs.  I decided that this trip we'd explore more of the "old" Palm Springs and check out the downtown vibe. Palm Springs is fun, quirky, and a throwback to a number of decades.  Midcentury architecture and design is in abundance.  Yet we also saw nods to the 20's and up to the 70's.  What's so cool is that the movement is to restore old restaurants and hotels to their former glory versus modernizing them.  Yes, I even saw some macrame on walls! Lo and I met Leah from Freutcake at Alt San Fran and she had mentioned some of her fave spots in  Palm Springs…so based on her recommends and a few others, Jason and ate at all new places (impressive considering I've been going to the desert for 35 years)….and we were NOT disappointed! Here's a round up of what we tried….
Great Shakes – 160 S. Palm Canyon Drive, located right on the main drag downtown.  This family run business creates gourmet and your basic shakes from homemade ingredients.  Dad gets up early every morning to make the salted caramel sauce.  The chalkboard menu is adorbs!  You have your choice of three sizes and any flavor combo you want (Jason had the malted chocolate and I went for chocolate fudge with the salted caramel).  They top it off with whipped cream or homemade toasted marshmallows and a mini donut!!  This was worth every calorie!  Next time I'd like to try the peanut butter banana!  Oh, and be prepared if you are taking the kids with you….it's also a candy store with a lot of retro treats!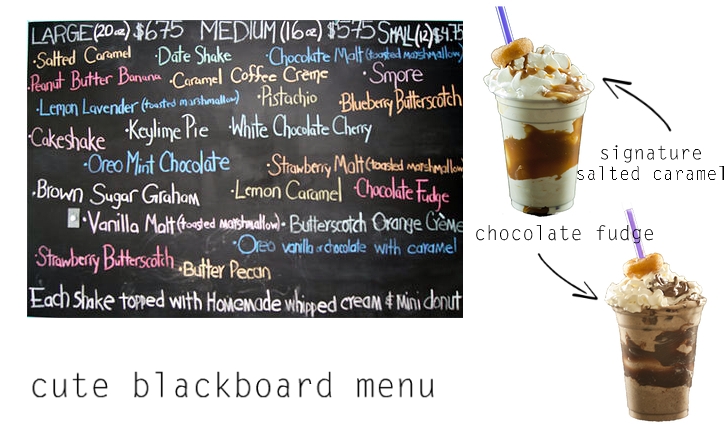 Citron at The Viceroy – 415 South Belardo Road.  This hotel reminded me of The Great Gatsby with it's mirrored panels, greek key motifs and black white and yellow color scheme….very old Hollywood! The restie is super small so next time I would choose to eat poolside during the day (they have a specific poolside menu).  The food was amazing…the short rib and the truffled celeriac puree were delish!!  We skipped dessert, but the beignets (freshly made French donuts)  come very highly recommended (ahhhh, I wish I had know before!), so I will be back for those!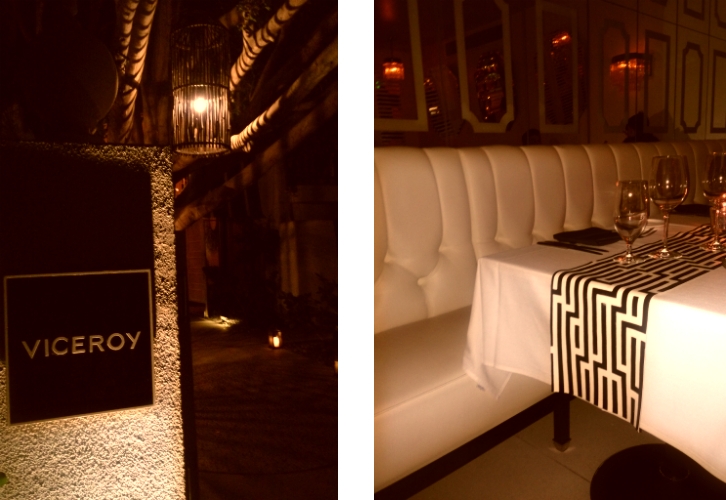 El Jefe at The Saguaro Hotel – 1800 East Palm Canyon Drive.  This 1950's hotel has been refurbished and colorfully restored.  It's entry welcomes hipsters with it's bright colors, funky light fixtures and even a ping pong table!  El Jefe is casual (seat yourself) and has small intimate tables as well as larger family style tables with a menu featuring Mexican small plates.  Jason and I shared the chips and guacamole (creamy, citrus-y and a bit spicy…yum!) and the shrimp and chorizo tacos and the fish tacos with red cabbage and cilantro.  Each order comes with 3 small tacos…perfect for sharing! Jason tried the El Santo Gimlet….a lime cocktail with cilantro, and dang it was good!  El Jefe is also known for it's massive selection of tequila!
Mr. Parker's at The Parker Palm Springs – 4200 East Palm Canyon Drive.  Thick black velvet curtains reveal a 70's style restaurant with dim lighting, black booths, eclectic music and French food.  If you are looking to have a nice, adult dinner out, this is the place!  I would say that this is Jason's new fave.  He started with the pork belly appie and had the gnocchi entree and then finished off with the trio of creme brulees (traditional, blackberry & cassis, and orange & cardamom…my fave).  I started with the endive, pear and blue cheese salad and had the duck entree (so crispy) and finished off with the chocolate peanut butter mousse….it was seriously ridiculous and totally satisfied my craving for all things chocolate and peanut butter!!! The service was impeccable…the waiter made the perfect amount of conversation…and the people watching was pure gold!
King's Highway at the Ace Hotel – 701 East Palm Canyon Drive.  I had to chuckle when I found out where this place was! This is the old Westward Ho Motel…it was a rather dicey, flee-bitten motel where money strapped college students would flock to for spring break.  Well, it's been restored and now is a mecca for hipsters looking to catch some sun in the desert. The King's Highway used to be the Denny's.  It doesn't look too different inside than it used to, but the menu is infinitely tastier!  We made at reso at King's Highway for breaky as it's a popular spot with people streaming in post-workout or pre-thrifting.  Coffee is served from French presses (I LOVE that!) and Jason and I both had the chilaquiles….scrambled eggs, red sauce, tortilla chips, housemade chorizo, and crema fresca.  So yum!  The portion was huge…next time we'll share.  They do have an all day breaky menu as well as lunch and dinner.  We saw a lot of date shakes coming out of the kitchen…might need to try one next time too…it's a healthier version of the desert staple.
I'm so fortunate that my hubster loves good food and is up for culinary adventure!!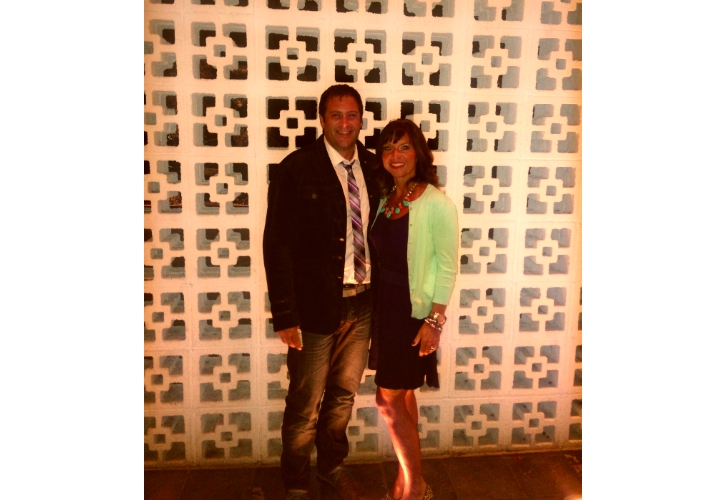 PS…I love you!!  Yes, I loved getting reacquainted and look forward to meeting you again very soon!