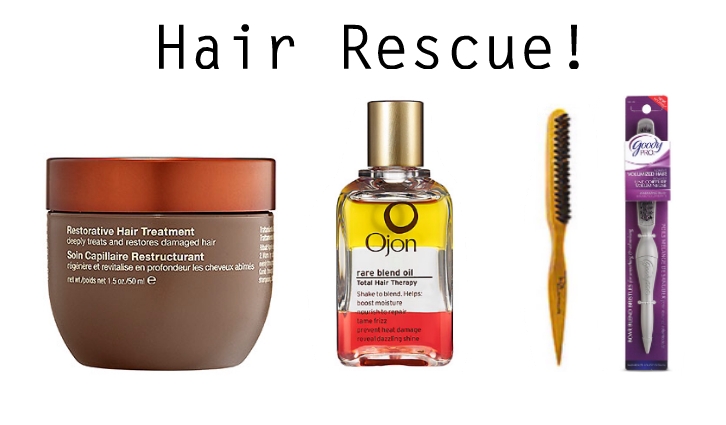 Since Laurel and I have started Sugar Plum Sisters, I've had just a few changes in hair color. I started out as a strawberry blonde, then went platinum blonde, then dark with platinum streak, then dark and now ombre. I do need to settle down and give my poor hair a break. Yes, it's suffering from some damage…can you say over processed!!  A friend of mine told me of an amazing product that she uses…Ojon Damage Reverse Restorative Hair Treatment.  Ok, this stuff is gold!!  You rub a little between your hands and it kind of melts and rub it onto the damaged pair of your hair…for me its the ends!  Leave it on for 20 min. or so.  For very damaged hair (that's mine!) you can use your hair dryer to add some heat.  Or you can leave the treatment on overnight (I'd put a towel on my pillow in that case).   You will want to wash your hair very well….my friend warned me that this product has a peculiar smell.  It totally smells like nicotine…crazy…but it's worth it. The first time I used it I got comments on how my hair looked freshly colored.  It's recommended to use this treatment once a week.  You can buy Ojon Damage Reverse at Sephora in store or online for about $23.  When I purchased mine, I redeemed some of my Sephora Beauty Insider points for the Ojon Rare Blend Oil Total Hair Therapy.  It retails for approximately $17 (click here). I use a little on my ends before blow drying or a little on the ends before I go to bed if I'm not using the Damage Reverse.  Go easy though…a little goes a long way!
Here's one more great tip to minimize hair damage.  If you back comb your hair to get a bit of volume…we are talking a bit…no major bump-its…use a narrow brush like this Phillips 3 Row Teasing Brush from Sally Beauty..it's a good way to spend just over $5!  Just take sections of hair and gently backcomb a couple of inches from the scalp and then on to the next section.  It works like a dream and you can easily comb your hair out afterword.  Walmart carries a Goody Pro Volume Boar/Nylon Smoothing Brush that works well too.   I didn't understand how well this type of brush worked until I tried it…no more combing out serious tangles!
So, this is my 3 step programme I'm going with….no more overprocessing and on my way to healthy hair again!