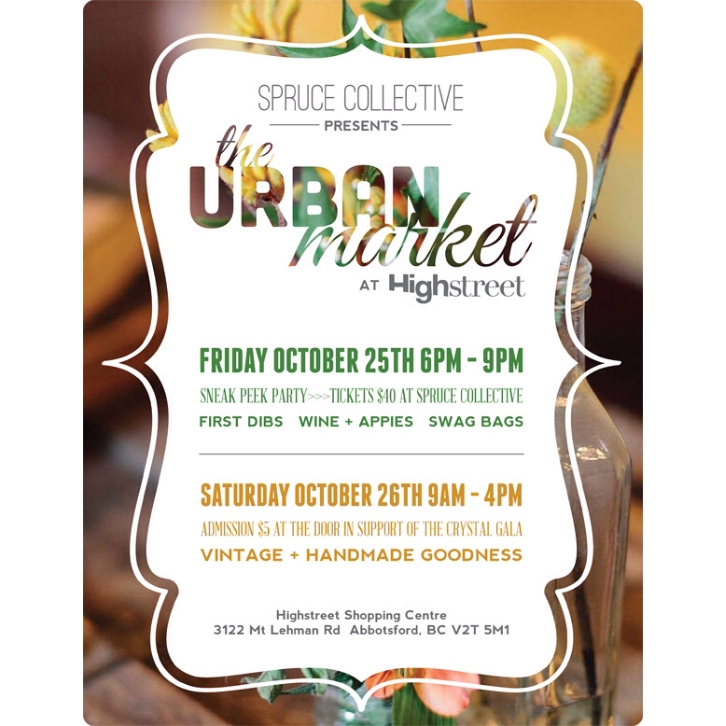 We are taking a break from our usual Friday Find because we wanted to let our local sisters know about an event that we are super excited about!  Tickets go on sale this Sunday for Spruce Collective's Urban Market at HighStreet.  Spruce Collective is hosting a pop up market of vintage and handmade treasures by various vendors in a large indoor space at the new HighStreet Shopping Centre in Abbotsford. Tickets are available at the store starting Sunday, September 15!
Please make sure to visit Spruce Collective on Facebook and "Like" them to get updates on future events, classes and other great news!  And you can visit their Facebook Event Page to share this event with your friends and find out who else will be attending!
One lucky Sugar Plum Sister will win two tickets valued at a total of $80 to the The Sneak Peek Party on Friday, October 25.  There will be swag bags, appies, wine and the best shopping! To enter, please post a comment here about who you would take with you to the Urban Market if you win tix (comments on our Facebook page will not be entered..sorry!). Winner will be announced on Friday, September 20, 2013.  Entries will be accepted until Thursday, September 19, 2013 at 11:59pm.