Who doesn't love flipping through the September issue of InStyle?? Have to say it's a guilty pleasure that i try to milk for as long as possible. Hot Americano, slippers on, comfy leather chair and…my InStyle…sigh, it's just that enjoyable! All ____ pages of it! This issue was no exception and i found myself, despite being a summer fanatic, verging on excited about delving into some cooler weather outfits.
There are some trends this fall that i'm loving and can't wait to wear myself … Military/Camoflauge, Leather, Fancies and Animal Print are hot to trot right now… Here's our take on them:
1. MILITARY– let's be clear…we're not talking about dressing to go hunt anything down…but some well placed camouflage pieces are right on the money. Olive hues look great paired with a myriad of different colors and textures: denim, black, white or neon pops. The Aritiza jacket is a personal favorite..it's found its way into my closet and i know it's going to be one of those lived in pieces in no time!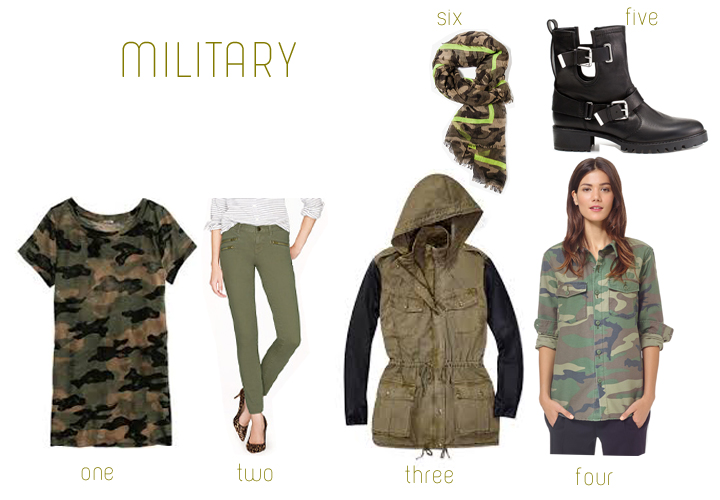 1. Tee: JCrew  2. Pants: JCrew   3. Jacket: Aritzia 4. Top: Aritzia  5. Boots: Zara  6. Scarf: Forever21
2. LEATHER – Man, i wish i woulda kept my leather skirt from high school! Just kidding…the current leather trend embodies leathers of all different textures..soft to fully structured. Moto details are in abundance as well…zippers and buckles add a bit of an edge to pieces. I am simply adoring the Rebecca Taylor quilted leather jacket below..chic at it's finest!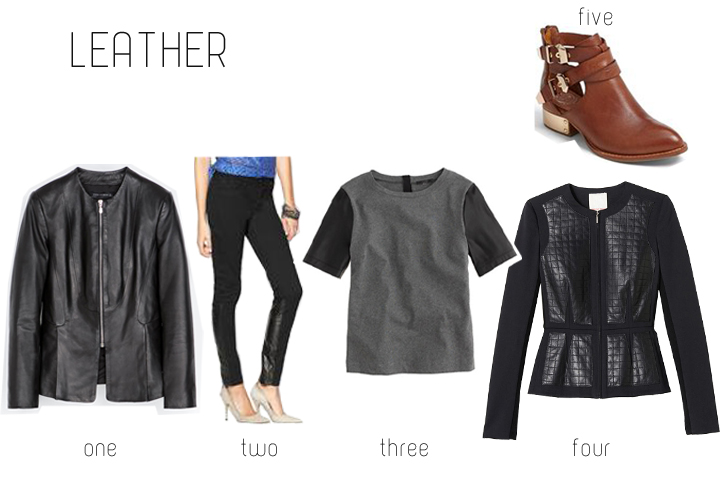 1. Blazer: Zara   2. Pants: Piperlime   3. Top: JCrew  4. Jacket: Rebecca Taylor   5. Bootie: Nordstrom
3. FANCY – Trending right now are lush fabrics…tapestry-like brocades, delicate laces, gem colored jacquards and i have to say i love them. A bit of old world mixed with staples pieces gives a rich and warm look for both daytime and evening.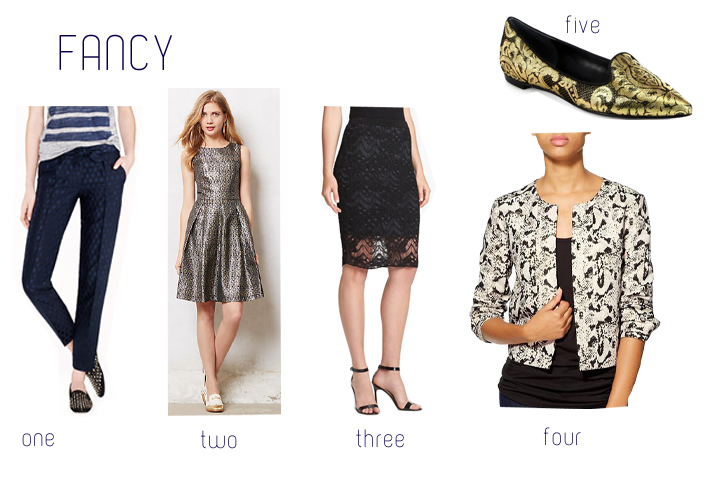 1, Pants: JCrew  2. Dress: Anthropologie   3. Skirt: Nordstrom  4. Jacket: Piperlime   5. Flats: Saks Fifth Avenue
4. ANIMAL PRINT– They've been around forever but they're hotter than ever… just a note…keep it to one piece at a time…or it'll fall into the overkill category! If you're leery of these prints, start with a pair of shoes…we love these Ivanka Trump flats with the gold cap toe. For the more bold, this sweater dress from Anthropologie paired with some booties will have you looking fierce.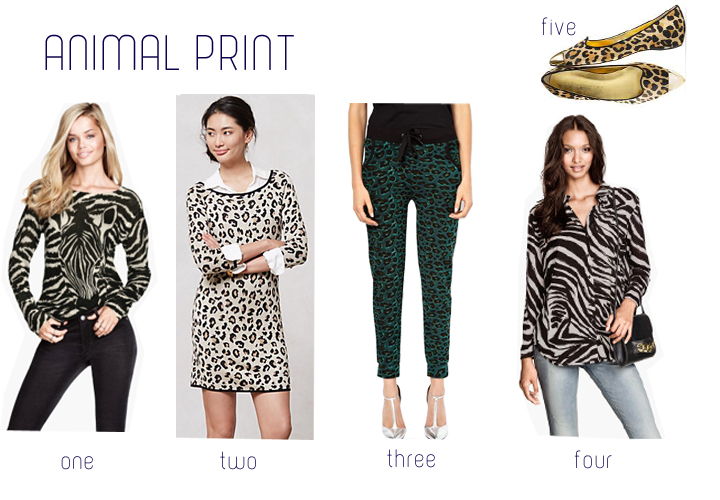 1. Sweater: H&M  2. Dress: Anthropologie    3.Pants: Asos  4. Blouse: H&M   5. Flats: Nordstrom
And lest we forget…. a great handbag can transition you from one trend to another…my personal favourite?? A splurge from Lloyd and Wolf…an investment piece that will stand the test of time! Neutral color with edgy detail….