This fall, fashion is breaking an age old rule…that is, you don't wear black and blue together.  But, designers have embraced these duelling hues and have put them together to create some very chic looks.  Think color blocking, but more subtle.  Sometimes the contrast is clear…other times you need to take a second look.  Either way, we are loving black and blue combos…two strong neutrals paired together is quite striking!  And strategic color blocking can be uber slimming!  I'm game!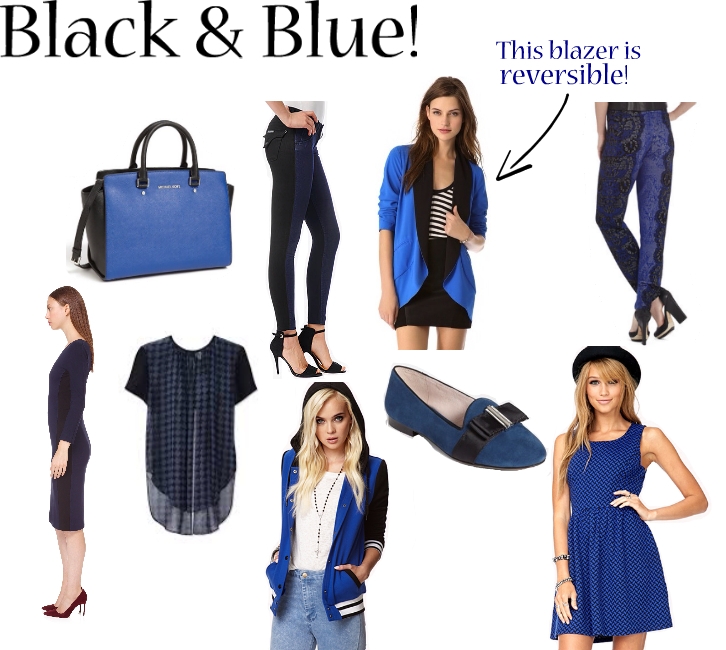 Tote:  Michael Kors Large Selma Saffiano
Jeans:  Hudson Collin Vice Versa Skinny in Blue Black
Blazer:  BB Dakota Doris
Pants:  BCBG Fresno Relief-Jacquard Lace
Long Dress:  Aritzia Babaton Malcom
Blouse:  Aritzia Wilfred Joliette
Jacket:  Forever 21 Cozy Varsity
Dress:  Forever 21 Geo Fit & Flare
Shoes:  Vince Camuto Ecie
I won the Hudson Vice Versa skinnies at the grand opening of Privilege Clothing in the new Guildford Town Centre, so you can find them locally in store or online…and they ship for free (visit their site for deets)!  I am seriously SOOO excited!!  Privilege also carries the BB Dakota blazer…I'm in love with this baby…reversible, so two for one!
You can do this trend…get your black and blue on!