It summer and summer is synonymous with travelling.  I love to travel and explore new places!!  And, I'm a bit of a planner….ok, I'm a big-time planner!  When I go away to visit a new city, I like to do a LOT of research and find out the best places to eat, shop, see, and explore.  I don't enjoy tourist traps, in fact, I detest them!  So I love to do my homework and find the haunts that locals love.  But the challenge is how to keep all of this information together and not lose the info on the place that has the best doughnuts in the city (yes…it's all about the food)!  Welcome to My Places on Google Maps..the perfect and easiest way to store your must see places!!  (Insert applause here!)
It's super easy!  You do need to have a Google Account to save your info.  Once that is set up, just go to Google Maps, and click on "Create Map".  You can add a title and a description and then start searching those recommends.  When you find something you want to add to your map, just click on "Save to Map" and then you can pick which of your maps you want to save it to.  Searching is a breeze…often Google Maps will pull up the address of a retail name (eg. restaurant or store) that you type in.  So I just search top recommends that I find on Yelp, Trip Advisor and blogs I follow and type the name of the restaurant in and Google Maps finds the address…then you just add it to your map.  Nice, hey?
When you are out and about in the city or area you might be travelling in, you can pull up your map on your iPhone (or iPad) with the My Places app!!  All of the places you want to visit, easily accessible!!!  This app is free to try (click here), but if you want to save your data, you need to pay $0.99 (click here).  It's easiest just to download through your App Store on your iPhone or iPad.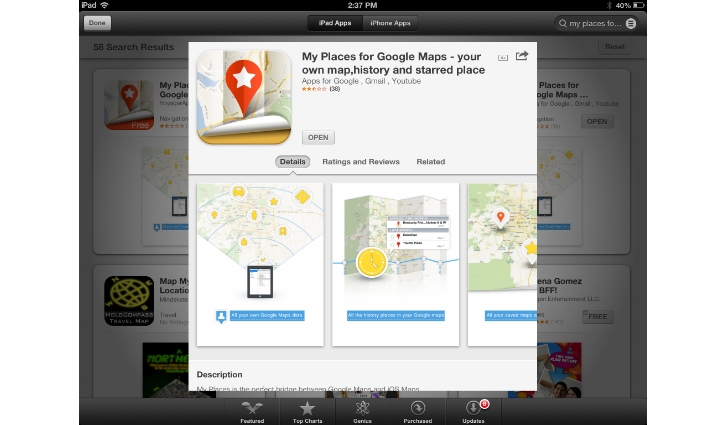 I've even used My Places to create a Vancouver map for places that I have on my list that I want to visit the next time that I go to the city!  It's a great way to see which places are close and can be done in one day….and which ones may have to wait for another time.
My Places is also a great way to save info on places that you may just happen upon that you would like to visit again.
Happy planning…and mapping!