Teacher gifts are always a toughie for me. I love to have the chance to say "thank you" to the people that have invested in my kids' lives…teachers and coaches alike. These are the people who often seemingly spend more time with our kids than we as parents do! A thank you is more than acceptable in my books.
At the same time…theres only so many mugs and general chachkies a person can receive. I love to add some sentiment or personalization and ok, here's one situation where you can add a bit of the cheesiness factor! Here are my favorites:
1. S'mores Kit – if you follow our blog you'll know that we are love with the Pink Spatula's gourmet marshmallows (in fact, we have a giveaway with these morsels of awesomeness right now..click here to enter today). Pair these marshmallows with some gourmet chocolate, some graham wafers and some napkins in a cheery tray or basket. This gift is a perfect way to welcome summer in..an evening of roasting marshmallows over an open fire! This is what Pam and i have done this year…personal fave!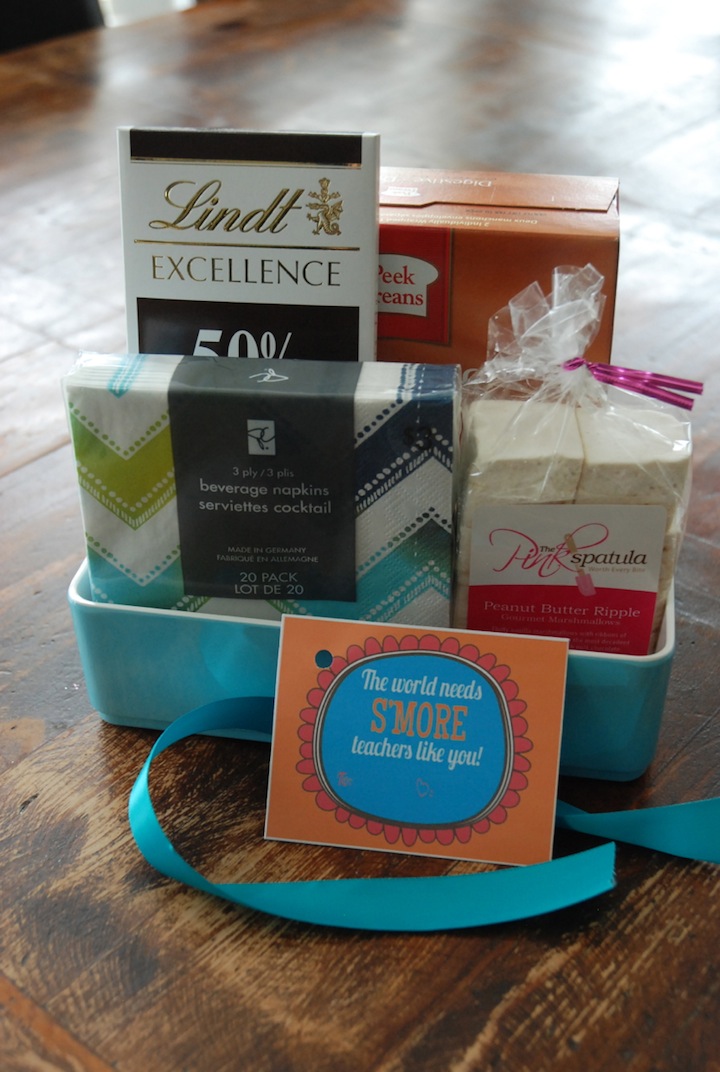 All ready to be bundled up and sealed with a ribbon… how do you like our little printable? See cheesy can be cute too!
2. Mason Jar lanterns – i have a bit of an infatuation with mason jars at the moment. Not only can they be used in a myriad of different ways, but they just represent the simpler life to me!
These DIY Mason Jar Lanterns, filled with votives, are incredibly easy to make and add serious outdoor ambiance. Spray paint and string is all you need…these look great made in all sorts of jars… old salsa hangin in your fridge???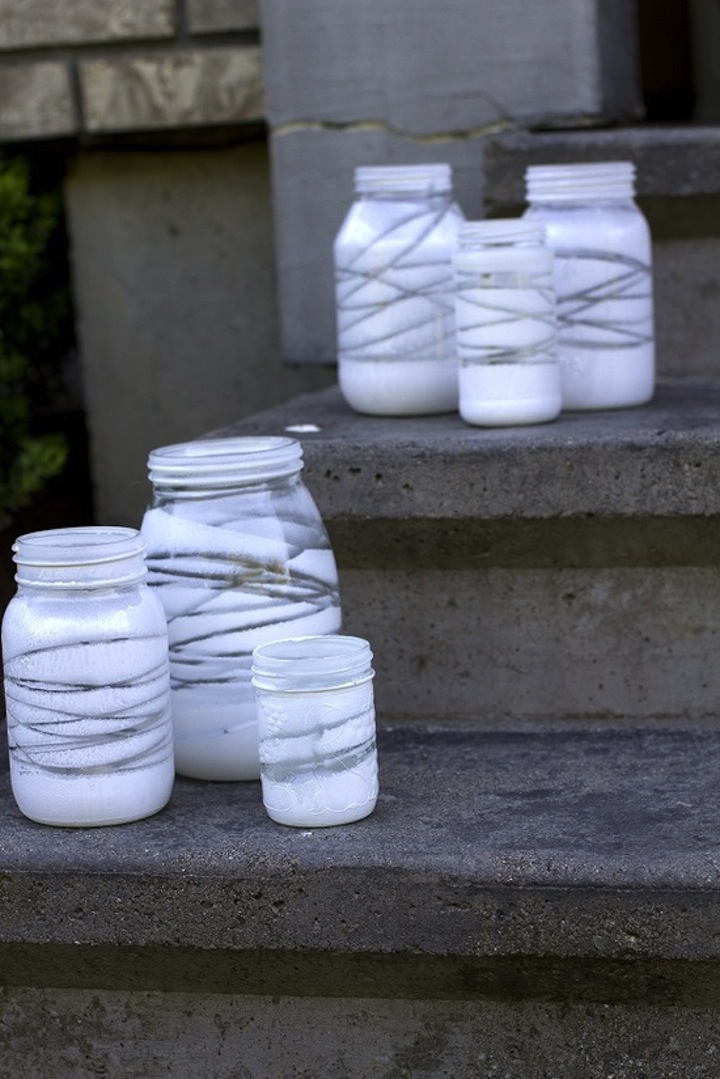 inspiration from the Forge 
Here's another DIY i love from Landee, See Landee Do ..Mason Mercury Jars would look beautiful as flower filled vases or outdoor luminaries. Add your own embellishments..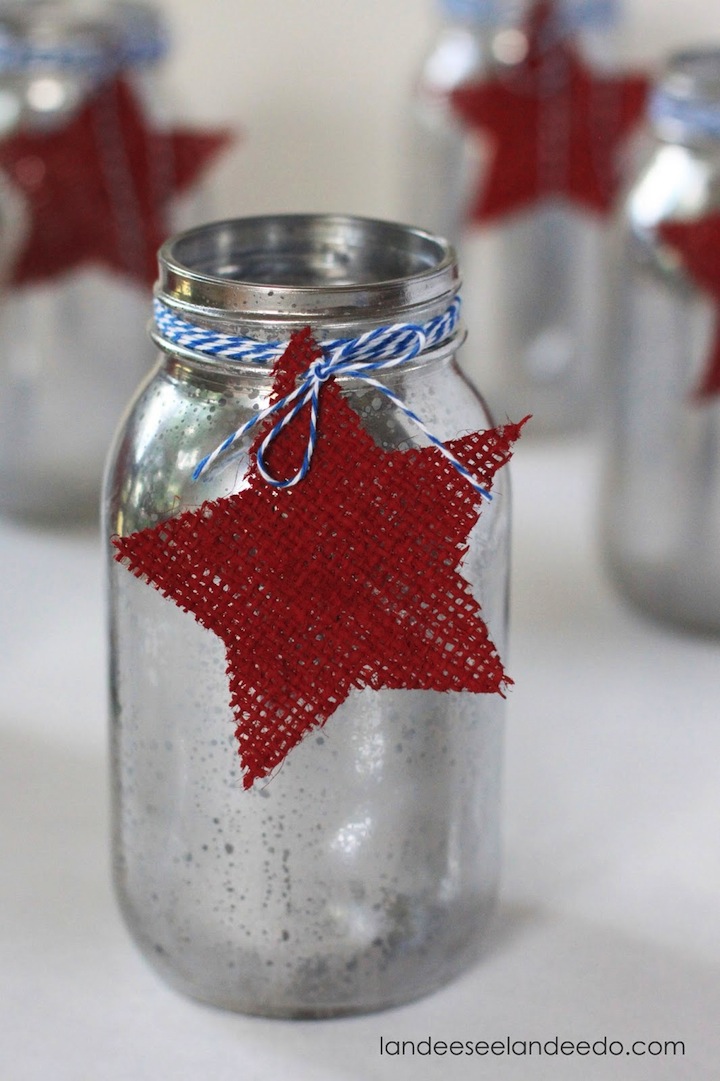 image via
3. Gifts in a Jar – These can be personalized for whomever you're gifting it to. For a dance teacher, fill the jar with foot prettifying products: foot lotion, foot scrub, a washcloth, nailpolish.  For a teacher, fill it with little supplies that they can use in the coming year as teachers often have to dip into their own wallets to keep the classroom supplied!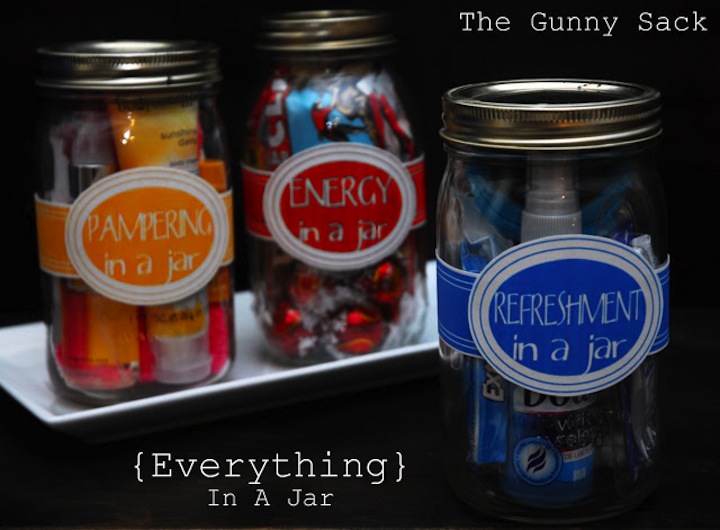 image via
Check out the Gunny Sack for printable labels and more jar gift ideas!
4. A Movie Package – I can't be the only one who loves to hunker down in my pj's for a movie night with my fam jam.  Fill a popcorn bucket with popcorn kernels, some packages of candy (umm..don't forget the obvs..mini Rolos to mix into your warm popcorn…sweet and savory heaven!), and a gift card for a movie. I love this idea from Tatertots and Jello too…click for printables. A literally "sweet" gift!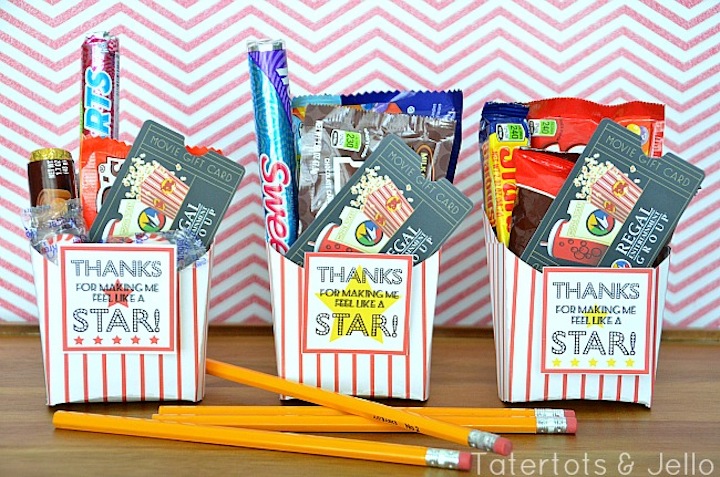 image via 
5.  An edible treat – ok, it's cheesy but really cute. Love these little Chinese takeout boxes (available at Michaels) filled with fortune cookies from eighteen25 .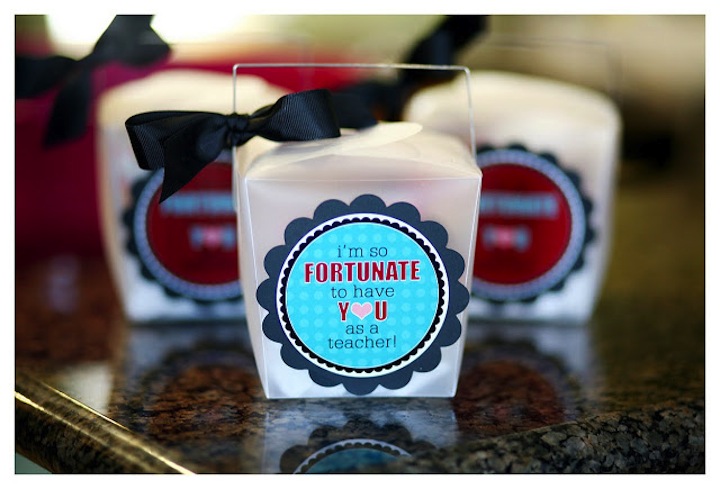 image via
Make sure you step up the fortune cookies by dipping them in chocolate and adding sprinkles. Pretty darn cute!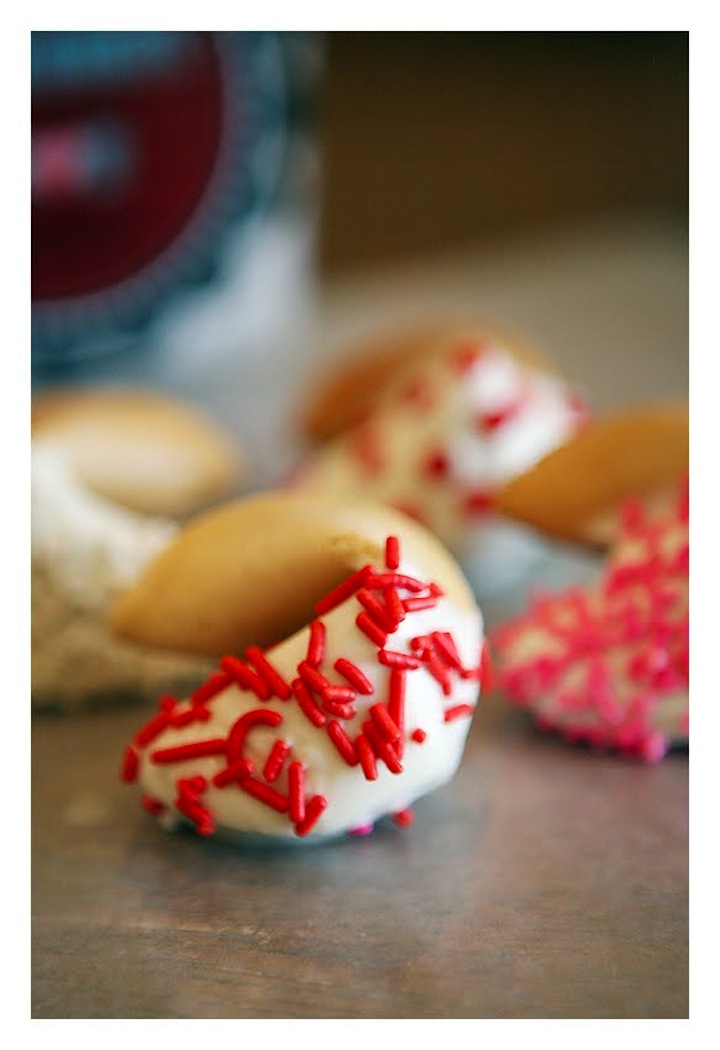 image via
6. One of Pam and my friends is a teacher…oh, do we wish she taught in our kids' school!!! She gets showered with some pretty cool gifts each year for which she is thankful but guess what she would also love? A donation to a charity..this is a fabulous idea, sisters, to make a donation in their name. There are so many charities that rely on the graciousness of the community. Consider this is a gift that pays it forward. Thanks Flaire for sharing this fantastic idea with us!
Here's one close to our heart: A respite home for children with special needs… this home will not only pour on the love to these precious kids but will allow for their families to have some much needed rejuvenation time.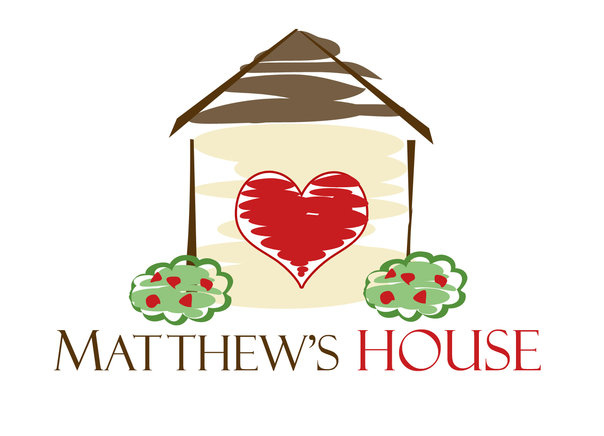 Thank you to all you amazing men and women who have poured into my kids' lives these past 10 months. You see the moods, the successes, the challenges and the growth. You see it all…and i know you hear it all too (my Nina loves to share pretty much everything that happens around this place!!) Your encouragement and gentle direction are pivotal in Lexi, Nina and Lincoln's lives. Thank you.