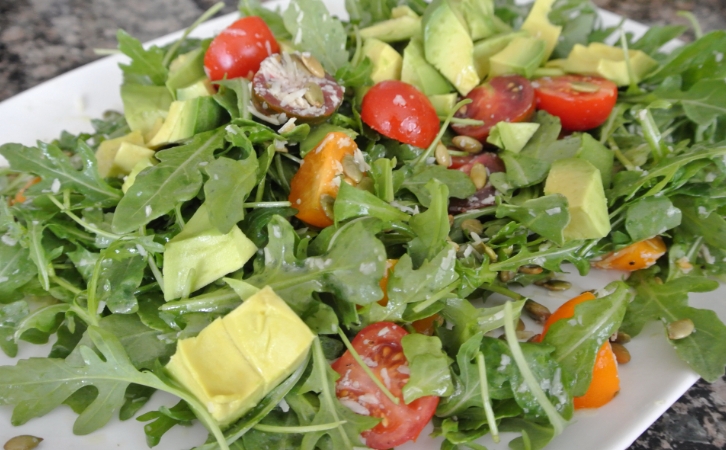 It's barbecue time….or at least I hope it will be soon!  We've been experiencing rather disappointing pre-summer weather here on the west coast and we are anxiously waiting for summer temps to arrive!
I am a serious salad lover…and the perfect summer dinner for me involves something barbecued and a fresh salad.
I've made this salad a few times before and I've added a few twists of my own (I know…big surprise!).  The great thing about this salad is it's super easy and quick to make, the dressing is light and fresh, it's healthy and it pairs well with almost anything.  And, it's super colorful!
Summer Arugula Salad (adapted from Easy Arugula Salad from All Recipes)
Ingredients
4 c. baby arugula, washed

1 c. cherry tomatoes (I like to use a mixture of colors and varieties)
1 c. sliced bell peppers (again, use a combination of red, yellow and orange)
1/4 c. roasted pumpkin seeds
2 T. olive oil
1 T. rice wine vinegar
freshly ground sea salt and pepper to taste
1/4 c. parmesan cheese, grated
1 avocado, pitted and diced
Method
Combine olive oil, rice wine vinegar, salt and pepper in a container with a lid and shake well.  Toss arugula, cherry tomatoes, bell peppers, pumpkin seeds, and parmesan cheese.  Plate on a large white platter or on individual plates and top with chopped avocado.
Make sure to use baby arugula.  Arugula is quite peppery in taste and the baby arugula is a little bit milder.
I buy my roasted pumpkin seeds at Silver Hills Bakery.  You can often find them in the natural food section of grocery stores. They are also sometimes called pepitas.  Make sure to use freshly grated parmesan!!  It makes a huge difference and it key to the flavors in this salad. It's also a  nice touch to use a potato peeler to create parmesan ribbons.
For large parties, double or triple the recipe!  This salad is also perfect for lunch with some grilled chicken.  It's soooo easy, tastes great and it's pretty too!