I can't really believe i am blogging about hangers. Seriously…hangers? But let me rewind for a sec.
Whether you closet is huge, average or miniscule, the best piece of organizational advice i can give you is: continuity in your hangers. It might sound strange, but using one type of hanger (my preference is wood) will give your closet a makeover in a hurry. Your clothes will hang at the exact same height and give actual shape to your garments without stretching. Which not only allows your clothes to sit better on the hanger, but they will sit better on you! Lets be honest, those dry cleaner hangers don't really do much except keep your clothes off the ground. Best of all, because of the continuity, you will find your clothes will be easier to group and easier to see. And if you can actually see the different pieces you have, chances are you'll wear them!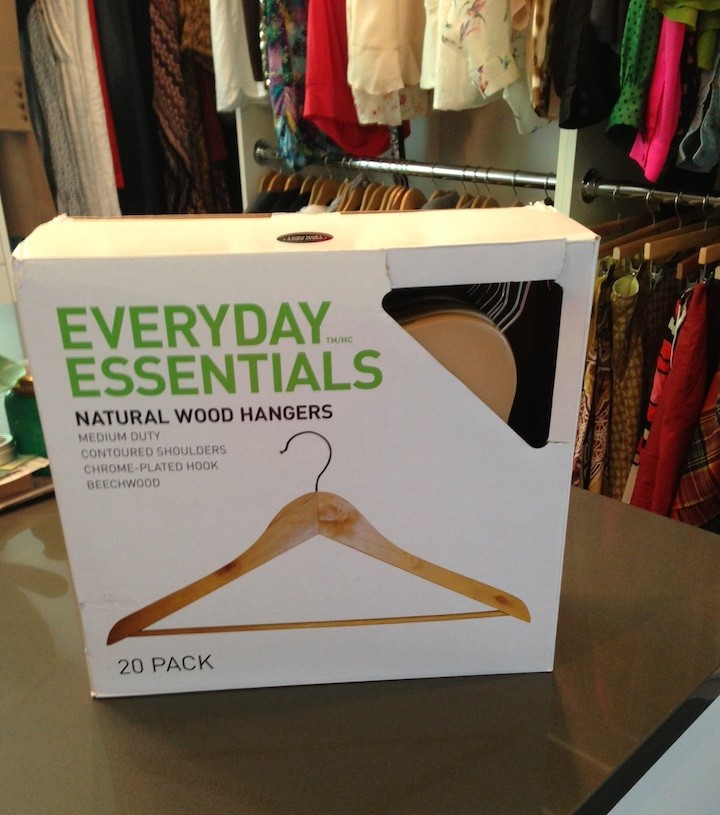 I filled my closet with wood hangers from Super Store a couple of years ago. They are a standard item that they carry. They were already very well priced at $10 for 20 hangers. So imagine my glee when i grabbed another box today and they rang in at $1.97!!! I know i'm sounding a little cheap, but really…if you want to give your closet a quick and inexpensive "facelift", Super Store is clearing theirs out. Grab em before they're gone!!