The weeks since Easter have absolutely flown by…. and in true Spring form, i've felt a renewed sense to get some things done around our house. The only problem is, i've gotten in over my head…the schedule hasn't allowed me to be home all that much…resulting in some unfinished projects that are all woefully looking me in the face as i walk room to room! They've grown personalities that seemingly wiggle their fingers accusingly at me! Eeks!!!
Thankfully, i think i can get back on track this week…. here's what i'm working on:
~ Lexi's room: When we completed a master bedroom addition onto our home, Lexi moved into our original bedroom. She's been begging to give it some personality…it's only been 2 years!!! Ahhh!!! It's time!! We've got ourselves some elements that we're going to add that i think will give her a room that reflects..well, her! And we're doing it on a shoestring budget. We found some amazing Jonathan Adler wall decals on sale on Hautelook..SCORE!! So we're adding these and these to transform this space. We've also begun a bulletin board DIY for above her desk…it just has to be (here's the operative word) finished.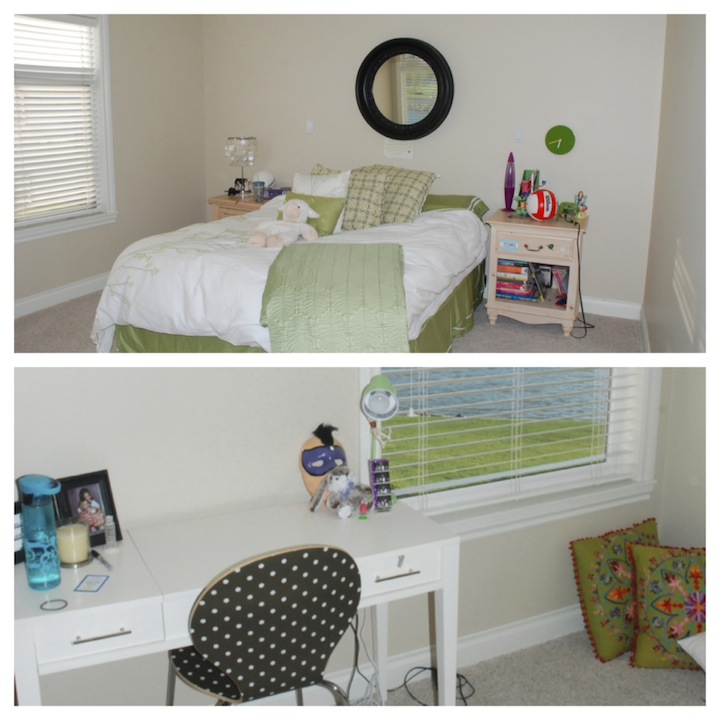 As you can see, her wall are bare and other than the color green, there's nothing exciting or reflective of Lexi in it. It needs help!
~My office: This has been a room in progress for the last year…bringing it from a dark room that had become a catch-all for anything and everything in our household to a bright modern work space with bursts of colour and personality… I love it, but it will feel even more personalized once  i complete my gallery wall. i've been collecting prints for the past couple of months and can't wait until i get them all up on the wall so i be inspired by them daily!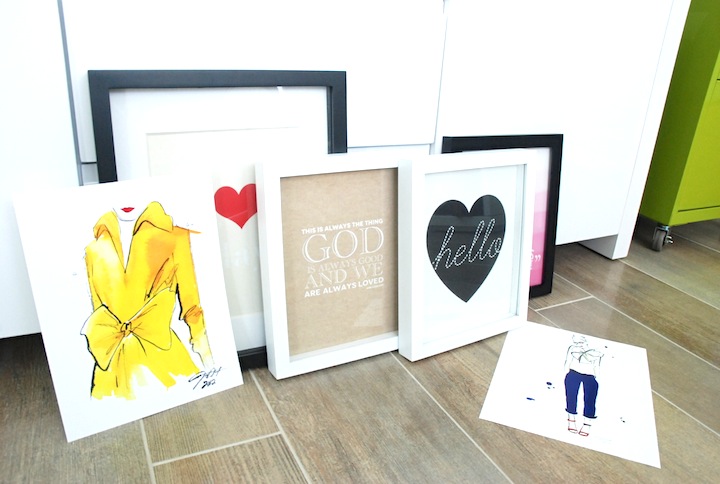 ~The Powder Room: the palm tree theme is out. My bathroom just didn't know it. This room needed an update in a serious way, but i didn't want to spend a huge amount of time and money on it. The new inspiration is Palm Springs retro. Think gold and yellow! A couple cans of spray paint have made a huge difference but it remains unfinished. I've had my eye on this light fixture but i'm on the prowl to find something at a great deal.. I'm also looking for some additional gold accents like this or this!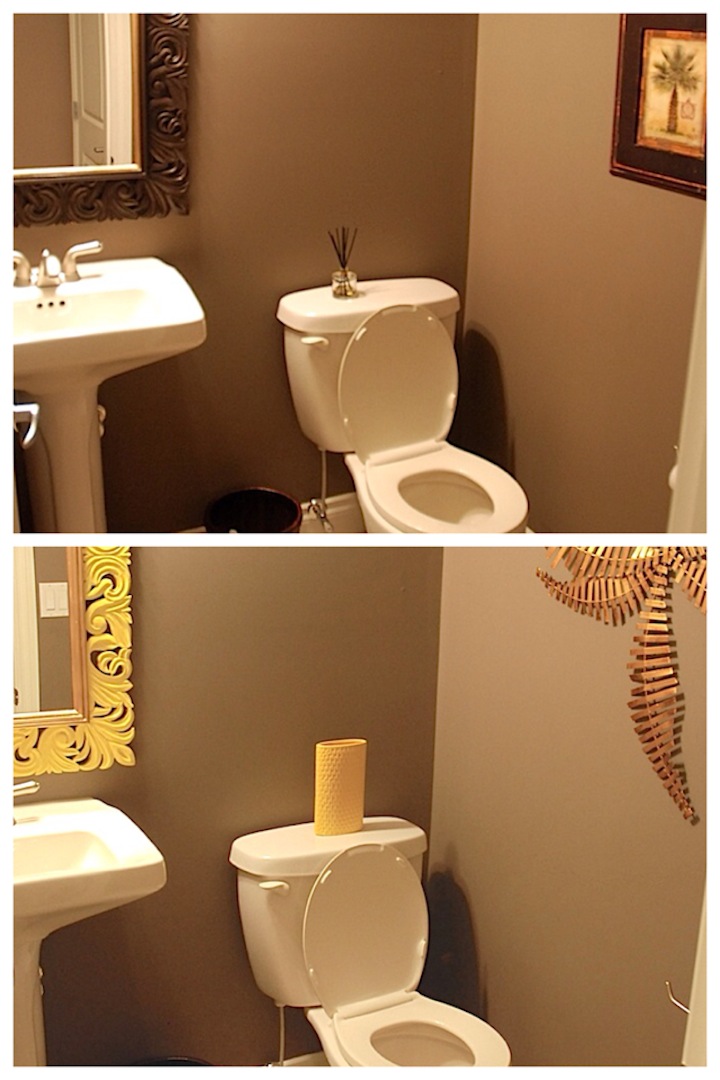 ok…this is the hardest room to take pics of as there is no natural light…so i can't show you the outdated light fixture because you'd only see a hideously bright glare on the pic! Trust me when i say that it's time to replace the builder spec fixture!
~Our Master Bedroom: I knew i wanted our new bedroom to be modern and simple. And that it is. But, i'm wanting to add some colour… i've honed in on indigo, but i'm getting resistance from Scott.  Who's on my side? I've found these Furbish pillows and these C Wonder bookends that would keep the look crisp, not too feminine but would add some "pop". Who's on team INDIGO? Be honest…what do you think?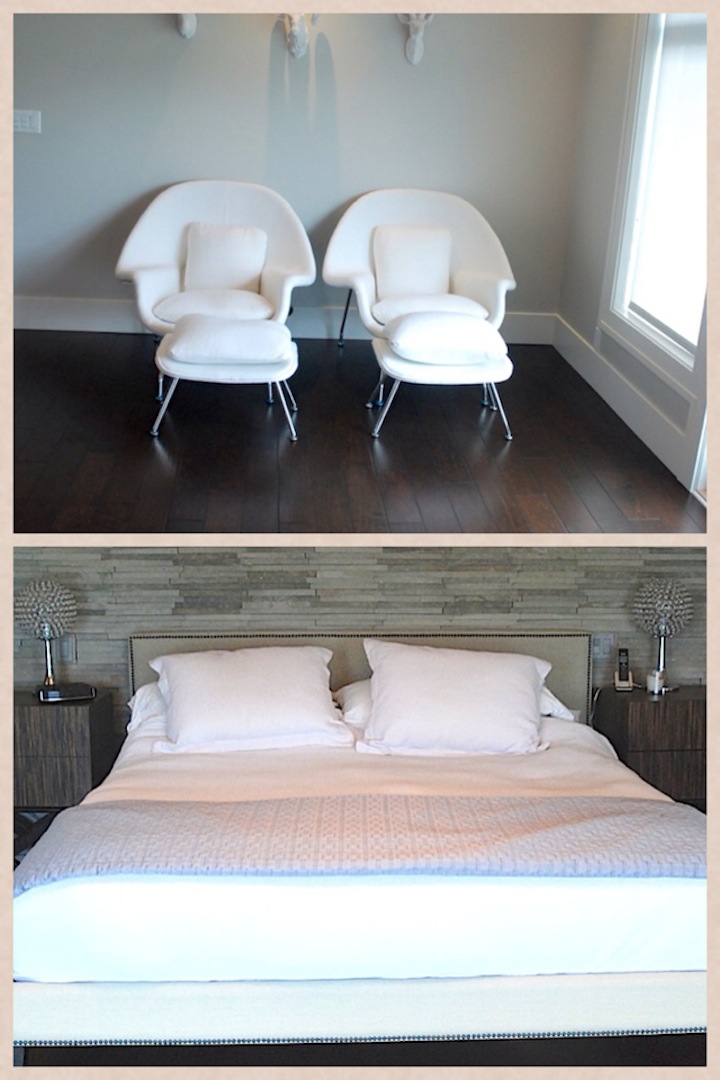 So why did i post these photos and let you all in on my unfinished stuff?? i'm hoping you all will keep my accountable. No more new projects until these are finished..promise!!! What are some of your unfinished projects that need your attention? C'mon make me feel better!