Yes, I'm an online shopper….and I'm not ashamed of it!  And lately, I'm really diggin' J. Crew Factory!  I've long time been a shopper at their outlets, but I've recently discovered an amazing selection of goods online at awesome prices…and you know how much I like a good deal!   They often have sales, making their prices even better!  And I LOVE, LOVE, LOVE all the bright colors and bling on their site right now!  Great news for Canadian sistas…they ship to your door for $9.95!  Now, be prepared…it takes a few days to get to you (5-7 business days), but it's worth it!
Here are a few of my Plum Picks from J. Crew Factory right now!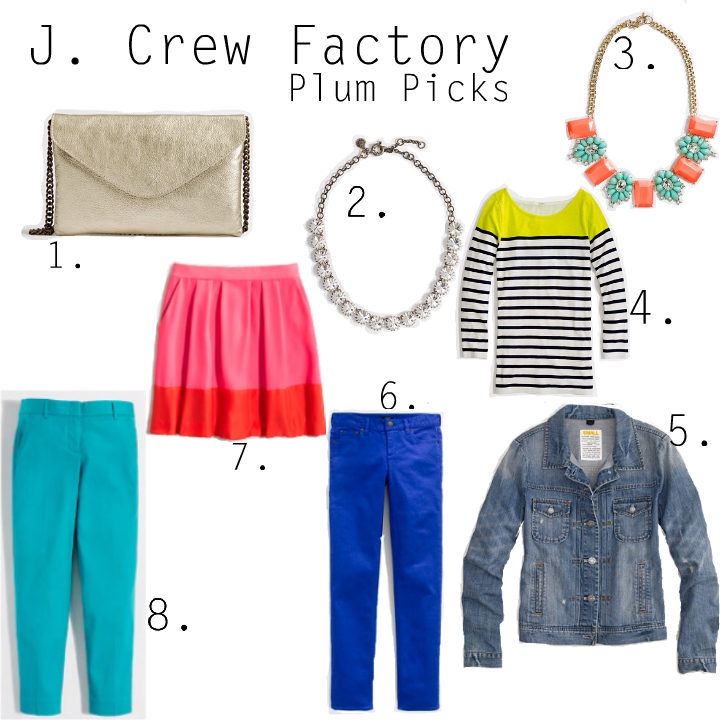 Factory Skimmer Pant $28.50
Confession time…I have the clutch in neon yellow!  I love that it's not a teeny tiny bag….still elegant for a dressy night out, but a good size to stash all of your essentials!  I just got the crystal necklace and I think I've worn it every other day!  It's the perfect piece to add a touch of sparkle to almost any outfit.  I have the colorblock stripe tee in neon pink….I love wearing it with longer shorts….a cute spring outfit!  And I have the jean jacket and I bought it for my mom too!  It's a nice worn in denim and looks great with colored denim on the bottom or a darker wash jean.
J. Crew Factory is offering 30% off all new arrivals online only until April 30, 2013 (see website for details).