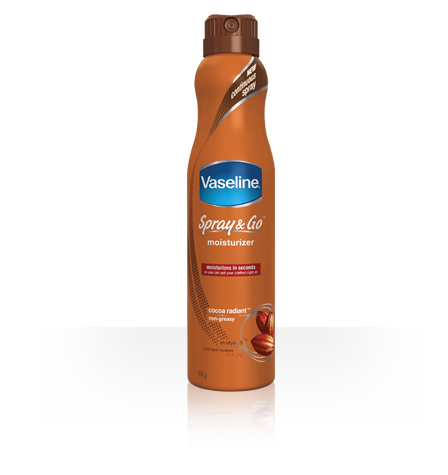 Laurel mentioned a few weeks ago how dry her skin was in Phoenix. I have to report that it hasn't improved much for me since we've been home.  I try to moisturize after I shower, but sometimes if I'm in a rush I can't take the time to slather on lotion and wait for it to absorb before I get dressed.  I also can't stand the feeling of trying to slither greasy feeling legs into leggings….eek!
I happened upon this product the other day and thought I'd give it a go!  Vaseline Spray & Go Moisturizer in "Cocoa Radiant".  So, I've tried it the last four mornings and I have this to report…
It absorbs super fast.

It doesn't leave a greasy feeling.
You can get dressed immediately.
I love the light scent that reminds me of chocolate…yum!
It is very moisturizing!
Just watch the over spray as you don't want to end up with a slick bathroom floor!
So, I give Vaseline Spray & Go an enthusiastic "plums up"!  And an added bonus….this beauty only costs $5.77!