Pam and i were thrilled to receive an invite to Plenty's "Head in the Clouds" Spring Favourites Event. Any chance to herald in Spring and say adios to winter's heavy layers (hey we love you chunky sweaters and buttery leather boots, but we are ready to switch things up!). What better place to do that than at Plenty in Kitsilano?
It was a fantastic night. We were able to finally meet many cyber friends and connect in person!! Jen Tam of herwaisechoice is as lovely and kind in person as on her site… you know when you follow someone's blog and you feel like you know them? That's how we felt!
The definite highlight was the inventory at Plenty itself. Brimming with new Spring colours, textures and layering pieces, we couldn't resist joining the lineup at the change rooms..well, and possibly the lineup to purchase too..shhhh!
Joy Pecknold, the western editor of Fashion magazine was on hand to present the ladies of The Style Common as they modelled  their favourite 2013 spring looks. Alexandra, Alicia, Jen & Jennifer showcased their favourites in layers, florals, monochromatic color and the ever classic black & white.
We were also delighted to speak withMarie Tauzon, buyer for Plenty, and get the behind-the-scenes deets on why Plenty is so successful!
1. What are 3 of the biggest trends coming this Spring/Summer?
Mixing prints is a fun spring trend when done well. Florals are also always a pretty trend in the spring time, and big tropical florals as well as smaller liberty print florals are huge for us. Colour, colour, colour!
2. What is one thing that every woman should have in their wardrobe?
Only one?! I would have to say a pair of jeans that fit you very well — takes you from day to night!
3. Current colour crush?
Our Propaganda and Monk&Lou collections have variations on a spicy orange shade that is super vibrant.  As well as a pretty mint colour that is refreshing on a dreary day.
 4. How would you define Vancouver's style/aesthetic?
5. How much personal style do you allow to influence your buying decisions for Plenty?
These days i definitely buy more for our customer vs what I personally love—the store is for them not for me!  Having said that, though, I still make sure that I love the lines that I buy (like Free People and Maison Scotch!) 
6. Each of your stores has a very unique flair…how do you maintain a boutique feel with having multiple stores?
Thanks very much!  We really try to cater to each store's clientele within the lines we buy.  One store might love Free People pants whereas another one may not so we buy according to their wants.
7. Men can be incredibly difficult to buy for…what is one spring item that is a no brainer for them?
I would say either a nice long sleeve button down shirt (think Fred Perry oxford shirt) or a pair of slim fit chinos (think Scotch&Soda chinos in a multitude of colors).
The Sugar Plum Sisters favorite Spring item? This Maison Scoth vest which is completely apropos for West Coast weather. Layer, layer, layer! Love the touch of neon and texture details on the shoulders, too!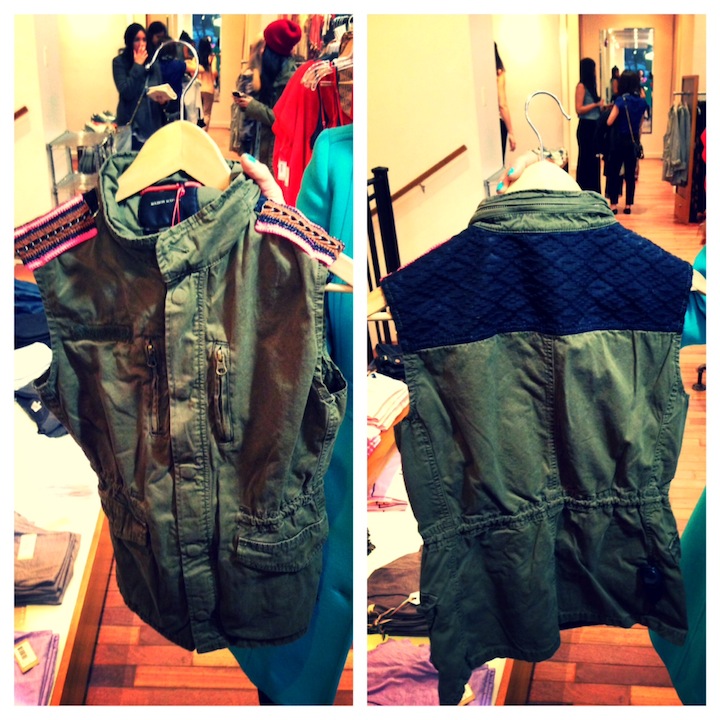 And we'd remiss to re-cap such a great night and not mention the delicious canapes, fresh pressed juice from the Juice Truck and delicate macarons. Ummm? Yum!
Bring on Spring!