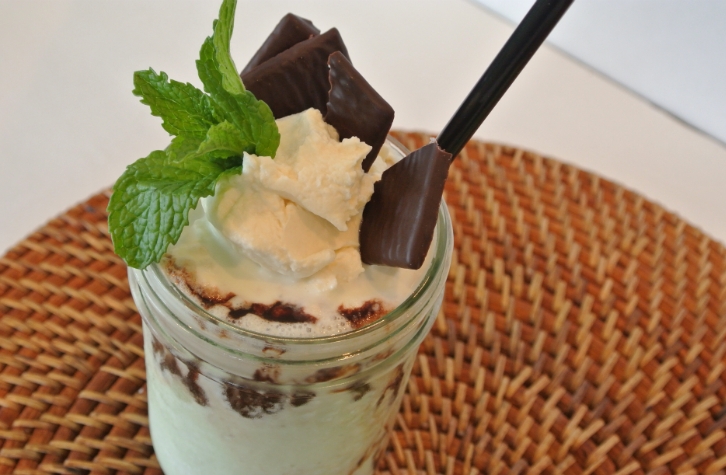 When I was driving the kids home from school the other day, one of my friend's boys mentioned something about Shamrock Shakes.  My kids had NO idea what he was talking about!  I guess it's good in that they don't go to McD's that often, but really, Shamrock Shakes are a childhood right of passage.  Don't you remember…you had to get one right around St. Patrick's Day as they only came around once a year!  I promised my girls and Lo's girls that I'd pick them up shakes after dance.  Mac, of course, declined (that kid just doesn't love sweets…those genes come from Jason's side of the family, NOT mine!).   They all really loved them and I thought I'd try to make my own version at home adding some chocolate….because what's better than mint and chocolate together??
Pam's Shamrock Shake – makes 1 serving
2 c. vanilla ice cream
1/2 c. milk
1 1/2 oz. peppermint syrup (I used Torani)
green food coloring (I used Wilton's Leaf Green)
chocolate syrup (I used Smucker's Chocolate Sundae Syrup)
real whipped cream
2 After Eights
mint leaves
Whip your cream first so it's ready to add on top of your shake.   I add a bit of icing sugar and real vanilla to mine before I start whipping.  Put the ice cream, milk, peppermint syrup and food coloring into a blender (I used my Magic Bullet).  Blend until smooth.  Pour into a glass or mason jar.  Before adding the whipped cream, drizzle the chocolate syrup over the shake.  I added a generous amount of syrup on the top of the shake.  The syrup nicely drips down into the shake.  Then add a large dollop of whipped cream.  I broke 2 After Eights apart and placed them in the whipping cream.  Top it off with a sprig of mint leaves.
For an adult version, you could use creme de menthe instead of the peppermint syrup and delete or cut back the food coloring.  Yum!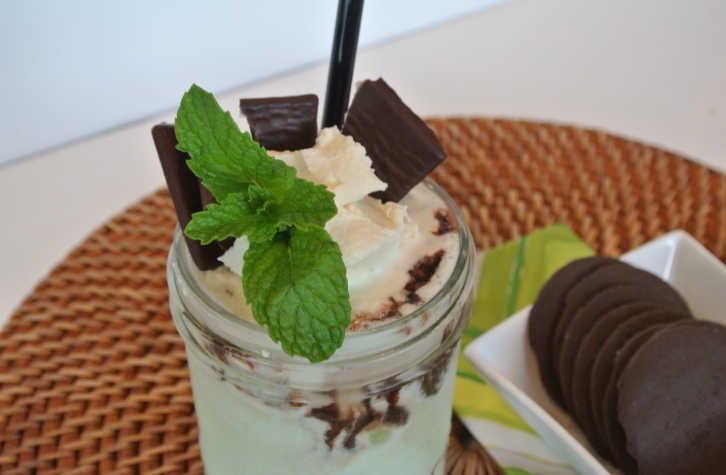 That's just a wee bit of gold right there!