Last week, we got a delicious taste of spring! Temperatures hit 12 degree Celsius (that's about 54 degrees Fahrenheit for our American readers). That's uncharacteristically warm for our West Coast winters….but reality hit two days later when it tried to snow again! February sends such mixed messages…..so what to do about my nails?  I called Lo the other day to ask what color I should paint my nails.  Does it really matter?  Well, no, but I just was conflicted….do I go with a dark wintery color or do I start breaking out the bright cheery tones in anticipation of spring?  What to do??  Lo had some very wise advice….find something in the middle.  Ok…I could have probably figured that out on my own, but thanks Lo!!
So, I went through my nail polish bin….seriously I need to find a better storage and organization system….I have a bit of a "problem" when it comes to nail polish!!!  Here are some of the colors that have stood the test of time for me and are great "middle of the road" colors to transition from winter to spring!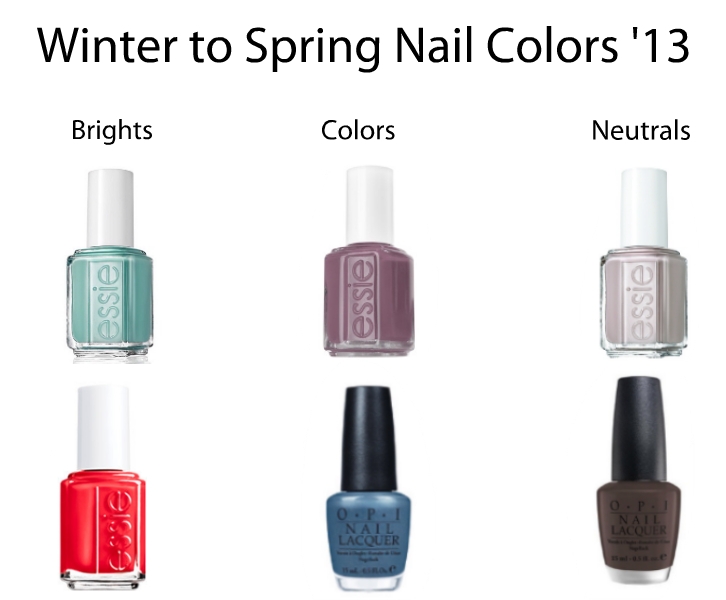 BRIGHTS, from top to bottom
Essie "Where's My Chauffeur" (love this Tiffany blue..looks awesome with purple, red and neutrals)
Essie "Snap Happy" (this color does just make you happy….a nice cheery red)
COLORS, from top to bottom
Essie "Island Hopping" (a neutral with a hint of plum….a fave of Mary J. Blige)
OPI "I Have a Herring Problem" ( a denim-y blue with a slight sparkle..goes with anything just like jeans!)
NEUTRALS, from top to bottom
Essie "Miss Fancy Pants" (a light, warm gray with some mauve)
OPI "You Don't Know Jacques" (a gray-brown….rich!)
These are some great nail colors to try while we are awaiting spring collections to surface.  Essie's spring collection drops on March 1!  Can't wait!