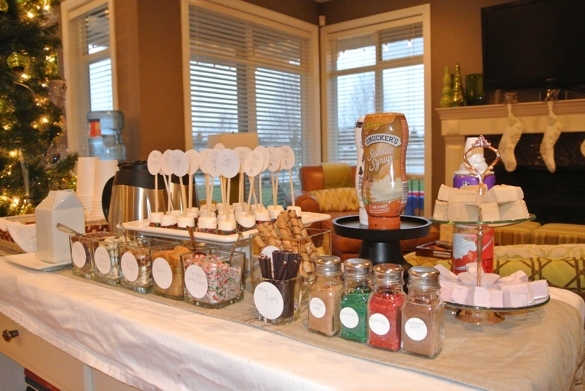 For Christmas, I hosted my dad's side of the family at my house for a "due". There were 14 kids aged 13 and under and I wanted to do something special for them. I thought a hot chocolate bar fit the bill!
I started by making "drinking chocolate"….doesn't that sound SOOOO good….and it's miles better than hot chocolate powder. I used a recipe posted by my friend Tina, from The Pink Spatula. Click here for the recipe. I poured it into a ceramic milk carton so that I could microwave it just before serving. I heated milk up in the microwave and kept it warm in carafes.
Because it was a larger group (I was convinced some of the adults might partake!), I put out disposable cups with lids and straws in a basket. Not only did this make for easy clean up but spills were avoided.
Dylan, my daughter, and I dipped marshmallows in melted chocolate and then sprinkled them with….well… sprinkles! We then put a skewer in them and hand written tags with Christmas wishes…Joy, Sweet Tidings, Merry Christmas, Happy Holidays, Noel….Dylan had fun being creative and putting her own touch on the tags.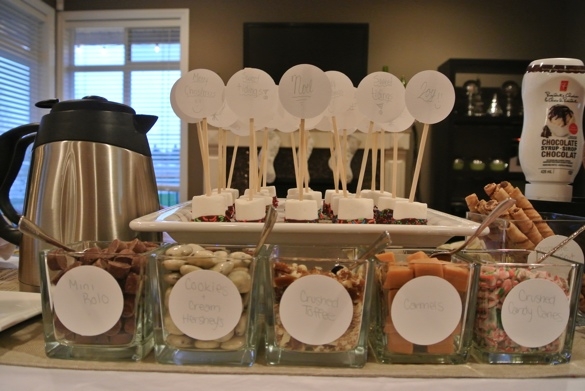 I bought dollar store salt and pepper shakers and we filled them with fun toppings including cinnamon sugar.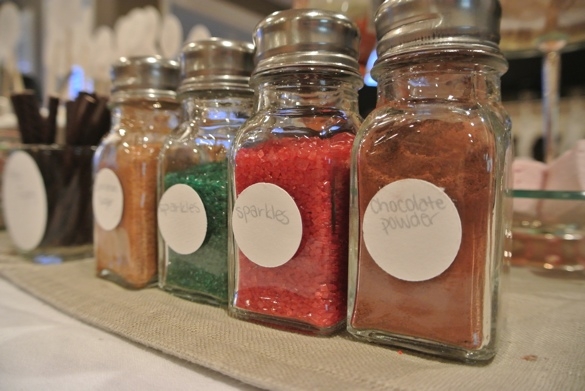 Here are the things we included in our bar….
drinking chocolate
hot milk
chocolate dipped marshmallows
mini Rolos
cookies n cream Hershey's drops
Milsean Demerara Butter Crunch (crushed up)
caramels
crushed candy canes
mint Ovations
chocolate hazelnut pirouettes
chocolate sauce
caramel sauce
whipped cream
The Pink Spatula Cafe au Lait Marshmallows
The Pink Spatula Orange Cranberry Marshmallows
sprinkles (red, green, cinnamon sugar, & chocolate)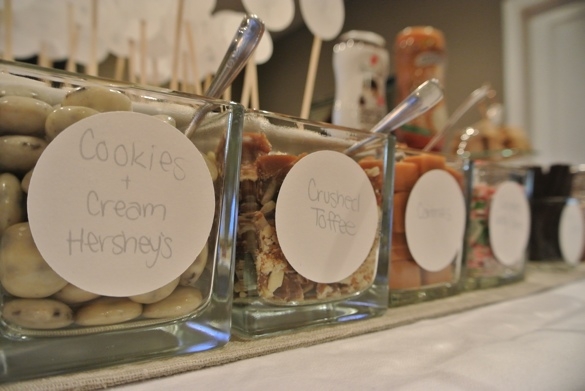 The great thing about a hot chocolate bar is you can include all of your favorite things and have fun putting together a yummy warm drink. My girls both LOVE coffee, so they loved the Cafe au Lait marshmallows with the hot chocolate. Add some whipped cream and chocolate sauce and you have a mocha!
Next time I'd like to create some custom labels for the cups. I saw these ones online…SOOO cute! I just plum ran out of time this round!
Use serving dishes and pieces of differing heights so that all items can be seen…it just makes it more visually appealing. I also used square vases and votive holders for some of the toppings (the same ones I've used for antipasto platters!).
This is a fun idea for a Christmas gathering, a New Year's Eve party, a skating party and a winter birthday party!!