Well, we did it!! The Sugarplum Sisters, and our dear peeps, Andrea and Denise, held our first cooking class yesterday evening. I'll be honest i was nervous. I am not a chef and don't profess to be one…eeks!!! On the other hand, both Pam and I do love being in the kitchen, trying new recipes and devising clever and modern ways of presenting our finished product. So, this was a foray into something new for us! Charlotte and Sarah of Lepp Farm Market were our incredibly gracious hosts and really we were honored to be there!
We think we had the best audience ever…both familiar faces and new ones too..new friends that enjoy food like we do! We hope you had as much fun as we did! For those of you who couldn't make it, we will be sharing our recipes from our Easy Entertaining ~Holiday Recipes over the next number of days!
Our first recipe was taken from one of my favourite foodie bloggers: Alice Currah of the Savory Sweet Life… We featured her cookbook on our gift guide this past week (ps..it is amazing in case you didn't catch my enthusiasm the first time i mentioned it!  Alice is a master in the kitchen, especially with producing high flavour, fresh dishes that are simple to make. Bonus! Her Red Pepper Relish has become a favourite. Not only does it make a wonderfully easy appetizer, served with crackers/breadsticks and a selection of cheese..but it is an easy and personal gift to treat others with! Why else do i love it? It only requires a handful of ingredients, that most likely you have on hand already.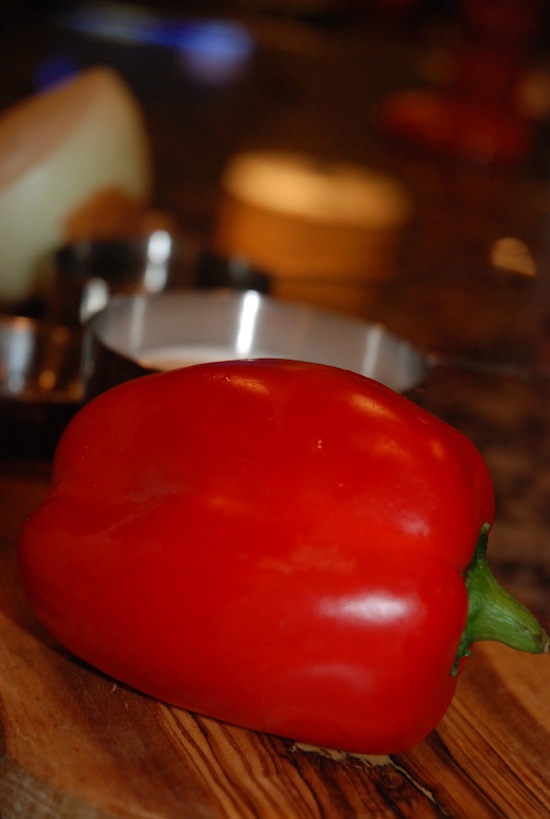 RED PEPPER RELISH
Red Bell Pepper Relish Recipe
(yields 3/4 cup of relish)
Ingredients:
1 red bell pepper (or any other type of bell pepper), chopped in small pieces
1/2 onion, chopped in small pieces
2/3 cup of sugar
1/2 cup of white vinegar
1/2 tsp of red pepper flakes (if you like less heat, use 1/4 tsp. If you like more heat, add 1/4 tsp.)
Directions:
Add everything to a small sautee pan and stir all the ingredients until well incorporated. Cook the relish on medium heat for 5 minutes and turn down the heat to medium-low for an  additional 20 minutes, stirring occasionally until most of the liquid has reduced. Remove from heat and allow to cool before serving.
**i prefer to chop the red bell pepper and the onion in my food processor. I think the tiny minced pieces work better to form the relish.
**my relish tends to take longer…i usually end up allowing it to cook for a total of about 35-45 minutes.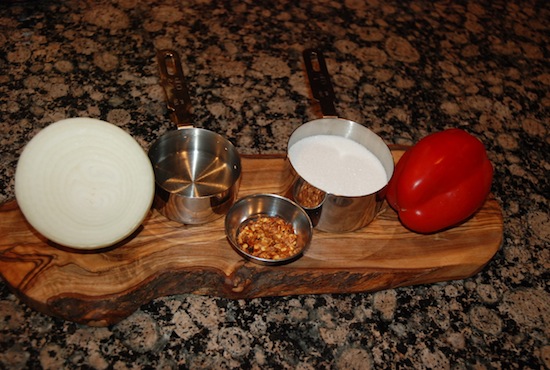 After 5 minutes of cooking, the sugar has melted and the vinegar has started a low boil.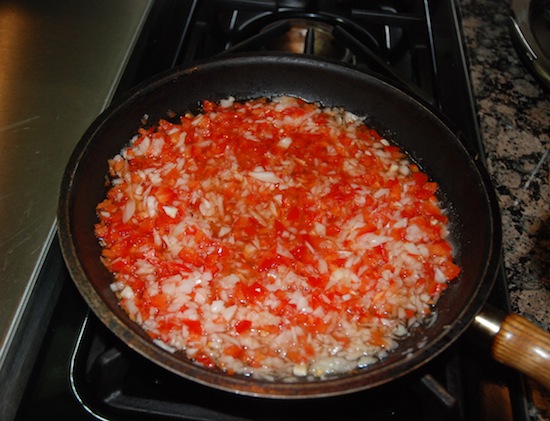 25 minutes in and the ingredients are started to caramelize slightly.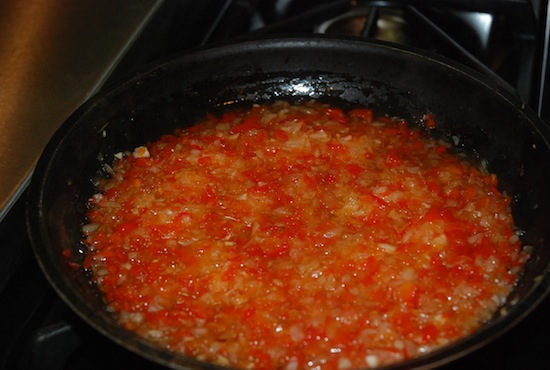 After 35 minutes, the brilliant red color is still present but the mixture is taking on the consistency of a relish.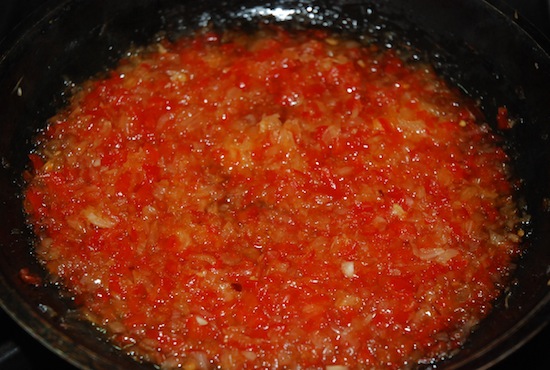 After approx 40 minutes, it is beautifully done! And ready to be served.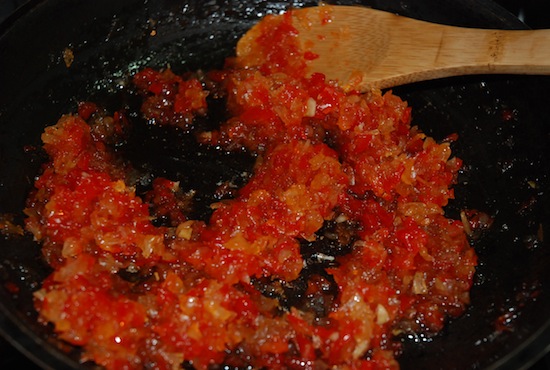 We love this relish served up with our favourite cheeses. Here we plated up some Boursin, Goat Cheese, Brie and Aged Cheddar and served both the relish and some amazing carmelized onions (a la Pam) with crackers. Love the presentation? Look for Pam's post on transforming slate tiles into modern serving trays!