Right now I'm all about colorful sweaters!  I am SO happy that color is in for winter this year!  When I was in New York, I bought a bright, almost neon yellow sweater at J Crew….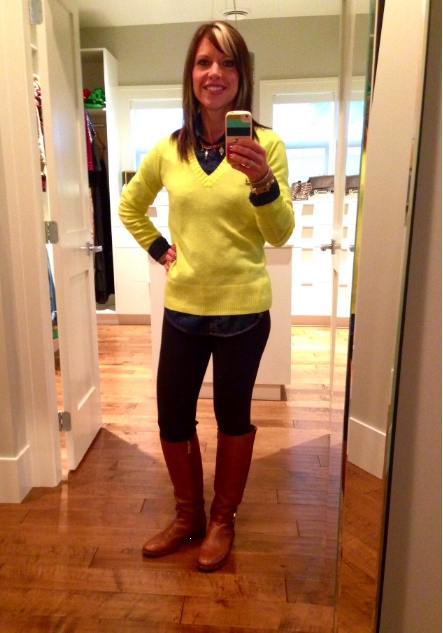 I like to wear this sweater with a denim shirt underneath, leggings and tall boots.  Simple, comfortable and cute.  I purchased the sweater on sale for about $50, which I thought was fairly reasonable.
Until I walked into Superstore… Joe Fresh blew me away with a  colorful selection of V-neck sweaters for just….drumroll please….$19!!!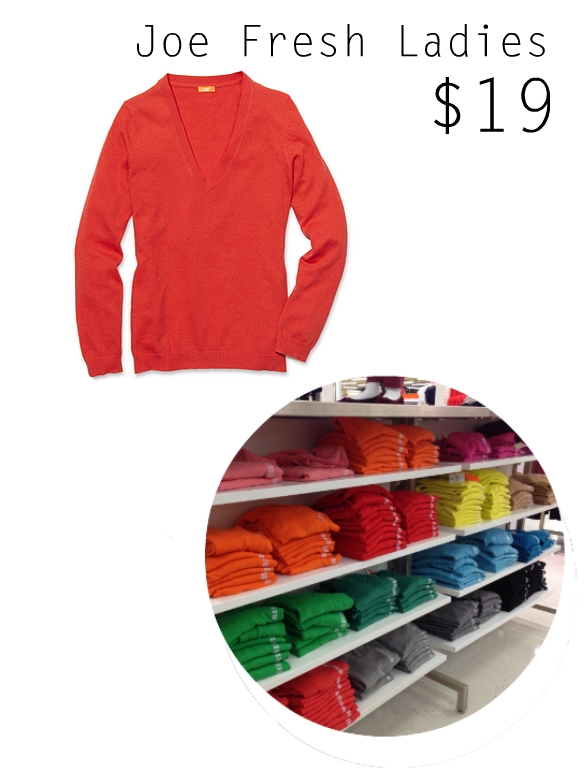 These sweaters are made of 42% cotton, 27% rayon, 26% nylon and 5% cashmere, so they should hold up well.  I love that they come with a gift tag, ready for giving.  Roll it up, tie it with a pretty ribbon and insert into stocking…done!  Who on your Christmas list wouldn't love a sweater like this?  I know I would….hint, hint!
And, what's even better is they have a men's version…also for $19!!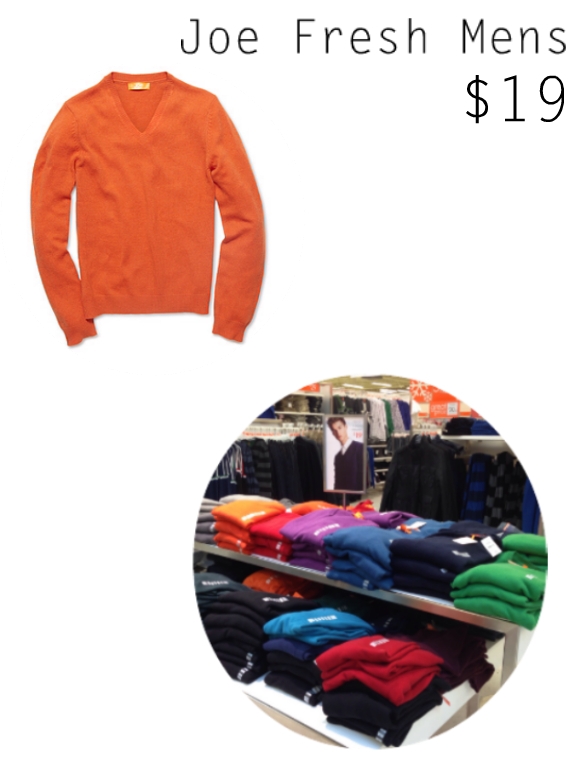 The mens' version is made out of 35% nylon, 25% wool, 19% cotton, 15% acrylic and 6% rayon.
I love it when Jason wear's a bright sweater with a button down underneath, a funky tie and dark wash denim…geek chic! I already bought him the Kelly green one, but maybe another will appear in his stocking?  Hey, it's perfect for work and you can't beat the price!
Just PLEASE don't get matching ones…that takes me back to the couples with matching muumuus in Hawaii!  Be individuals and wear the color that makes you feel good!