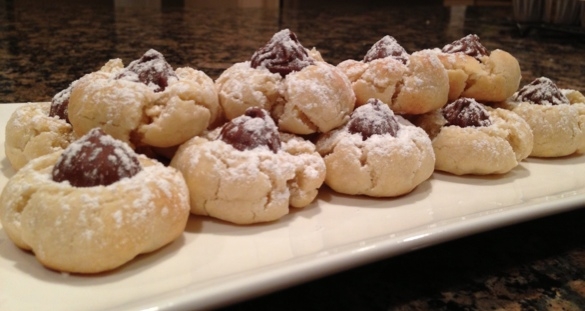 This year I decided to cut my Christmas baking way back!! Every January my freezer is full of Ziploc containers with cookies not yet eaten. But I still want some baking to bring to parties and family gatherings, to give away and for the kids to enjoy. One cookie I knew I could not get away without making is my Christmas rose bud cookies. They are my kids' favorite…and they are so simple and fast to make!
I've tried a few different recipes and over the years and I've perfected my own….here it is!
Pam's Christmas Rose Bud Cookies
1 cup butter, at room temperature
1 tsp. pure vanilla (use the real stuff!)
1/2 cup sugar
2  1/8 cups flour
Rose buds (I used Neilson's Golden Buds 131 gram package)
Icing sugar
Cream together the butter, sugar and vanilla with a hand held mixer or KitchenAid.  Add the flour and blend together well.  Cover the dough with plastic wrap and chill for at least 1/2 hour.  You can also chill overnight.  Shape the dough into balls using about 1 1/2 tablespoons of batter.  The batter will be crumbly, but keep working it into a ball with your hands.
Place balls on a cookie sheet lined with parchment paper.   Bake at 375 degrees for about 8 minutes turning the pan halfway through.  As soon as the cookies come out of the oven, push a rose bud into the center gently.  The cookie will crack a bit (if it cracks too much and you are worried it may fall apart, push it together and it will solidify a bit as it cools).  Move cookies to a cooling rack carefully as the rose buds will be soft.  Once completely cooled, dust with powdered sugar.
Makes about 32 cookies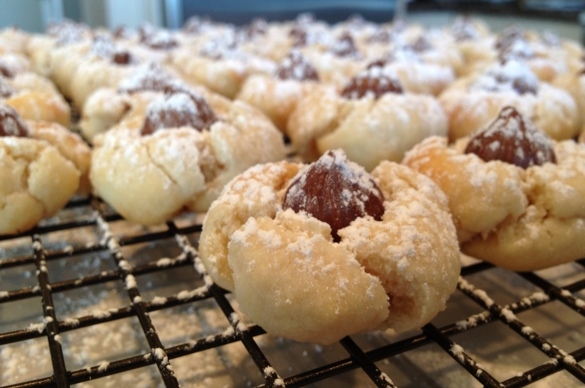 So quick and easy and they freeze well.  I put parchment paper between the layers when freezing them.  Just don't stack them until the rose buds have hardened!