On our recent trip to New York, we indulged in some incredible food!  New York is my favorite place to eat!  ABC Kitchen in Chelsea was recommended to us and I had read a lot about it.  We had just enough time to fit in a lunch there before we headed back to Jersey to the airport.  Wow….what a gem this place is!!!  Not only was the food incredible…they are committed to using the freshest, local organic ingredients…this was a great place to see some celebs.  We spotted Carla Gugino, the mom from Spy Kids, and to our delight, the man sitting at the opposite end of our long table was Hal Rubenstein, the current fashion director of InStyle Magazine and one of it's founding directors.
Laurel and I grew up reading InStyle as our mom always had the latest issue in the house and now our girls love flipping through the pages too!    I have to admit, after I spotted Mr. Rubenstein, the food didn't really matter, but before I realized who he was, I had enjoyed one of the best salads I've ever tasted…and to my sheer delight, I found the recipe online!  One thing Laurel and I tend to do when visiting a new restaurant is to ask our server what their signature dishes are and at ABC Kitchen, this was one of them….
Carrot Avocado Salad – Recipe courtesy of Food52
Serves 4
2 pounds small carrots (3 to 4 inches, ½ inch thick), or large carrots quartered and cut into 3-inch segments, peeled (about 4 cups)
Kosher salt
1 orange
1 lemon
1 teaspoon cumin seeds (buy the seeds, DON'T use ground cumin!)
2 medium garlic cloves
1 tablespoon fresh thyme leaves
1/2 cup extra-virgin olive oil
1 teaspoon red wine vinegar
1 teaspoon red pepper flakes
Freshly ground black pepper
1 tablespoon sugar
1 avocado, cut into 12 wedges
2 cups mixed baby sprouts, herbs, and microgreens
4 tablespoons crème fraiche
2 tablespoons toasted sunflower seeds
2 teaspoons toasted sesame seeds
Adjust an oven rack to the center position and preheat the oven to 450°F. Place the carrots in a saucepan and cover them with cold water. Season with salt, set over high heat, and bring to a simmer. Reduce the heat to medium and simmer until the carrots are tender, about 10 minutes. Drain the carrots and transfer them to a medium bowl.
Cut the orange and lemon in half and juice half of each one, reserving the juice and the unjuiced halves, and discarding the juiced halves. Combine the cumin, garlic, thyme, 2 tablespoons of olive oil, the red wine vinegar, red pepper, 1 teaspoon of the orange juice, and 1 teaspoon of the lemon juice in a blender and blend until smooth. Season the marinade to taste with salt and pepper. Add the marinade and the unjuiced citrus halves to the carrots and toss to combine. Spread the carrots and citrus halves on a rimmed baking sheet and bake until the carrots are slightly shriveled with a few brown spots, about 20 minutes. Allow the carrots to cool to room temperature.
Meanwhile squeeze the juice from the roasted citrus halves into a small bowl. Add the remaining fresh orange juice, lemon juice, remaining 6 tablespoons olive oil, and the sugar. Season the dressing to taste with salt and pepper, and whisk to combine.
Divide the carrots and avocado slices onto four plates. Divide the greens among the plates on top of the carrots and avocado. Add a tablespoon of crème fraiche to each salad. Sprinkle sunflower seeds and sesame seeds over each plate.
Drizzle several tablespoons of dressing over and around each salad (reserve any remaining dressing for another use), and serve immediately.
Ok…I'll admit, the recipe looks a bit intimidating, but really it's quite simple, but just more steps than usual for a salad, but trust me, it's worth it!  Just plan ahead the day that you are making it as you can do the steps at different times during the day and then you're not in a time crunch right before dinner.
I prepared this on Friday night for guests and used a platter to serve it family style instead of individually and it was quite attractive!
And the finished product….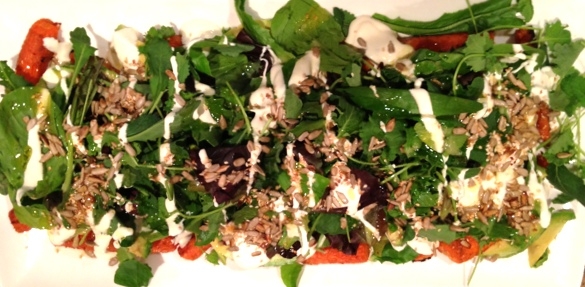 Just a note…creme fraiche is not the easiest to find.  I tried to make some with a combo of heavy cream and buttermilk, but it was an epic fail.  Luckily I found some at Save On Foods.