Well…i've scoured the streets of New York, and cyber stalked all my favorite sites to bring you my 2012 Holiday Gift Guide for the female lovelies in your life. Men..wink wink, nudge nudge. Now is about the time you should have "Christmas Shopping" on the brain.   You've already handed in your man card trolling our site..hey, we're all good with that!! But while you're here? Take note! Please don't wait until the week before Christmas ..Dad…ummm.talkin to you!! Do yourself a favor. Get shopping!!!
From big to small, there was so much to choose from this year… But am i on my own with loving the whole stocking stuffer thing way too much? Sometimes its the smaller gifts that are the greatest delight to receive!  Here are a few of my favourites…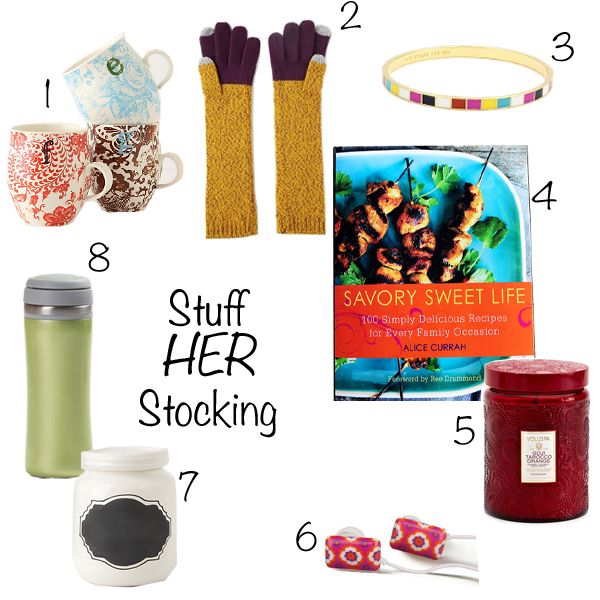 1.Anthropologie Monogrammed Mugs $8
2. Free People Texting Gloves $48.12
3. Kate Spade Bangle  $48
4. Savory Sweet Life Cookbook $15.05
5. Voluspa Candle $28
6. Jonathon Adler Ear Buds $20
7. Anthroplogie Chalkboard Spice Jars $10-$12
8. David's Tea Travel Mug $29.50
i know i've already talked about, but i'll be darned if i don't include the Voluspa Goji Tarocco Orange Candle. This smell is AMAZING!! And it comes in a beautifully etched glass jar. Your house will be thanking you.  Also, another favourite? Texting gloves..have you tried to text in your favorite mittens? Grrrrrr.. no longer…problem solved.  For the foodie in your life, Alice Currah has published a cookbook chalk full of delicious recipes. And i'm not just saying that. I'm a huge fan and am blown away every time i delve into one of her recipes!
On a larger scale, here's my Christmas morning favourites: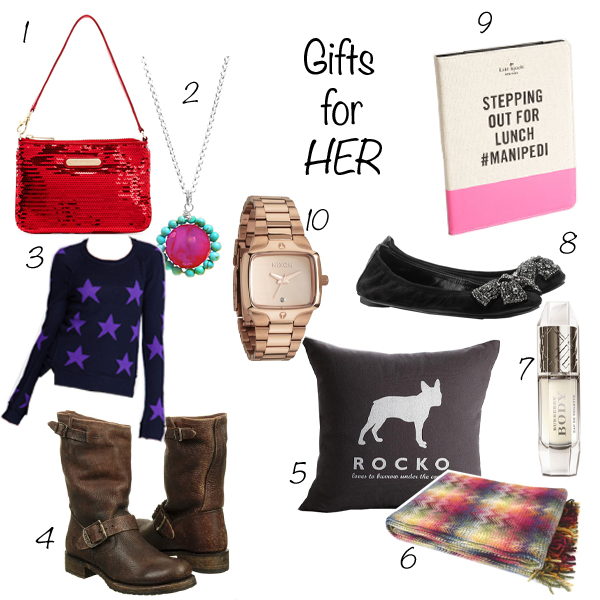 1. Michael Kors Sequined Wristlet $68
2. KV Bijou Necklace $75
3. Aqua Cashmere Sweater $215
4. Frye Boots $298
5. Personalized Pooch Pillow starting from $49.95
6. Missoni Throw from Provide $380
7. Burberry "Body" Fragrance  from Sephora $75
8. Tory Burch Eddie Ballet Flats $250
9. Kate Spade Ipad Folio $85
10. Nixon Small Player Watch $250
From a stunning throw that would be the piece de resistance in any room (like maybe my bedroom..really it would be so perfect!), to a sassy Ipad Folio, to rugged Fryes that will age beautifully and keep you faring cold temperatures for years to come..we think there's something here for everyone.  For the girl out on the town? A bursting red wristlet that will give your LBD new life. For the everyday? A fresh scent of peach and freesia found in the Burberry Body fragrance. For those that have 4 legged family members, the personalized dog pillow is just darn cute!
Beautifully crafted lovelies such as a jade necklace or soft leather ballet slippers are gifts that will be worn for years to come!
If you haven't started your Christmas shopping, i hope you have found inspiration or maybe even helped you check off some names on your list! Also in the hopper? Pam's Holiday Gift Guides…as well as our choices for the men in your life. Stay tuned!!