One of the things i love most about October and November is the presence of pumpkin…i love the flavor it adds and the element of..uggg…i hate this word: "moist" (eek!) texture that it lends to whatever it's being incorporated into. In the past number of years, i've been in a bit of a pumpkin rut..did u know there is such a thing?? Yep! I had a couple of tried and true recipes loaf that i simply rotated. Boring. It was time to hunt down a new recipe. I love The Pioneer Woman website..the recipes are yummy and completely "do-able". I found this recipe for Moist Pumpkin Spice Muffins (that word is stalking me!!!) and wow, the muffins went POOF!! Literally all gone in under a day! These muffins can be made with a cream cheese icing for more of a treat..or unadorned, which is how i kept them for easier snacking! The sugary topping is treat enough!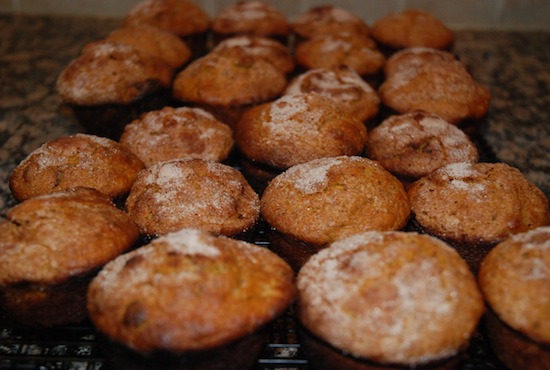 Sift  together your dry ingredients: Flour, sugar, baking powder, cinnamon, ground nutmeg, ground ginger and salt. I'll be honest, Ree of the Pioneer Woman, has way better photog skills than me, so make sure you take the time to look at her pics and delight in the pyramid formation of her sifted ingredients!!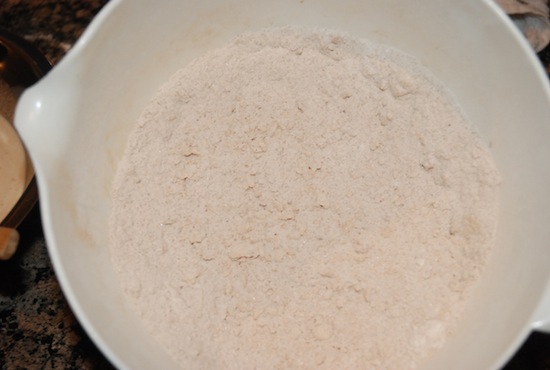 Once sifted, you will cut in pieces of cold butter, giving it a coarse texture of crumbs.
Next, combine the pumpkin puree (how bout pumpkin pie filling you ask?…don't do it…really…don't do it!), evaporated milk,en egg, and vanilla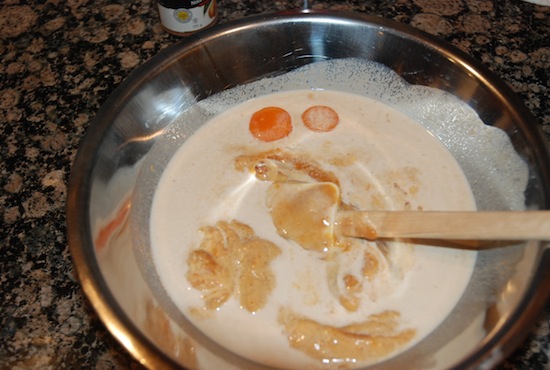 Mix it together and then fold into your dry ingredients. The recipe calls for raisins to be added at this point.. i skipped them as my kids are raisin-phobic.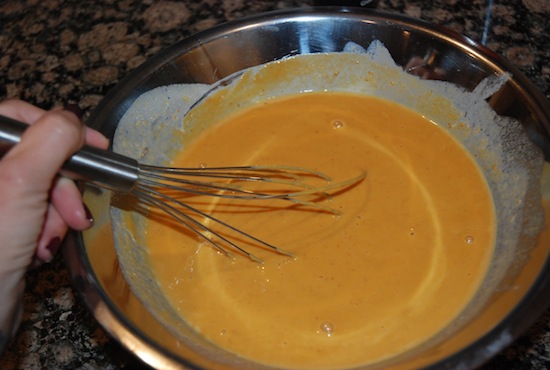 Fill the muffins tins 1/2 full, or 2/3 for larger muffins. i opted for the big mamas!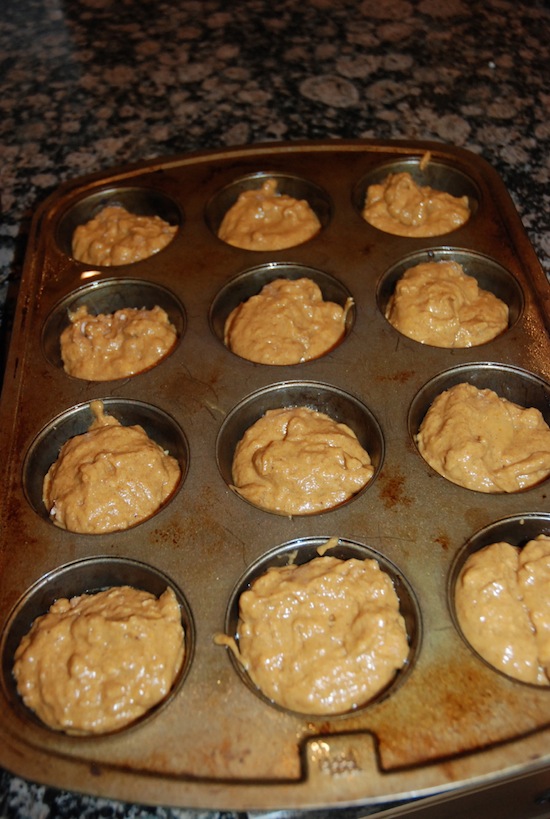 Sugar, cinnamon and nutmeg make the streusel-type topping for these yummy muffins!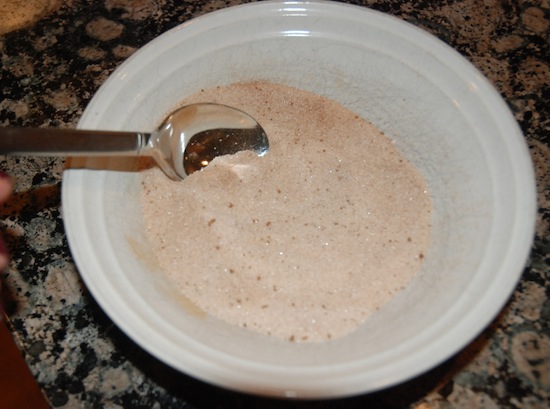 Give the muffins a nice sprinkling or dousing, your choice, of the sugar mixture before popping into the oven.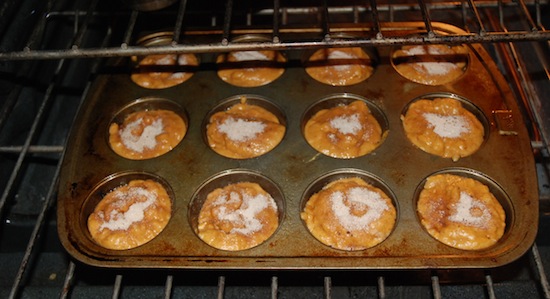 These muffins smelled so-o-o good..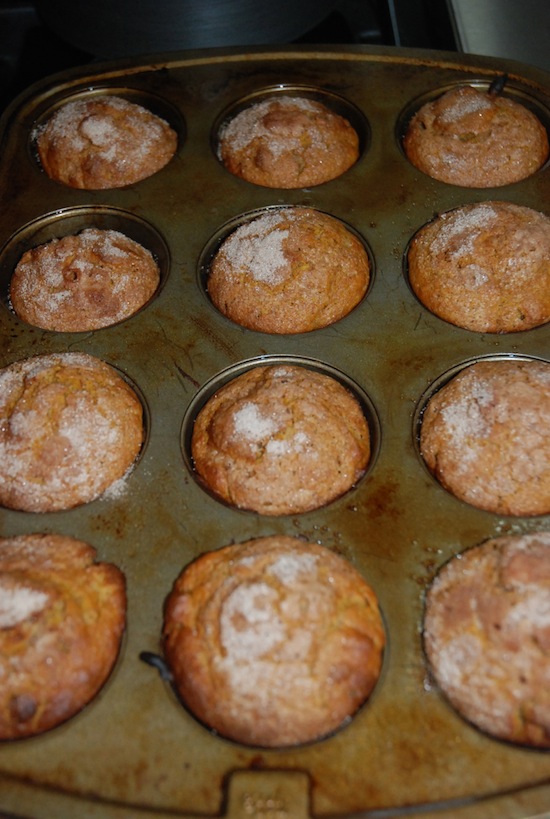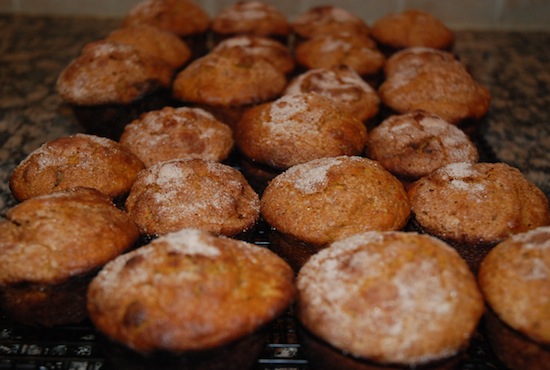 I was honestly batting away Lincoln as i was trying to take this picture…the smell lured him from his room!!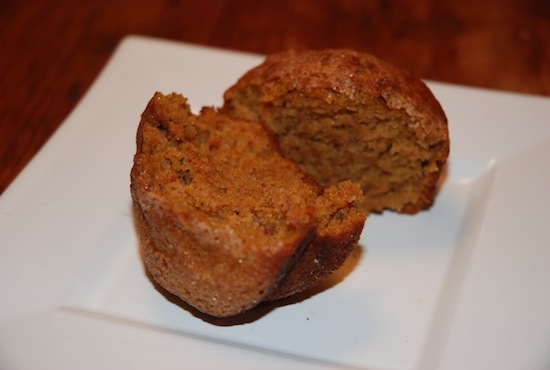 Hint to the wise? Double the recipe! Delicious!!
Here's the recipe:
Pumpkin Spice Muffins
Muffin Ingredients:
1 cup All-purpose Flour
1/2 cup Sugar
2 teaspoons Baking Powder
1-1/2 teaspoon Cinnamon
1/4 teaspoon Ground Ginger
1/2 teaspoon Nutmeg
1/2 teaspoon Salt
4 Tablespoons Butter, cut into pieces
1 cup (heaping) Pumpkin Puree
1/2 cup Evaporated Milk
1 whole Egg
1-1/2 teaspoon Vanilla
1/2 cup Golden Raisins (optional!)
_____
Topping
2 Tablespoons Sugar
1 teaspoon Cinnamon
1/4 teaspoon Nutmeg
_____
FOR FROSTING:
1/4 cup Softened Butter
4 ounces, weight Cream Cheese
1/2 pound Powdered Sugar
1/2 teaspoon Vanilla
Preparation Instructions
Preheat oven to 400 degrees. Generously grease 12 muffin tins.
Sift flour, sugar, baking powder, cinnamon, ginger, nutmeg, and salt. Cut in butter with two knives or a pastry blender until it is fully incorporated. In a separate bowl, mix together pumpkin, evaporated milk, egg, and vanilla. Pour pumpkin mixture into the flour mixture. Add raisins. Fold gently until mixture is just combined.
Pour into a greased muffin pan—batter hardly ever fills all twelve unless you keep it down to 1/2 full. Sprinkle with remaining cinnamon-sugar-nutmeg mixture over the top of each unbaked muffin.
Bake for 25 minutes. Allow to cool in pan for 15 minutes, then remove and allow to cool. Ice with cream cheese frosting.
To make the frosting, mix all ingredients on high until soft and whipped. Spread onto completely cooled muffins, or place into a large pastry bag with a large star tip and go crazy! Store in the fridge, as icing will soften at room temperature.