Anyone who knows me knows that I LOVE salads. For Thanksgiving, Mom asked me to bring a salad. I do tend to get into a rut and rotate between about 5 fave recipes. But this time, I decided to troll Pinterest to see what other ideas are out there for fall salads. I stumbled upon this Fall Chopped Salad….
The recipe is found on the blog Espresso and Cream (click here)
Autumn Chopped Salad
Ingredients
6 to 8 cups chopped romaine lettuce
2 medium pears, chopped
1 cup dried cranberries
1 cup chopped pecans
8 slices thick-cut bacon, crisp-cooked and crumbled
4 to 6 oz. feta cheese, crumbled
Poppy seed Salad Dressing (I like T. Marzetti)
Balsamic Vinaigrette (I like Newman's Own Light Balsamic Vinaigrette)
Instructions
On a large platter, combine the lettuce, pears, cranberries, pecans, bacon and feta cheese. Drizzle generously with poppy seed dressing, followed by some of the balsamic vinaigrette. (I would estimate that I used about a cup of dressing: 70 percent poppy seed dressing and 30 percent balsamic vinaigrette). If you prefer your salad to have more dressing, feel free to experiment with the combination.
The ingredients…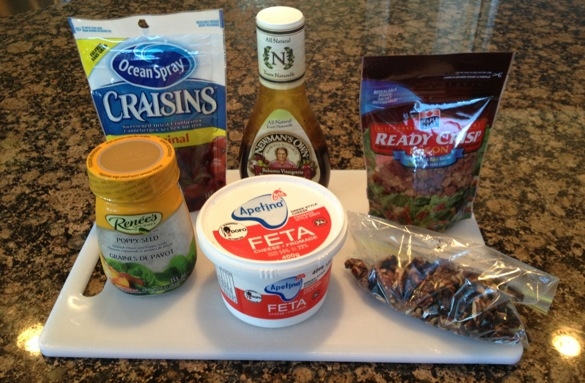 I bought hearts of romaine, submerged them in water, shook them out and then sliced them fairly thinly….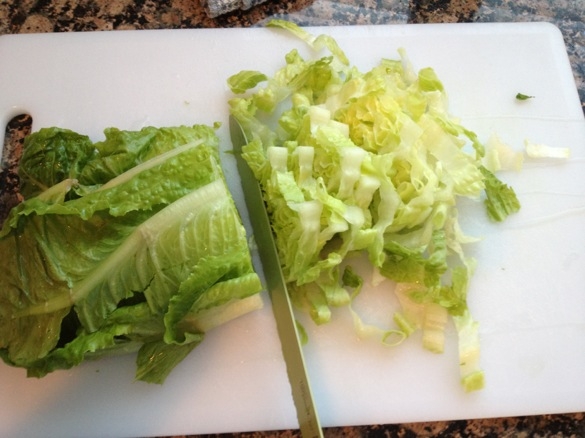 You know I can't leave a recipe alone, so here are a few minor changes.  To save myself some time, I used Maple Leaf Ready Crisp fully cooked bacon pieces. I also toasted the pecans in a frying pan.  Make sure to stir often to prevent burning.  If you are not a fan of pecans, you could always use pumpkin seeds. I used Renee's Poppy Seed Dressing…it's really good!  And for the other dressing, I used Newman's Balsamic Vinaigrette (NOT light).  One thing I would add to the top next time, once tossed, is a drizzle of balsamic reduction!
Before tossing….I love the colors!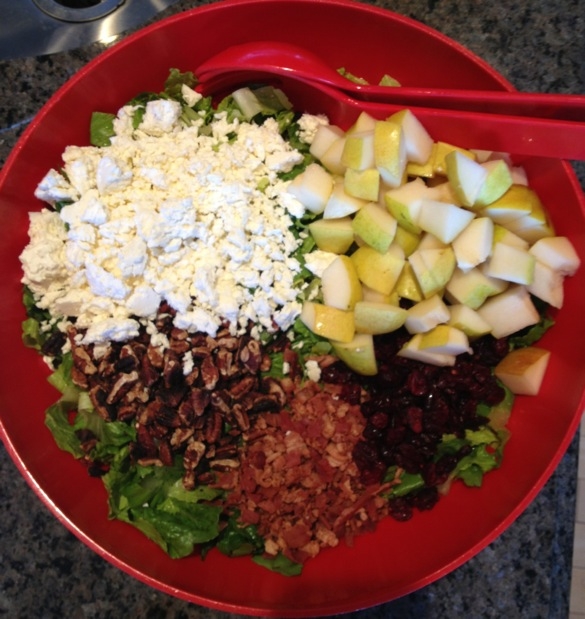 Tossed up and ready to go!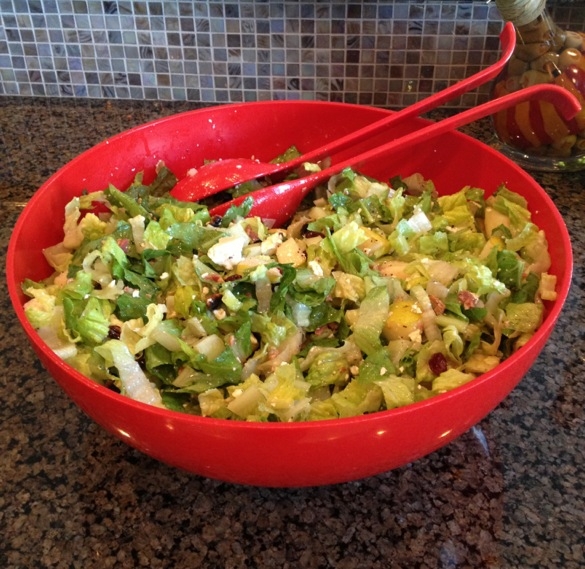 This is a very fresh tasting salad that still incorporates the flavors of fall. Yummy!