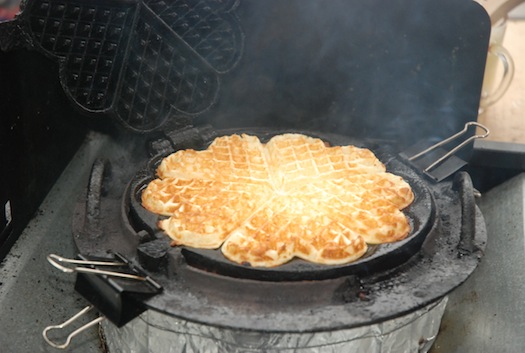 This past weekend, my dad's side of the family converged for our annual Waffle Bake. Waffle Bake you ask? OH….it's so much more than what you're thinkin! The Voth Waffle Bake was a tradition born forever ago. My great grandparents acquired the cast iron "heart" waffle irons in the early 1920's whilst still in Russia…and they are still in the family. Well-travelled, they never left the family's possession. Russia to Germany to Manitoba to finally, here: British Columbia. If you ask my dad, he remembers how the waffle irons were once used: over an open flame contained in a 5 gallon steel pail with holes poked in it. It has evolved, ever so slightly over the years..it is now used over a propane campstove. And lest you think that's more work than its worth, let me tell you that it's exactly perfect!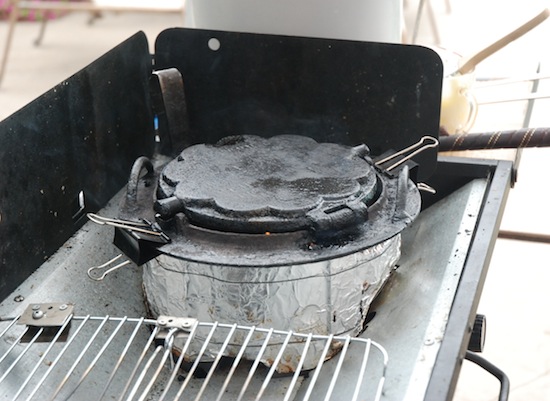 The batter, too, is a family treasure. Not your regular variety, this batter is made with yeast…it rises to form the most "lukka" (german for…well, i can't really explain it…can anything in German be translated properly???) batter ever. Suffice it say that there aint nothing dry about these waffles!! The art of making the batter and cooking the waffles has now been passed down to the 4th generation. My cousins have seriously taken this on with gusto and those waffles taste just like when i was a kid!
I was remiss to not take a picture of the "white sauce" my mom makes to top the waffle. Whole milk forms the basis of this vanilla custard…layer that with thickened berries over your waffle and it's simply delicious. And, please, no calorie counting..that just plain old wrecks a good thing…
The tradition lives on…i hope forever! i want my kids to be able to remember growing up with these waffle bakes: the competitions the Voth boys would have (i do believe my brother and cousin both hit double digit consumption in their teen years!!), the groaning and hugging our stomachs when the eating ceased, the jockeying to be next in line (#1 "Hey, what is THAT??" #2 The headturns and #3 The victory snag!!). But mostly, the smile on grandma's face as her family supped together. The coming together of family. That's a tradition worth keeping!