The start of school signifies the start of something else around our house… back to more healthful eating. Why do i find summer so difficult??? Too much "ha-ha-ha-ing" i suppose, as the old saying goes. But we're back at it, now and i'm thinkin my body is happier already!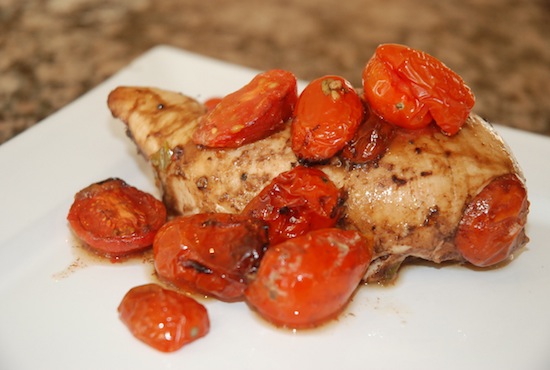 Here's a recipe i found on a neato website called Skinny Mom's Kitchen : Bruchetta Chicken caught my eye immediately. Not only does it incorporate one of my favorite ingredient combos (tomatoes, garlic, basil, and olive oil), but it is quick to put together. That is a definite game winner around this place!!!
Serve over a bed of quinoa and add a side veggie…our favorite is roasted and slightly charred broccoli. Place your trimmed broccoli crowns on a parchment lined baking sheet. Drizzle with olive oil and season with salt and pepper. Bake at 400 for approx 10-15 min. Broil for the last minute or so. My kids seriously go crazy over this!
On top of the yumminess? Here are the glorious deets for the Bruchetta Chicken: Calories 287 Carbs: 6g Fat: 7g (per one chicken breast). Not bad hey??
Thanks to the Skinny Mom's Kitchen!