As I mentioned in my post on Tuesday (click here to read), I was on the hunt for a pair of smoking loafers.  Berkeley, my oldest daughter, and I were on a back-to-school shopping trip to Seattle, so what better place to look for a pair of shoes!  We started by looking at Nordstrom Rack…one of my fave discount stores.  The smoking loafer is a fairly new trend, so there were only a couple of pairs there and none that really did it for me!  So…off to Nordstrom…the meca of shoes.  Seriously, Nordstrom has the BEST shoe department not to mention incredible service!!  I have to say when you walk into a Nordstrom shoe department, you can almost see the skies parting and think you might hear an angel playing a harp…ok, maybe it's just the dude playing the grand piano (a staple in Nordstrom stores!).
I tried on many of the pairs that I had mentioned in my post, and if you can believe it, went with a different pair!!!  The funny thing is, I went with a pair by Steven by Steve Madden that combined two of the trends I was seeing a lot of…leopard print AND studs!!  Perfect…two trends in one pair of shoes!
I paid $138.95 at Nordstrom (click here) and they are also available at Amazon.com for about the same price (click here).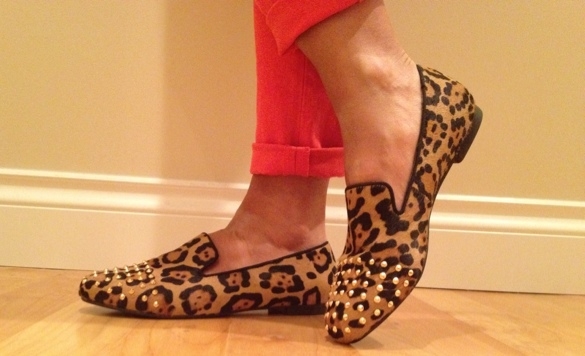 So, this is a bit more than I would usually pay for a pair of trendy shoes, but I have a feeling that these are going to get a ton of wear this fall as leopard print can act as a neutral!!  Don't they look snazzy with these bright orangey-red skinnies?