What is peplum you ask? Well, i do believe i haven't much spoken the word since my days of working for Tommy Hilfiger! "Peplum" is a ruffle added to the waist of a garment. Why do i love it? Because it does a woman's waist good! This style highlights an hour glass figure and brings the eye to a tapered in waist. Happy to say this style is one of the hottest trends at the moment..and i think it's here to stay a while. Dressed up or down, peplum adds that special detail that can make all the difference. Pair it with jeans for a more casual look..or invest in a peplum LBD that you will be able to wear for years to come.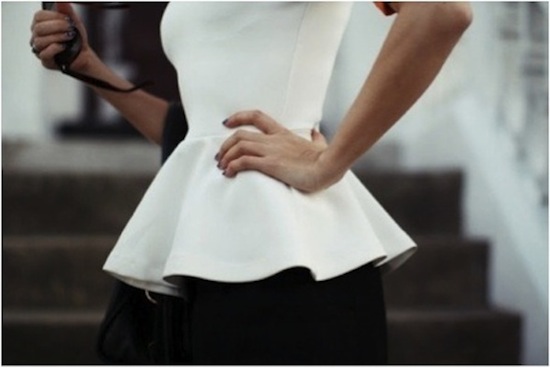 I am loving tank peplums. Wear them now in summer while the weather is hot and you can show off those bronzed arms! Just add a short blazer in fall to keep this piece in high rotation in your closet! Pair it with simple bottoms..lovin the jeans AND don't forget the statement necklace!

i have an affinity for delicate pieces and this one fits the bill. The soft cream in the chiffon fabric is well paired with casual or dressy bottoms. Keep your necklace more subdued and let the shirt do the talking.(i love the unexpected neon bracelet!)


Invest in a well made peplum dress…i've shown two below, a sort of high/low option. Both of these dresses would be a staple item for years to come. Everyone (YES, EVERYONE!) should have a little black dress! It's a go to for formal events in any season.


Denim is still trending right now, so why not kill a couple birds with one stone??? Love this peplum denim jacket. Pair it with lighter wash jeans or colored denim. Super perfect jacket for fall and spring and those cool summer nights. Goes with anything..and the price at just over $100 can't be beat.
Who's loving peplum as much as i am??