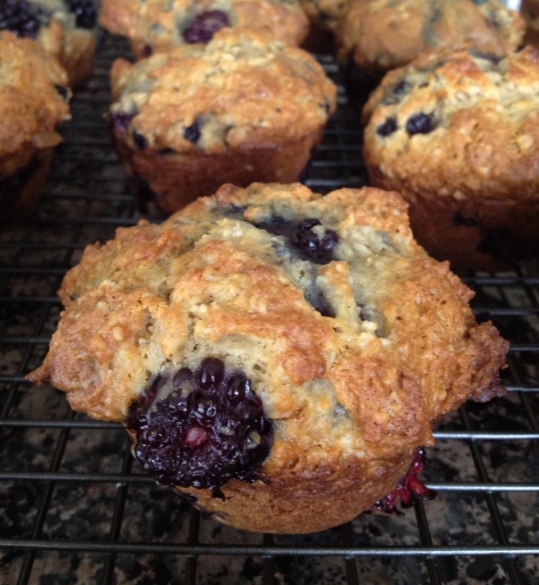 It's that time…the blackberries are ripe on the bushes pretty much anywhere and everywhere!!!  Berkeley and I went behind our greenhouse next to the ditch and picked a couple of containers full within just a couple of minutes.
I decided to use these fresh berries to make some pretty yummy muffins!
Blackberry Oatmeal Muffins
Adapted from Cooks.com Date Oatmeal Muffins
2 c. regular oatmeal
1 2/3 c. sour cream
1/3 c. milk
1 c. packed brown sugar
2 eggs
1 c. oil
2 c. flour
2 tsp. baking soda
1 tsp. salt
1 tsp. baking powder
zest of one lemon
1 2/3 c. fresh blackberries
Mix sour cream and milk together until slightly lumpy.  Combine with oats and let sit about 1 hour.  Beat eggs; add oil and sugar and mix well.  Add oat, sour cream and milk mixture and lemon zest.  Add sifted dry ingredients and stir until just moistened.  Add the blackberries and stir ever so carefully.  They will break up a bit.  Pour into greased muffin tins.  Bake at 350 degrees for 15-20 minutes. Makes 18 large muffins.