Yesterday morning I woke up to partly sunny skies, but cool temperatures….what to wear?  I find myself often asking this question.  Our west coast summers are rather temperate and then you have those in between season times from spring to summer and then summer to fall.  Lately, I've been wearing this….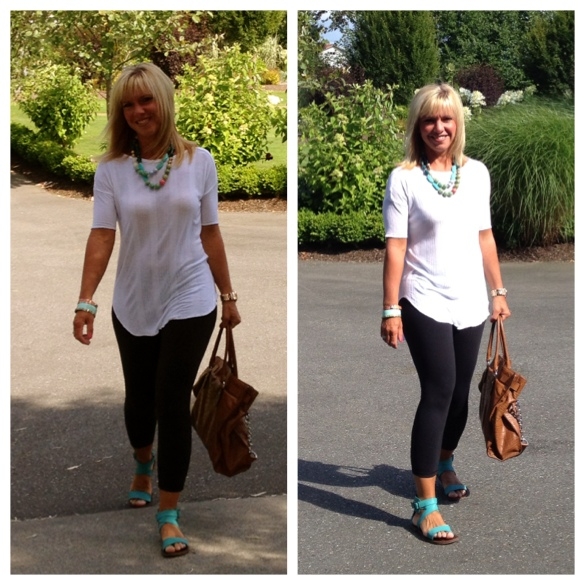 This outfit is super comfortable, yet I think it's still chic.  The leggings are somewhat genius.  There's NO way I'm trying my jeans on after the carb loading that took place in Italy!!!  These are actually not traditional leggings…they are more like workout pants so they offer more support and actually have a slimming effect on my thighs!  They are also fantastic for summer BBQ's as they offer protection from those pesky mosquitoes!  I'm wearing the TNAction Sprint Legging (see below).
The shoes, bracelets and necklace offer pops of color.  I can't count how many compliments I have received on this necklace.  Unfortunately it's no longer available online from Anthropologie (you may still be able to find it in stores), but I've offered some cute options below.  Critical to this outfit is the long shirt that conveniently covers my bottom.
Here are some pieces that you could use to create a similar look….